Michelin 2020: 16 newcomers receive stars in Hong Kong and Macau
December 18, 2019
It's that time of the year again: To acknowledge the geniuses in the culinary industry, recognise the best restaurants and look forward to more ground-breaking dishes. Taking into consideration the quality of the ingredients, mastery of flavours and cooking techniques, the personality of chefs in representing the eatery, value for money and consistency between visits, Michelin unveiled the 12th edition list for the Michelin Guide Hong Kong Macau 2020 at Grand Hyatt, City of Dreams Macau earlier this week.
16 restaurants (those with a * next to them) received new stars this year. Here's the complete 2020 selection:
Three Michelin stars
Caprice
Jade Dragon
Forum (up from 2*)
L'Atelier de Joël Robuchon
Lung King Heen
8 1/2 Otto e Mezzo Bombana (HK)
Robuchon au Dôme
Sushi Shikon
Tang Court
The Eight
Two Michelin stars
Alain Ducasse At Morpheus
Amber
Arbor (up from 1) Bo Innovation (down from 3)
Écriture
Feng Wei Ju
Golden Flower
Kashiwaya
Mizumi (Wynn Macau)
Pierre
Sichuan Moon *
Sun Tung Lok
Sushi Saito
Ta Vie
Tenku Ryugin
The Tasting Room
Tin Lung Heen
Ying Jee Club
Wing Lei (up from 1*)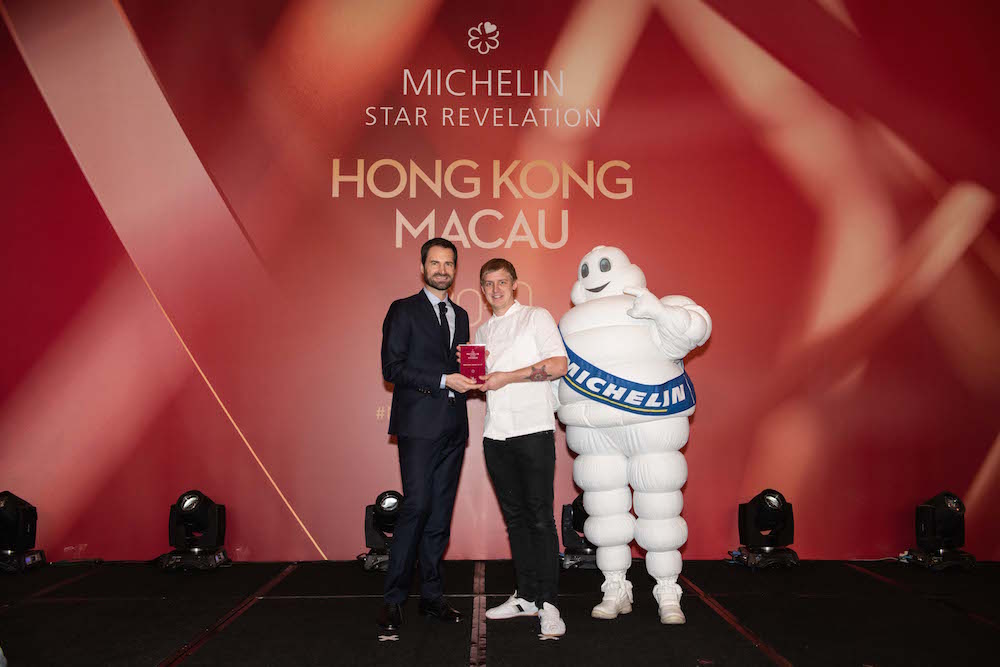 "This year's selections are testament to Hong Kong and Macau's unwavering position as benchmark cities in the gastronomic world, where tradition and modernity can co-exist in a dynamic and delicious blend of authenticity and ambitious innovation,"

Gwendal Poullennec, the International Director of MICHELIN Guides.
One Michelin star
Aaharn *
Ah Yat Harbour View
Arcane
Beefbar
Belon
Celebrity Cuisine
Duddell's
Epure
Fook Lam Moon (Wan Chai) *
Fu Ho (TST)
Gaddi's *
Guo Fu Lou
Ho Hung Kee
IM Teppanyaki & Wine
Imperial Treasure
Jardin de Jade (Wan Chai)
Kaiseki Den by Saotome
Kam's Roast Goose
King
Lai Heen
Lei Garden (Kwun Tong)
Lei Garden (Mongkok)
L'Envol *
Liu Yan Pavilion *
Loaf On
Louise *
Man Wah
Mandarin Grill + Bar
Ming Court
New Punjab Club
Octavium
Otto e Mezzo Macau
Pang's Kitchen
Pearl Dragon
Petrus *
Rech
Roganic *
Rùn *
Ryota Kappou Modern *
Shang Palace
Shinji by Kanesaka
Spring Moon
Summer Palace
Sushi Wadatsumi
Takumi by Daisuke Mori
Tate
The Golden Peacock
The Kitchen
Tim Ho Wan (Sham Shui Po)
Tim's Kitchen
Tosca di Angelo
VEA
Wing Lei
Xin Rong Ji
Yan Toh Heen (down from 2*)
Yat Lok
Yat Tung Heen (Jordan)
Yè Shanghai (TST)
Ying
Zest by Konishi *
Zhejiang Heen
Zi Yat Heen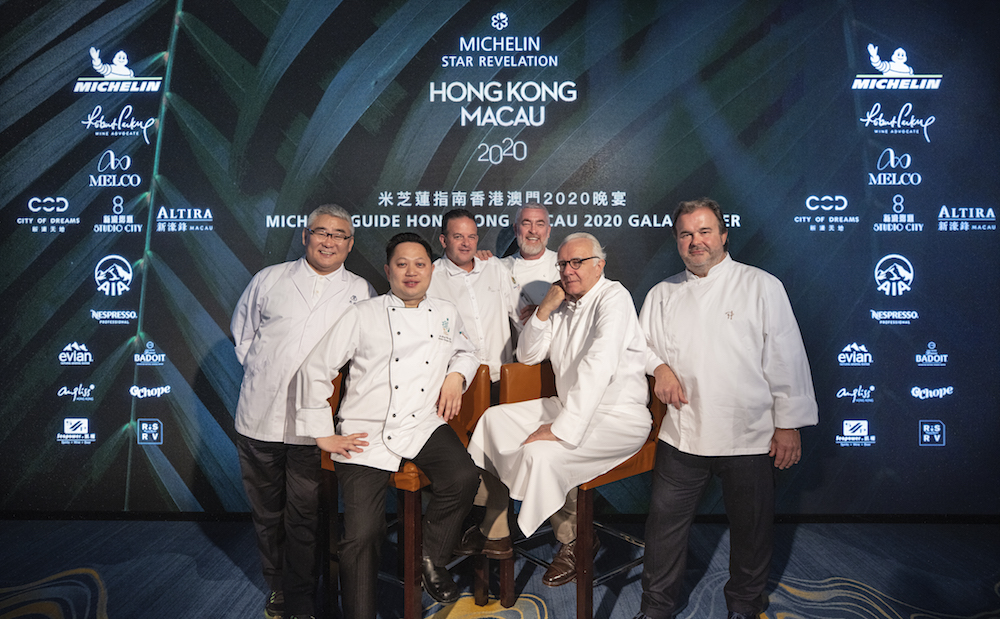 Followed by the Michelin Guide Hong Kong Macau 2020 gala dinner, world-class chefs such as Alain Ducasse, Pierre Herme, Kelvin Au Yeung, Fabrice Vulin, Lau Yiu Fai, Kunio Tokuoka and more gathered to celebrate the exciting announcement.
Focusing on sustainability, guests enjoyed seven exquisite dishes that were created with consideration of the environment, starting from ingredient vendors, venue decor and production. As the guide that celebrates dining excellence around the world, Michelin has already made a step by reducing the impact on the planet, hinting that it's also time for restaurants to do the same.