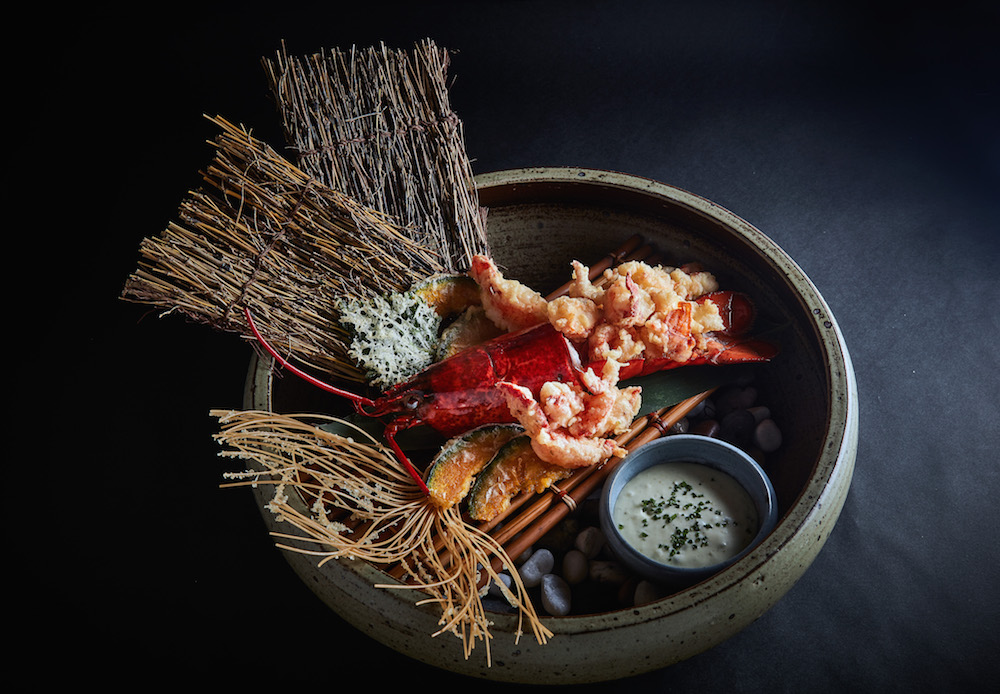 From the new hot spots on everyone's mouth, to our go-to favourites, we put together a selection of eateries to try this month, whether you're looking for a place to celebrate a special occasion or a trendy spot for a casual dinner.
Upper House x MatchesFashion afternoon tea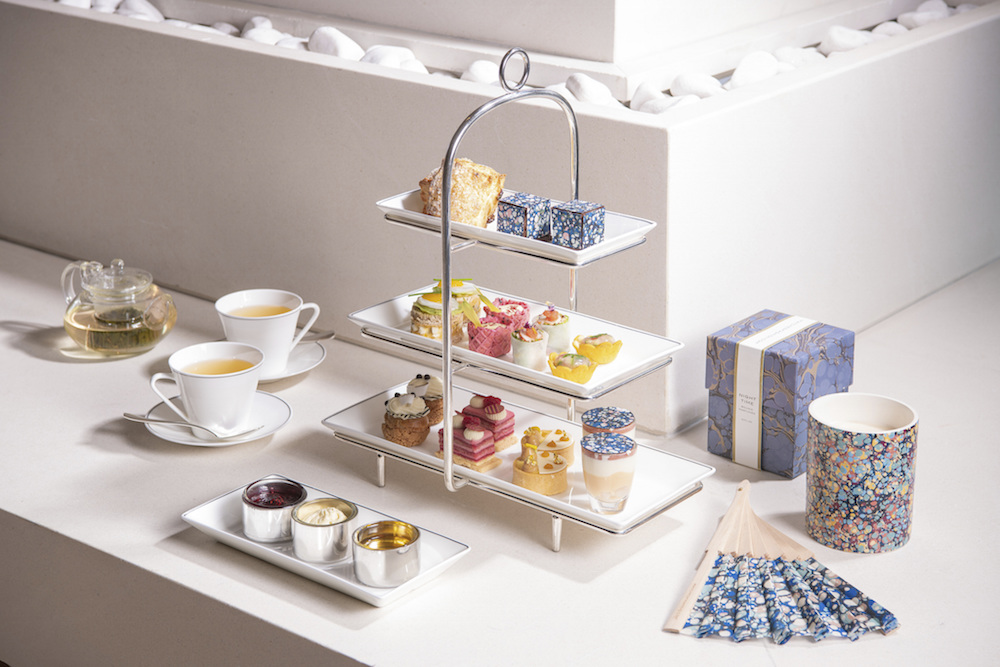 For the MatchesFashion.com fans out there – good news! Until August 31, MatchesFashion.com is partnering with Café Gray Deluxe at The Upper House Hong Kong to launch their very first-afternoon tea collaboration (HK$325 per person or HK$560 for two) in Asia. With such a breathtaking view at the top, you will be able to experience what's it like when fashion meets afternoon tea. What we love about it is the selection of pastries, such as the Mentaiko Lobster Roll with Cocktail Sauce, Foie Gras Royale with Sweet Corn and Tarragon, and Truffle and Egg Sandwich. Don't forget to book the afternoon tea with the special promo code "TUHMF" to receive a special Night Time scented candle from MATCHESFASHION.COM.
Café Gray Deluxe, 49/F The Upper House, Pacific Place, 88 Queensway, Admiralty, +852 3968 1106
Hutong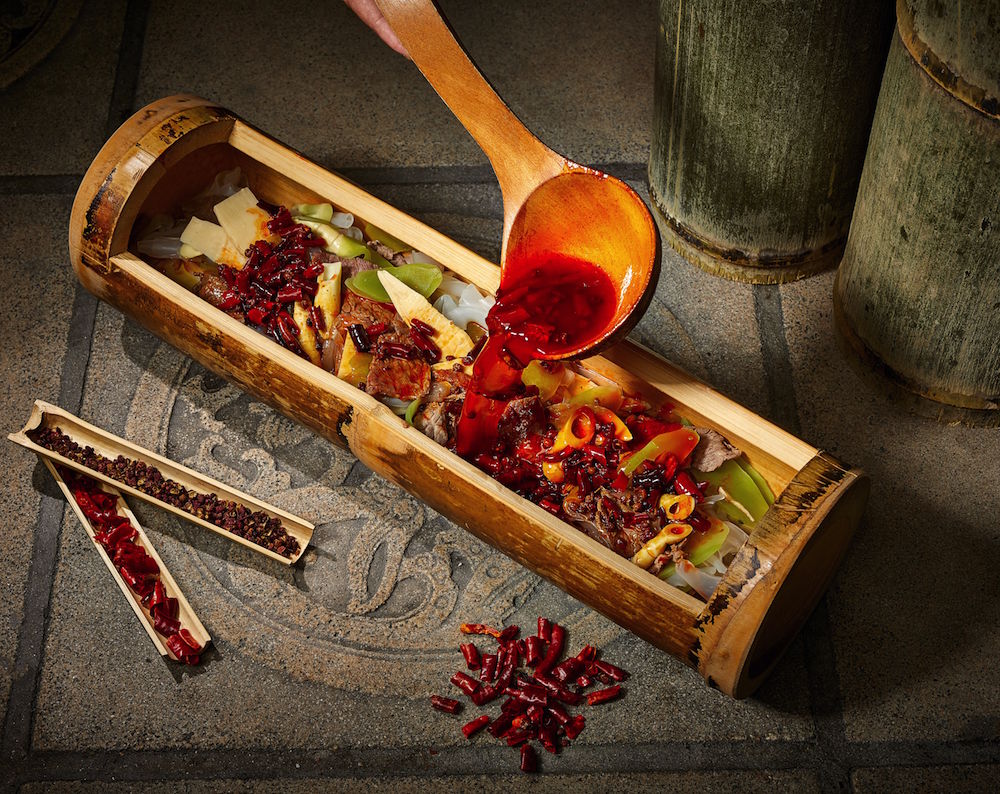 When it comes to Hutong, the Northern Chinese restaurant never fails to surprise us. This season, it is all about celebrating bamboo, the long-used plant in Chinese cooking. Featuring six 'Yong Zhu' dishes, the Hutong's signature tongue-numbing Bamboo shoots, giant bamboo root tips, wagyu tenderloin in Sichuan chili broth is what you need to try. Served in a long bamboo vessel, the texture of premium Australian M7 grade wagyu beef is super soft and tender which goes along with the rice noodles. For those who are looking to try Shui-zhu beef, Hutong should be high on your list.
Other than the main dishes, Hutong's Ode to Bamboo cocktail is also worth a try. The gin-based Tanqueray No. 10 is infused with sencha and oolong tea for ten hours and strained in a muslin cloth. A few drops of home-made citrus syrup are then added which is prepared by infusing citrus rinds with refined sugar for 48 hours. The blend is combined with freshly extracted bamboo juice which is gently carbonated in-house for a bittersweet. Make sure you take a photo of the Instagrammable bamboo cocktails and Hutong's interiors.
Hutong, 28/F, One Peking, Tsim Sha Tsui, Hong Kong +852 3428 8342 hutong.com.hk
Honjo
Pirata Group is not just celebrating its fifth anniversary next month, but this summer also marks the opening of two new restaurants. Honjo, Pirata Group's very first modern Japanese restaurant holds elements of surprises. Most of you might look at Honjo's sushi platter and think it's just a typical dish, but trust me – it's not. There is so much more to explore behind the new concept's dishes.
The beautifully decorated location is reminiscent of a dream on the Orient Express. Designed by Ben McCarthy of Charlie & Rose, the expansive space is packed with contemporary furnishings and lightings. It is super vintage and romantic, which makes it perfect to spend an enjoyable night without the pressure of doing something spectacular. Featuring themed rooms, a sushi bar, and exquisite Japanese art pieces, the new concept makes sure that you will never get bored with the ambience and interiors no matter how many times you visit the restaurant.
What makes Honjo special is the twist in every single dish, especially like the combinations of ingredients. We think that pretty much all dishes are worth a try, especially the fruit tomato with Arbequina oil, Wagyu beef with Chorizo oil and crispy quinoa, the chef's selection of Sashimi and the whole chicken packed with risotto and broccolini tempura. Honjo celebrates modern Japenese techniques and ingredients while incorporating international influences and flavours into a diverse menu full of bold combinations.
Don't forget to book your seats in advance as we're sure, you will always find it full.
Honjo, 1/F, 77-91 Queen's Road West, Sheung Wan, +852 2663 3772 honjo.hk
YUM CHA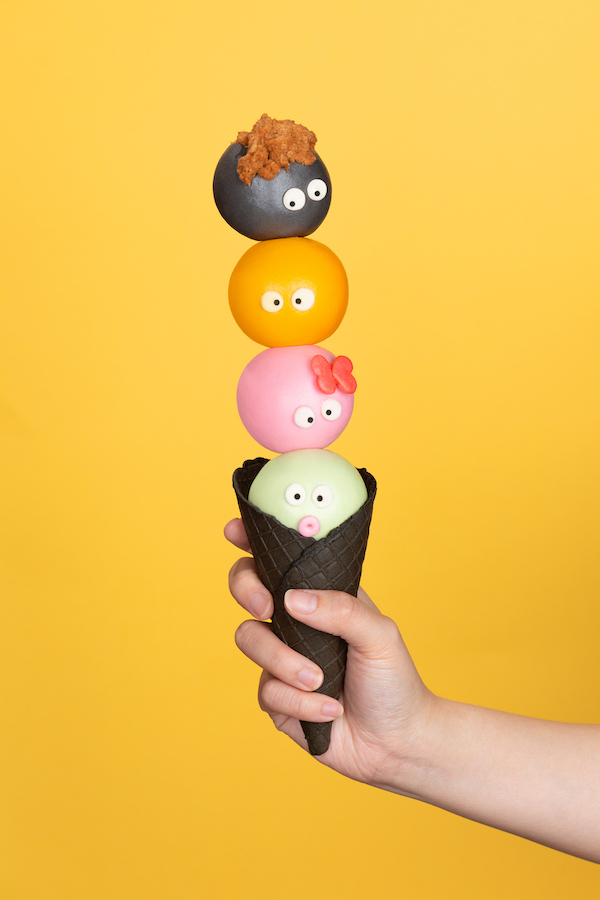 Whether you're a foodie or Instagrammer, this is what you need to know about Hong Kong's popular dim sum destination YUM CHA. Bringing a playful and creative take on traditional Hong Kong dim sum, YUM CHA's yellow Hot Custard Molten Bun and BBQ Piggy Buns are everywhere on Instagram. With their vibrant colours and unique additions, they're hard to miss. And they're adorable – in the intriguing expressionless way Pop Vinyls are. Now, YUM CHA is adding three more characters to their "family of buns".
Just like their older siblings, the new three come with their own unique personas, looks and flavours. The new Steamed Red Bean and Mochi Bun is described as "sweet but shy", packaged in pink and bursting with yum cha flavour. The Green Tea Custard Molten Bun is "cheeky" with a "sassy kissing face" and YUM CHA's signature molten filling. And finally the only savoury bao among the five, the Steamed Cabbage and Pork bun is a buy bun and quite a "funny character" complete with pork floss that imitates wild hair and a charcoal flavour that is the perfect match for the Chinese cabbage and pork filling.
We highly recommend heading over to one of YUM CHA's four locations in TST, Mong Kok, Causeway Bay and Central and taking as many pictures as you can of these adorable creatures before sampling each of them
YUM CHA – Central, Shop 1-2, 2/F, Nan Fung Place, 173 Des Voeux Road C., Central, Hong Kong, +852 3708 8081, yumcha.hk (please check the website for other locations)
CE LA VI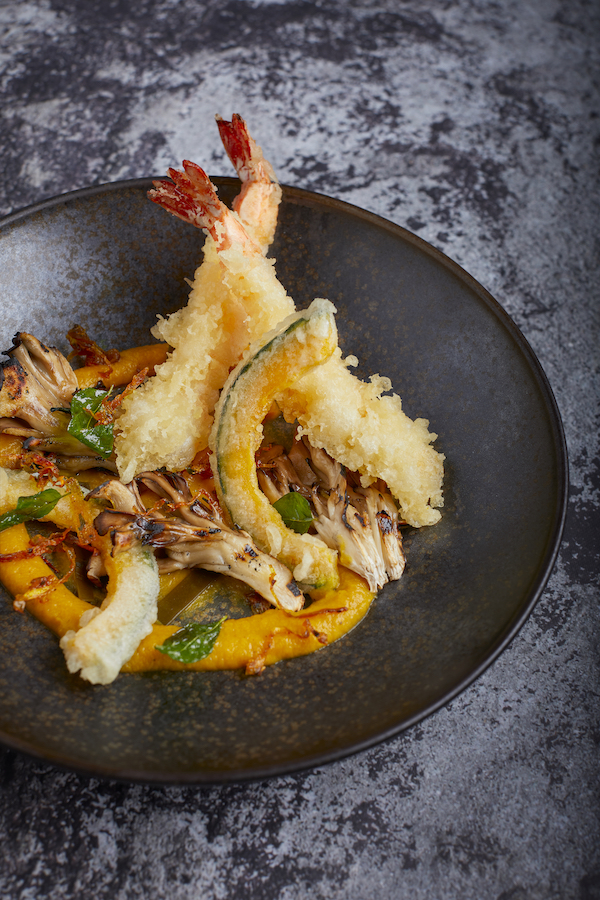 This summer, CÉ LA VI unveiled its new a la Carte menu along with their new Executive Chef, Conor Beach, who has already brought his expertise in Asian cuisine to the table with new additions to CÉ LA VI's already delicious line-up. With over 20 dishes, CÉ LA VI will now take guests on a culinary journey through Asia from Indonesia to Japan and China as the new creations combine inspiration and ingredients from all over the region. The menu kicks off with a selection of starters that include the Smoked Ikura, a bite-sized Korean buckwheat tart that combines Japanese seafood with creamy coconut and lemon balm topped off with grilled Southeast Asian coconut; and the Bonito Tataki, served with a Balinese sambal matah sauce (lychee, lime, chilli, lemongrass and shrimp paste) and a homemade rice cracker dusted with salty egg yolk.
The Mains include unique dishes that pair together diverse flavour profiles from Asia. Case in point the Vadouvan Tempura: crunchy Japanese tempura-battered prawns, pumpkin and maitake mushrooms on a bed of sweet and spicy curry of French Indian origins; and the Balinese Pork Sate Lilit with grilled minced pork satay on lemongrass skewers dunked in a chilli and tomato sambal. The Grilled Jumbo Quail reminds one of the islands of Northern Thailand- it is, after all, inspired by the Thai Gai Yang and uses large Australian quails barbecued golden brown and served with a Thai pineapple nahm jim sauce. Other dishes include the Beef Rendang carrying with it the flavours of Indonesia, the Typhoon Xinjiang from North- West China and the Japanese inspired Seaweed & Tofu Salad.
The desserts hold their own against the savoury dishes with the Tropical Escape, a coconut loaded with a vanilla panna cotta alongside a lychee granita, tangy passionfruit curd and sweet mung bean crumble; and the Sesame & Pandan which packs a decidedly Southeast Asian punch with a white sesame cake, airy pandan mousse and black sesame butter, cut through with zesty kumquat.
CÉ LA VI Hong Kong – 25/F California Tower, 30-32 D'Aguilar Street, Lan Kwai Fong, Central, +852 3700 2300, celavi.hk
Old Bailey
Old Bailey combines traditional Jiangnan cuisine with a modern Herzog & de Meuron- designed interior. Helmed by Executive Chef Wong Kwan Man, who is originally from Yangzhou, the restaurant has recently launched three new chef's tasting menus, new a la carte dishes as well as a new cocktail menu.
In the three new chef's tasting menus, one showcases a ten-course vegan experience of the restaurant's signature dishes. Some of the inclusive delicacies that vegan and vegetarian diners can now sample include the vegetarian version of Chef Wong's famous Xiaolongbao, which we highly recommend; Village-style sautéed Hangzhou green chilli with aubergine and finally the Sauteed fresh soybean, bean curd knot and pickled cabbage. The second chef tasting menu is a nine course experience called the Taste of Jiangnan. For us, it was the Osmanthus- flavoured Jinhua ham with crispy bean curd sheet and mantou and the Red-braised Lion's head, a stewed hand-chopped pork meatball dish, that really stood out in this selection. And finally, guests can also try the ten course menu An Exquisite taste of Jiangnan that features all of Old Bailey's signature customer favourites such as the Longjing tea-smoked pigeon and the Hairy crab roe hand-pulled noodles. The new a la Carte seasonal dishes also include vegetarian dishes such as the Marinated Japanese Yam alongside new sharing dishes such as the Sautéed Garoupa.
When it comes to cocktails, Old Bailey has you covered with new additions modelled after the Tai Kwun building that they are housed in. The list includes the Big Station (the literal translation of "Tai Kwun"), a healthier take on the classic gin-based White Lady with crushed wheatgrass florals; Brick Walls (named after the original brick walls in the Prison Yard), a combination of bergamot black tea, single-origin cold brew coffee, tonic water and grapefruit zest; the Guard House in 1858 (an ode to the building used currently as an entrance to Tai Kwun), which is similar to a classic Negroni, stirred and double-strained with Lillet Blanc, Cedars Classic, suze, aged mandarin peel, white peony and elderflower; and the Spiral Staircase is a lighter take on the White Sangria, created with pink gin, Lillet Blanc, Sichuan pink peppercorns, apple, peach, raspberries, orange, lime and ginger ale.
Since its opening, Old Bailey has been standing out from the crowd for its elegance and unique dining experience and with these new menus, it continues to be relevant as top-notch must-try in the heart of one of Hong Kong's most fascinating complexes.
Old Bailey, 2/F, JC Contemporary, Tai Kwun, Old Bailey Street, Central, Hong Kong (Enter via Blue Gate), +852 2877 8711, oldbailey.hk
Pirata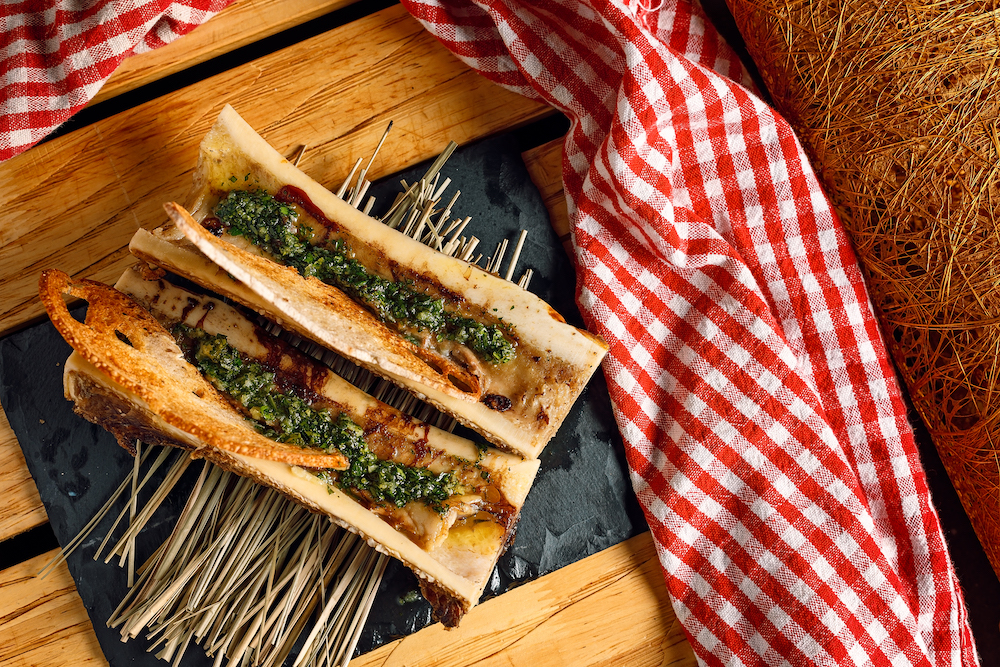 Executive Chef Stefano Rossi at Pirata in Wan Chai has just come up with a new menu of hearty Italian dishes that combine fresh ingredients and simple, authentic recipes. After all, honest Italian food is at the very core of the restaurant's long lasting success.
Some of the new additions to the menu include the Smoked Swordfish Carpaccio with pink peppercorn, cherry tomatoes and a delicious rocket salad topped with lemon dressing. There is also the mouthwatering Salmon Tartare served with toasted bread and crushed avocado and the unique take on the Scallop Gratin cooked with Mediterranean herbs, chillies and tomatoes, finished off with a lemon dressing.
After trying the array of dishes, we felt that the Bone Marrow is a must have. The iconic dish is served with grandma's homemade green sauce and freshly toasted bread. New additions to the menu have also not left out Pirata's signature pastas with the new Tagliolini with Sicilian Red Prawns and Zucchine, and Linguine Vongole with Italian clams, garlic, fresh chilli and parsley being added to the menu. And if you decide to order the Porcini Risotto, we highly recommend that you pair it with a glass of red wine.
29/30 F, 239 Hennessy Road, Wanchai, Hong Kong, +852 2887 0270, pirata.hk
Kinship Brunch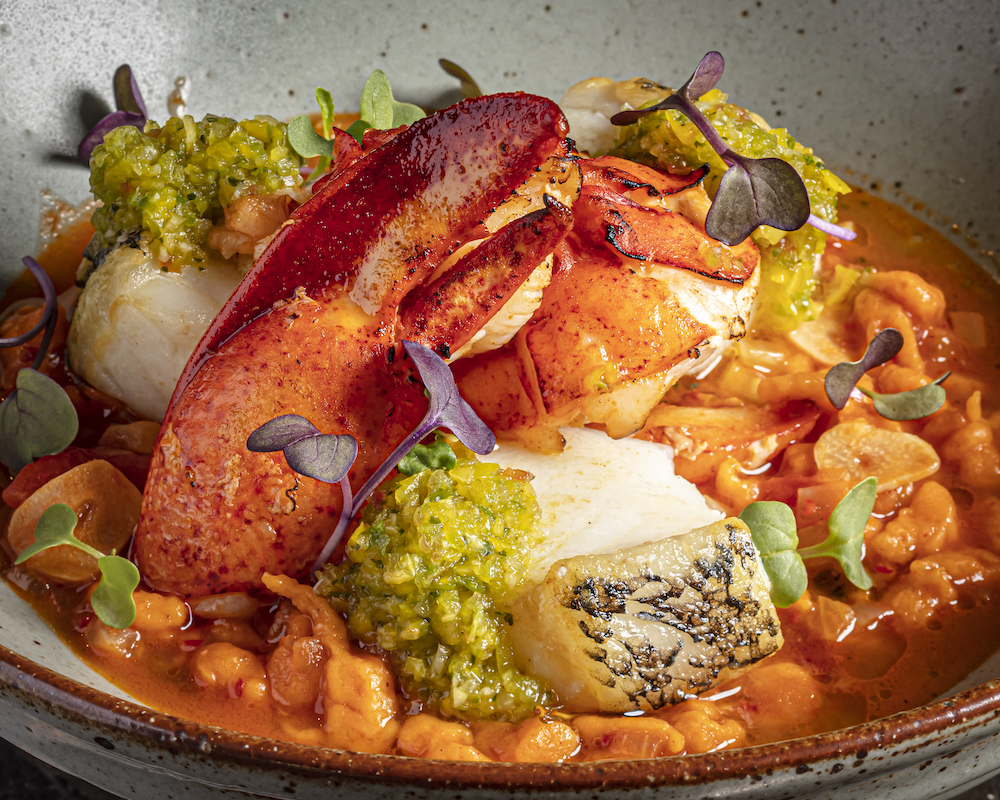 Kinship is the brainchild of veteran chefs and good friends, Chris Grare and Arron Rhodes, and will now open up every weekend for Hong Kongers to have another place to brunch with their family and friends. The Brunch menus themselves will rotate between the American Menu and the British Menu every weekend, an ode to the chefs backgrounds.
The American Brunch Menu starts off with sharing starters like the Biscuits & Gravy that has homemade biscuits served with a southern style sausage gravy and the Corned Beef Hash that is served with caramelised onions. Guests can then choose one of three mains: the Fried Chicken and Waffles, the Polenta and Fried Prawns and the Stack of Pancakes; before moving onto the Boardwalk Treats section to sample either the Ice Cream Sundae or the Funnel Cake.
The British Brunch Menu features a similar structure as the American one. The starters have a choice between Pea and Ham Soup and the Chicken and Truffle Terrine. For the main, you can have either the Roast Sirloin of Devonshire Beef or the Bakes Norwegian Salmon. Both will be accompanied by mum's roast potatoes, grandma's gravy, Cauliflower cheese and honey-roasted carrots with salted cashew nuts. The British desserts are a choice between the Homemade Vanilla Whippy Cream and the Bakewell Treat.
After trying the American Brunch we can assure you that the experience at Kinship goes way beyond the ever-present pancakes. The selection feels homey and encapsulates flavours that showcase the – at times underrated – diverse and rich American culinary tradition. While most of us are familiar with US popular dishes, definitely head to Kinship for a proper American feast that elevates a home cooked meal to very high levels.
Kinship, 3/F 2-4 Shelley Street, Central, Hong Kong, +852 2520 0899, kinshiphk.com
ROOT CENTRAL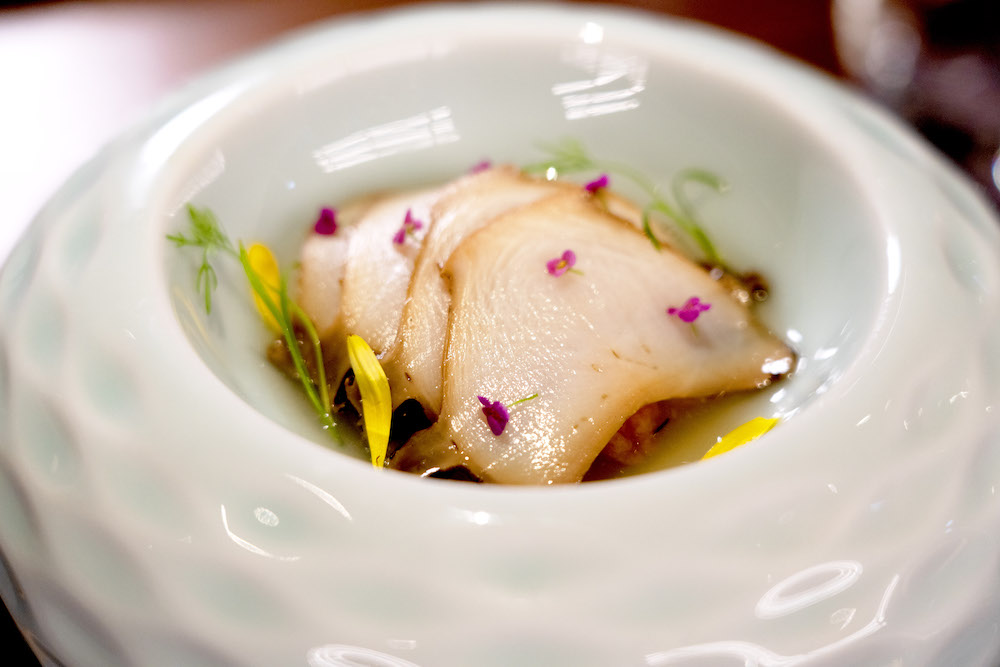 The newly opened ROOT CENTRAL recently unveiled a brand new menu highlighting this season's best mushrooms and truffles from around the world. Led by Executive Chef Vito Chan, the restaurant prides itself on using organic produce and culinary methods to ensure that they stay true to their core values of sustainability and environmentalism.
The Mushroom Tasting menu starts off with two delicious, well, starters: the Scampi and Cèpes Mushroom Puree, wrapped in a light tofu skin, and the Japanese Abalone and pickled golden mushroom from Yunnan province with cold duck consommé. The Main courses include the Hokkaido Scallop prepared Sous Vide, with sautéed truffle flower and a dollop of French caviar, all served on a bed of Bamboo fungus, and an interesting take on ravioli where instead of pasta, Chef Chan has used thinly sliced Cuttlefish skin instead to complement the mushroom filling. The rice dish on the menu featured Koshihikari rice cooked in truffle water, topped off with matsutake and blue mussels. Tasmanian black truffles are the perfect base for dry aged chicken, served with a side of chicken thigh mousse and Morel mushrooms.
To finish off this mushroom journey, guests can try the home-made Black Truffle ice-cream covered in a Lemon & Almond cream sauce or a light, sweet Porcini mushroom madeleine as a Petit Four- a unique interpretation of the sweet dish.
ROOT CENTRAL, 7/F, Low Block, H Code, 45 Pottinger Street, Central,Hong Kong, +852 2420 8112, root.hk
Louise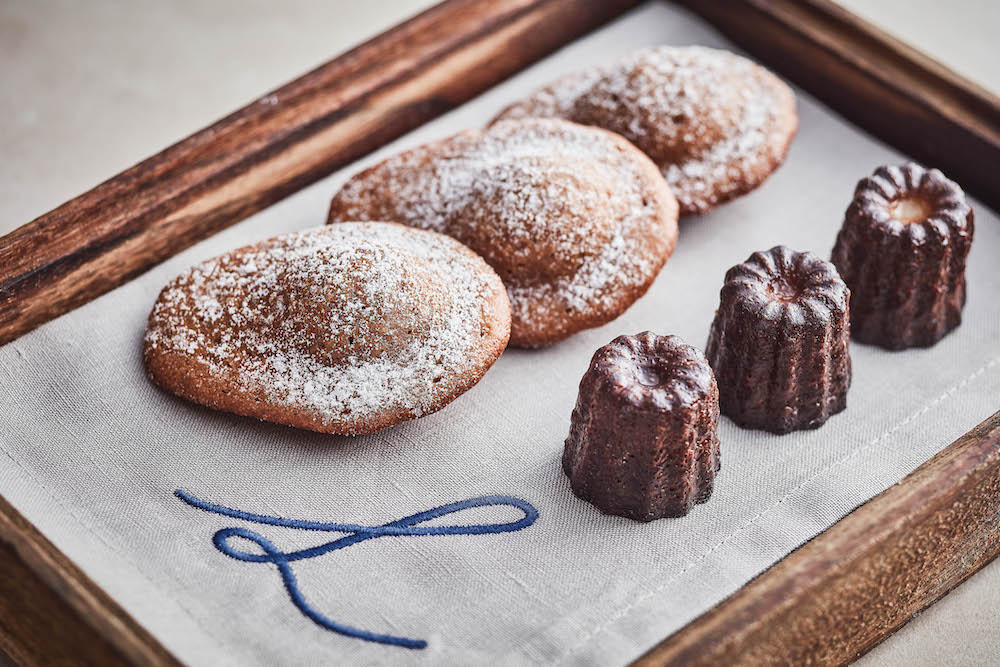 When you step into French restaurant Louise in the gardens of Hong Kong's PMQ, you are immediately reminded of the cafes that line the streets of Paris. With its Thonet chairs and rattan furniture and bright lit colonial style interior, Louise has been described as a "casual French eatery" and is the result of a collaboration between Yenn Wong, Founder of JIA Group and Chef Julien Royer, owner of iconic Singapore restaurant Odette. Occupying two floors, Louise allows diners to choose between the Parlour (open from noon till 11 pm) and the upstairs dining room (open only for lunch and dinner) as places where they can enjoy drinks and the eatery's traditional French cuisine.
Royer has said, "Louise is a tribute to the simple joys of familial love and home cooking", and its menu certainly reflects that. The menu is incredibly rich and diverse, with dishes for both lovers of classic French cuisine and innovative combinations. Some of our favourites included the La Truffade: a side of sautéed potatoes, Cantal cheese, garlic and parsley- simple yet delicious; the smoked organic egg, potato, chorizo, buckwheatInspired by Odette signature dish; the Mediterranean octopus "à la plancha", confit vegetables, romesco sauce and last but certainly not least, the incredible Challans duck glazed with cider vinegar, braised endives, Bigarade sauce.
While some ingredients have been sourced from France, including Royer's hometown of Auvergne, others have been grown right here in Hong Kong. Louise uses fresh local produce in dishes such as their Sautéed Hong Kong Frog Legs, Parsley, Garlic Crisps and their Roasted Hong Kong Yellow Chicken, Niigata Rice 'en cocotte' with an option of black truffle. The dessert menu also stays true to Louise's founding pillar of familial love, showcasing references to Royer's mother with the "Mama Royer" Yoghurt Cake, Ice Cream and Confit Lemon and the Freshly Baked "Mama Royer" Madeleines. The menu also introduces a number of French classic desserts to Hong Kong, including Madagascar Vanilla Mille-feuille and Raspberry Sorbet and a reimagined version of the iconic Tart Tatin with Madagascar Vanilla Cream.
With impossibly chic – and really instagrammable – interiors, a unique atmosphere and a menu to die for, Louise has already establish itself as a star in the crowded Hong Kong restaurant scene. We'll definitely go back to further explore the flavours and for a night to remember, surrounded by a great staff and a unique atmosphere.
Louise, 35 Aberdeen Street, Central, Hong Kong, +852 2866 0300, louise.hk
TMK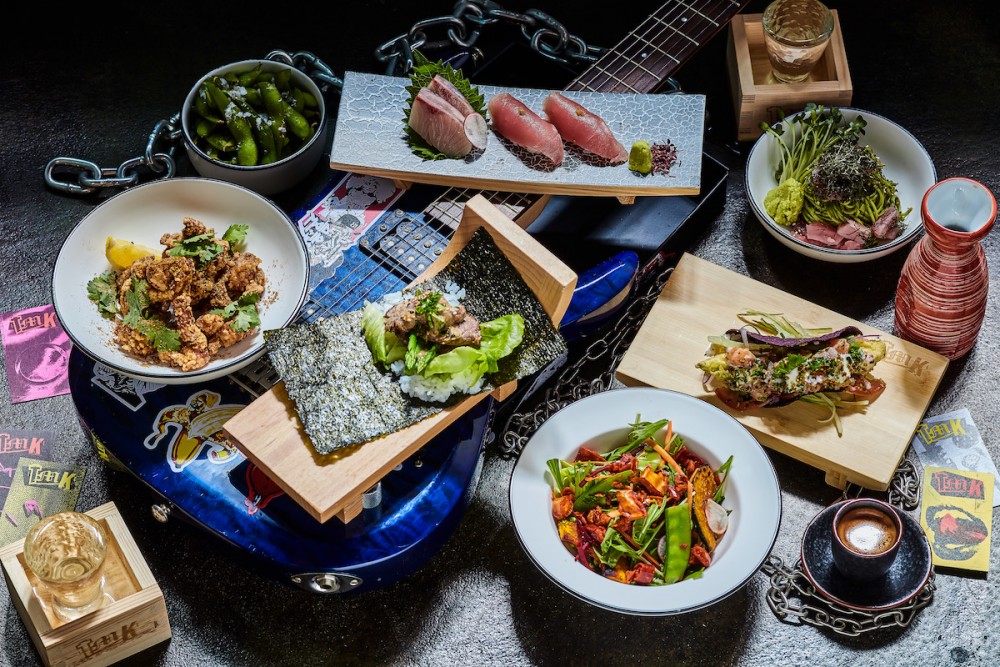 Manuel Palacio, Co-founder of the Pirata Group, described TMK as a place that he never wants to leave. And when we went to the restaurant located in Hong Kong's diverse Sheung Wan district, we had to agree. A combination of punk rock and Japanese style, TMK launched on the 1st of August as a temakeria that serves mouth watering dishes from noon till midnight. The interior was designed by Charlie & Rose designer Ben McCarthy, inspired by punk rock music and punk culture. With a 1980's custom Japanese motorcycle in the main dining room and a tattoo room inspired bathroom, the design of TMK can only be described as dynamic. There is a wonderfully eclectyic feel about the place, with punk and traditional Japanese art being juxtaposed with the more traditional features of a temakeria, like iron and wood furniture.
Staying true to its Japanese inspiration, TMK also offers a delicious selection of hand rolls, sushi and sashimi. Among the dishes that we had the pleasure of enjoying, the crispy Iberico Kushikatsu, that featured a slow cooked secreto and spicy pineapple sauce, and the Green Tea Soba, with soba- tsuyu, wasabi and nori, were our personal favourites. Other more creative dishes include their Tuna Hotdog, a tempura fried Kalifornia topped with spicy tuna, and their Salmon Taco, served with a rich yuu mayo and avocado tempura. There is also a good range of vegetarian options to choose from. Diners can decide to order starters that can be shared with the whole table or temakis that they can devour individually.
With two tasting menus, guests can decide between the Denim, if they prefer to "drink their night away" or the Leather that features the "best of what TMK has to offer". The beverage menu is also a force to be reckoned with. Featuring smooth sake, refreshing draft beer and Japanese highballs, TMK also offers guests the choice to partake in its own namesake sake label, delivered directly from Japan. With the sake served in a wooden Masu cup, TMK allows for everyone to enjoy their night out in the traditional Japanese way.
TMK, Shops G & H, G/F and M/F, Hollywood Centre, 77-91 Queen's Road West, Sheung Wan, HK, +852 2662 2269, TMK.hk
Dynasty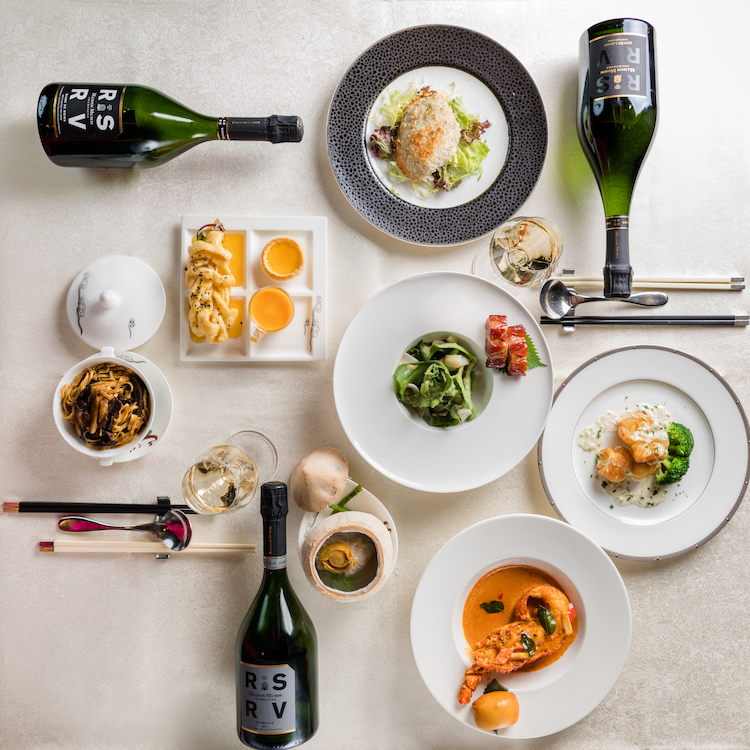 Until September 30, Hong Kong's award winning Chinese restaurant Dynasty is offering a special "Dynasty Award-Winning Champagne Pairing Menu". Featuring some of the restaurant's signature dishes as well as some new creations by Executive Chef Suen Kam Sing, guests will also be served distinctive RSRV Grand Cru Champagne paired with the dishes that they have ordered.
With a menu set to impress gourmets and wine connoisseurs alike, some of the new dishes that really spoke to us were the Double-boiled Whole Coconut Soup with Abalone and Minced Pork Dumpling (minced pork dumpling and abalone double-boiled with chicken soup and coconut water presented in a whole coconut) and the Deep-fried Cod with Vegetables in White Wine Sauce where the delicate white wine sauce that elevates the dish by adding another element of flavour without overpowering the main hero, the cod fish. Our favourite signature dishes were also there, including the classic Cantonese dish Baked Crab Shell Stuffed with Crab Meat and Onions. This complex recipe involves removing all the crab meat from the shell and mixing in onion, coriander, garlic and coconut milk, among other ingredients. The dish is then baked with the shell and has the most mouth watering aroma when first brought to your table.
As promised, Dynasty also offers a premium collection of 3 RSRV Grand Cru Champagnes produced by champagne house Maison Mumm, located in Montagne de Reims. The RSRV Cuvée 4.5 is described as a combination of the power and structure from Pinot Noir and the elegance and tangy citrus notes from Chardonnay and is recommended for the Barbecued Pork Accompanied with Sesame Ice-plant Salad, a new dish on the menu. RSRV Blanc De Noirs 2009 with aromas of yellow fruit and hints of toast and brioche is meant to be paired with the Deep-fried Lobsters in Homemade Sauce Served with Deep-fried Bun while the RSRV Lalou 2006 is perfect for the Deep-fried Cod with Vegetables in White Wine Sauce.
Guests can end the evening by sampling some of Dynasty's Signature Desserts that include the Egg Fritter Glazed with Honey Sauce, Baked Egg Custard Tart and Chilled Mango Sago Cream with Pomelo in Mini-style.
Dynasty, Renaissance Harbour View Hotel Hong Kong, 1 Harbour Road, Wanchai, HK, +852 2802 8888, dynastyhk
Trattoria Del Pescatore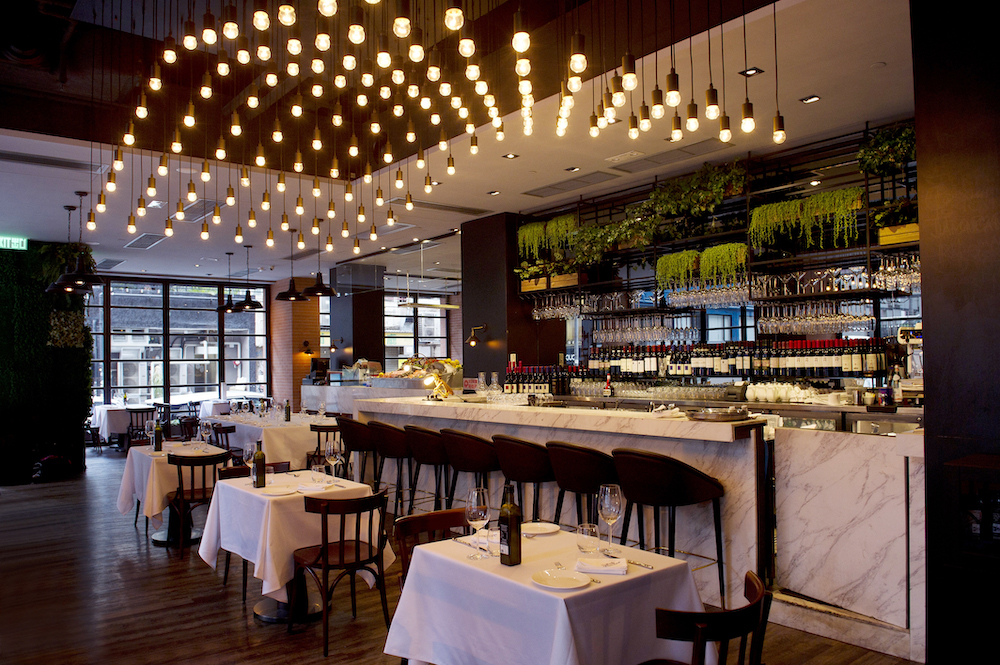 Trattoria del Pescatore recently celebrated its first anniversary in Hong Kong. Originally opened in Milan in 1976, the authentic Sardinian restaurant was brought over to East Asia by Christopher Liu. Using fresh ingredients sourced mainly from Italy, the focus of the restaurant is primarily seafood dishes, although pasta dishes will occasionally pop up from the menu. Located in Sheung Wan, the eatery has a casual and friendly atmosphere.
Although Trattoria del Pescatore is known for its Lobster Catalan, a reinvented Sardinian speciality, and the Lobster Spaghetti and Spaghetti with Red Prawns, we were also drawn to other dishes on the menu. Namely the Hokkaido Scallop Carpaccio on Black Truffle Spaghetti and the South African Abalone on Chilled Capellini, Salmon Roe Mix.
This "fisherman's restaurant" is definitely a must try for anyone craving Italian seafood dishes.
Trattoria deL Pescatore, 11 Po Yan Street, Sheung Wan, Hong Kong, +852 2559 3339, trattoriadelpescatore.hk
Ramen Cubism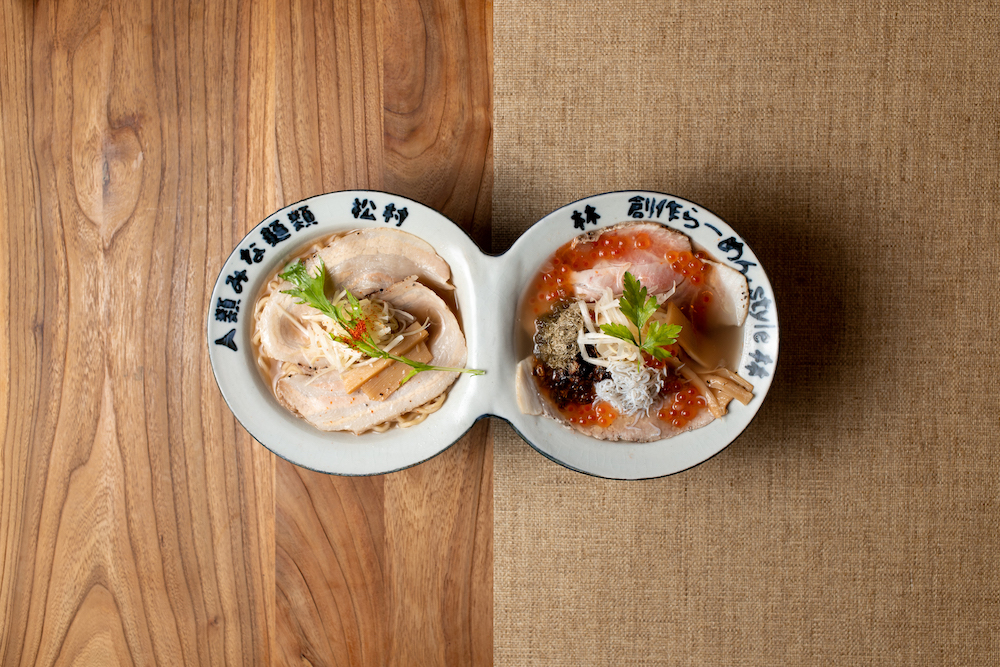 Located in Central, Ramen Cubism is named after the 20th Century art movement pioneered by Picasso, Dali and several other renowned artists. The restaurant is one that pops out from its surroundings thanks to a street wall mural painted specially for the establishment by Russian artist Sergei Rozhnow. With such an emphasis on art and creativity, it makes sense the Ramen Cubism is the restaurant to launch an "instagrammable" twin bowl ramen concept.
Launched in July, the Eden Shio ramen collection was inspired by the phrase "The Forbidden Salt"- a nod to a common perception involving the sodium content in the Japanese dish. The brainchild of ramen champion Hayashi Takao, the collection has both hot and cold styles of a new speciality, the Eden Land (hot) and the Eden Sea (cold). While the Eden Sea, a cold ramen dish made using Chef Hayashi's secret recipe for fish and shellfish, is best enjoyed during Hong Kong's infamous summer heat, Eden Land employs a blend of shellfish, scallops, clams, Hokkaido squids, dried scallops, artisan sea salt, sake, seaweed. With a light "umami", Eden Land can be enjoyed alongside its cold counterpart.
The dishes are topped with a juicy 10 cm thick slice of roast pork belly and served in bowls designed by a ceramic specialist artisan from Kyoto. Only four servings of the twin bowls are available every hour but single hot and cold servings can be ordered as well. Diners can also enjoy a maximum of two Majimori-Style Hayashi Cup Noodles with secret spices (HK$25 each) for every single spending of HK$300 as well as sample some of the new snacks that Ramen Cubism has also launched, like the Sliced Pork Belly with Miso and Scallops and Hand-made Crispy Sweet Potato Ball.
Ramen Cubism, Yuen Yick Building, No. 27-29 Wellington Street, Central, Hong Kong, +852 2399 0811, ramencubismhk
Castellana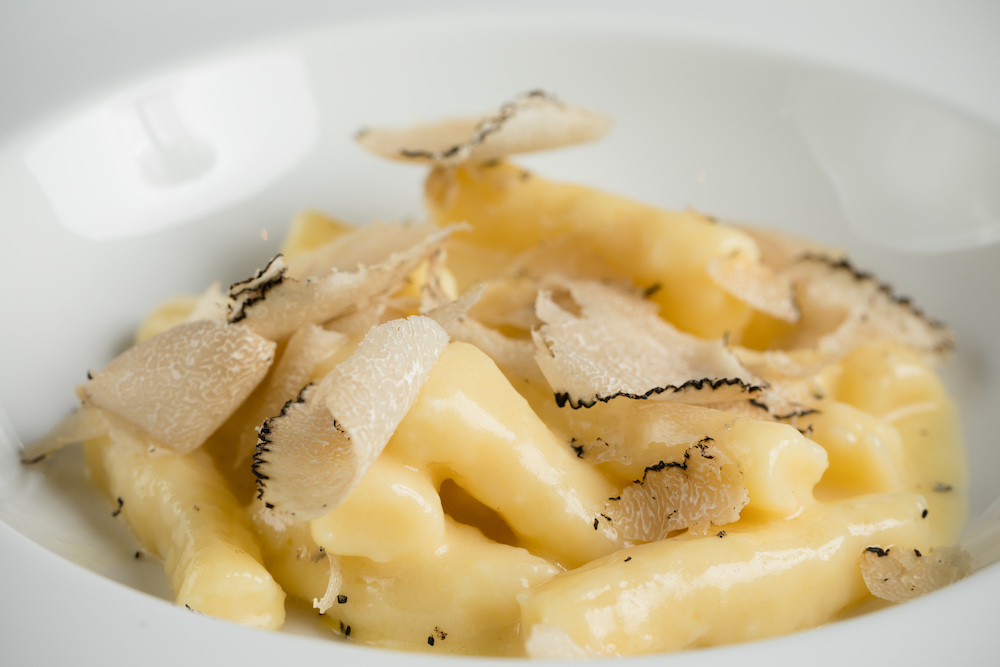 Newly opened Castellana is a must-go if you're craving authentic regional Italian food in Hong Kong. Drawing inspiration from the region of Piedmont, the restaurant focuses on the its unique local cuisine that has both French and Swiss culinary influences, being right at the border with both. The resulting dishes are decidedly richer in flavour with buttery, succulent textures and meat that almost falls off the bone. Normally one would have to travel to the northwest of Italy to sample the food but thanks to Castellana, opened in collaboration with Two-Michelin Starred Chef Marco Sacco of Italy's Piccolo Lago, foodies in the city can try out all the staples of an authentic and elevated culinary experience.
The restaurant is open for both lunch and dinner service, with guests can decide amongst a series of set menus and a la carte dishes- all have ingredients imported from, naturally, Piedmont. The set menus are the Seasonal Menu, that offers five courses; the Traditional Set with seven courses and the Marco Sacco Set Menu with eight dishes. All have a unique selection of dishes. Our personal favourites from each include the Scambio di Battute (Beef and Yellowfin Tuna Tartar) and Risotto from the Seasonal Menu; the 'Ravioles' della Val Varaita from the Traditional Set (which changes regularily), the dish itself is a regional take on Ravioli with the pasta having an almost gnocchi-like quality and being served with local Piedmont Toma cheese and Grana Padano. The Marco Sacco Set Menu's Ravioli al Fegato D'oca e Polenta (Fassona Beef, Duck Liver Ravioli, and Polenta Crumble) stole our hearts while the Caponet in Brodo di Patata Arrosto (Savoy cabbage with Toma cheese in roast potato broth) from the A La Carte menu was to die for.
Piedmont cuisine is usually matched with just the perfect wine and Castellana is no exception with an extensive 300+ bottle wine collection that can be paired with any of their dishes. Guests can also opt for ordering cocktails from the cocktail bar that features drinks that incorporate the flavour of Italian truffles. This includes concoctions such as Mr. Truffle with homemade truffle infused rum, dry vermouth and sweet vermouth; Ms. Truffle that has homemade truffle infused rom, grapefruit juice and elderflower bitters; as well as the Truffle Shower- a whiskey based martini decadently covered in truffles and served alongside a trio of canapes.
We absolutely loved the Ravioles, a traditional ode to Northern Italian cuisine that celebrates the flavours of Piedmont. Also, make sure that you try the incredible Carbonara pasta – a reinvention of the traditional dish that will leave you speechless for its rich and bold flavours. In general, all the dishes in the tasting menus are incredibly well curated and presented for a truly unique feast. As lovers of Italian food – we can also pride ourselves with an Italian member in the team – we can truly say that there is no Italian eatery in Hong Kong that does what Castellana does in its refined space, and we can't wait to go back and try more dishes.
Castellana, 10/F, Cubus, 1 Hoi Ping Road, Causeway Bay, +852 3188 5028, castellanahongkong.com