Upon sitting down and gushing over the cute bamboo baskets carrying little teapots of soya sauce, Chinese vinegar and a pot of chilli – the next thought on everyone's mind was: "Didn't this used to be Cochin Delicatessen?" In its place is Pirata Group's newest concept Chifa, serving a Peruvian take on Cantonese cuisine (a little nostalgic nod to one of the city's first Peruvian restaurants, Chicha, which occupied the space before Cochin) inspired by the neighbourhood of Barrio Chino in Lima, Peru. And boy, have they transformed the venue. The words DUMPLING HOUSE are emblazoned and lit-up above the entrance – a sight which is sure to soon flood our Instagram feeds thanks to its trendy millennial pink exterior.
Inside, the vibes are cool and relaxed with quirky accents – namely cute houseplants, circle motfis, rounded rectangle doorways and rattan-like walls – reminiscent of some of the hippest eateries in London and New York all brought together with hints of turquoise and hues of blue. The no-reservations 'Bamboo room' reserved for walk-ins features an open kitchen so you can watch each dumpling being rolled, stuffed and steamed whereas the 'Dumpling' dining room caters for larger groups, where reservations are available.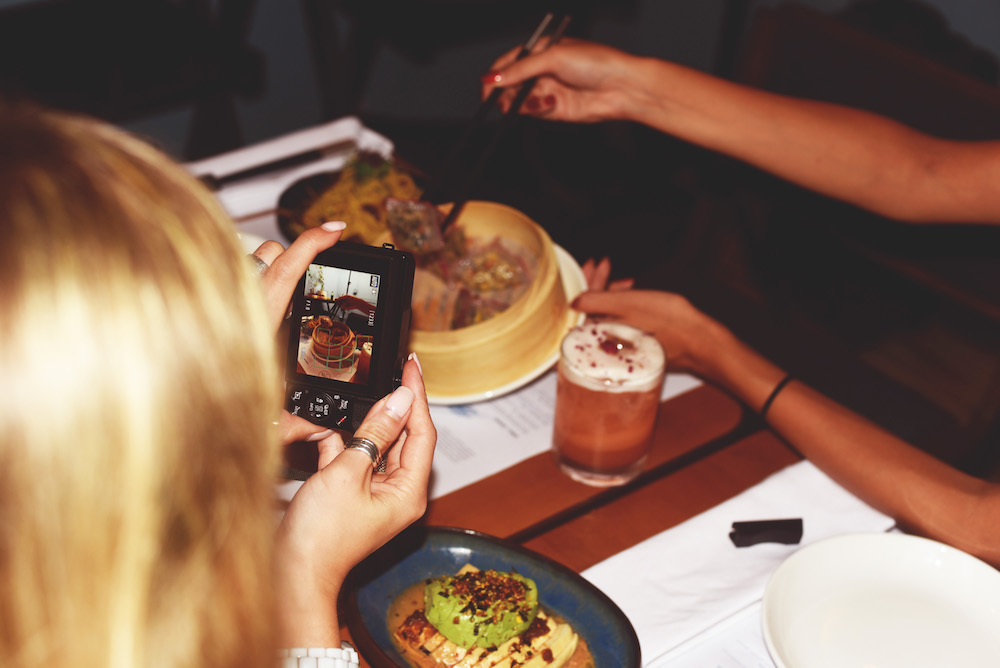 #legend and Pirata Group (Pirata, Pici, The Optimist, Meats, Tokyolima) hosted a small dinner with a group of the city's most popular foodie influencers to be some of the first to experience Chifa for #legendeats. Chifa cuisine refers to the Peruvian interpretation of the Cantonese style of eating ('chi fan'), a blend of Peruvian ingredients (such as Peru's diverse selection of chillis) and flavours with Chinese techniques.
We started with a round of mocktails – the Rain On The Forest (HK$45), a refreshing blend of muddled ginger, basil leaves, coconut water, fresh apple juice, coconut milk, jasmine honey syrup and lime juice, and Chifa Rhapsody (HK$45), a more fruity concoction of muddled strawberries, pineapple juice, rose jasmine syrup, lemon juice and egg white, were among the most popular choices.
Then we dug right into the Silken Tofu (HK$80), a dish that vegetarians and the more meat-inclined will both love. The tofu was meaty and tender and went surprisingly well with the freshly sliced (and Insta-ready) avocado on top, garnished with peanut sauce, soy sauce, furikake and peanut crumbs. One of the most obvious Peruvian dishes on the menu is the Chifa Ceviche (HK140) – seabass and octopus ceviche served on a picture-perfect bed of tiger milk, mirin, red onion, red radish and furikake. We loved the Spring Roll (HK$95) stuffed with duck, vegetables, oyster sauce and choclo puree and the Lo Mein Noodles (HK$85) mixed with chopped vegetables Chifa sauce and a refreshing and crunchy addition of fresh apple.
Up next: the dumplings. You get four dumplings per order, unless you request otherwise, and a choice from "classic" (think har gow, siu mai and char siu bao) and more innovative "signature" offerings. We tried the Crystal Dumpling (HK$90) filled with Shiitake, oyster and button mushrooms, carrots and sweet corn and Juanito's Green Dumpling (HK$70), prawn and Shiitake mushroom wrapped in chive dough. Definitely make use of their dipping sauces – we found the simpler dumplings could have done with a little more flavour. Next time we'll be sure to try the Chifa Spicy Dumplings (HK$85), pork, chives, peanut and spicy sauce, and the Truffle Potsticker (HK$95), shrimp cuttlefish, truffle paste and truffle cream.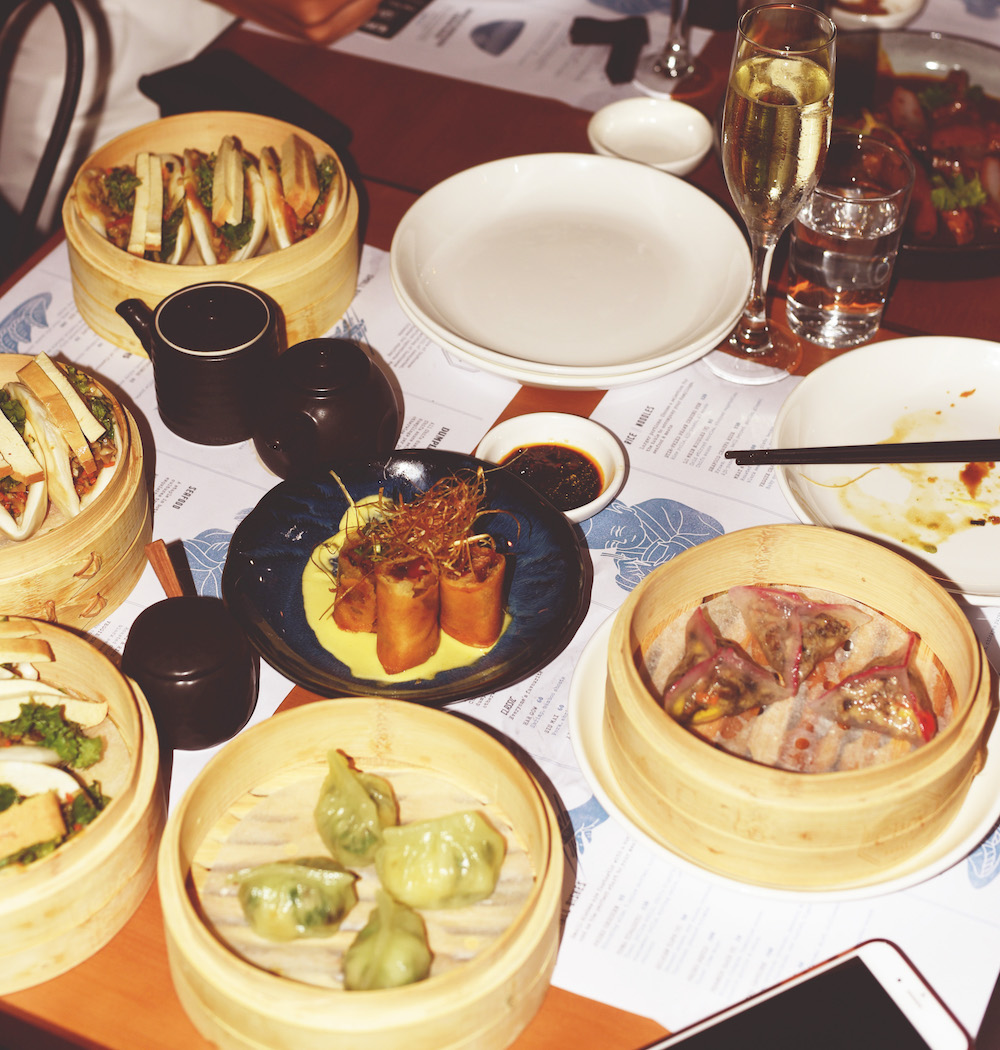 There are also a selection of fluffy baos that come as a trio per order and are stuffed with beef tongue (HK$90), grilled tofu (HK$70) or char siu (HK$100), perfect for sharing.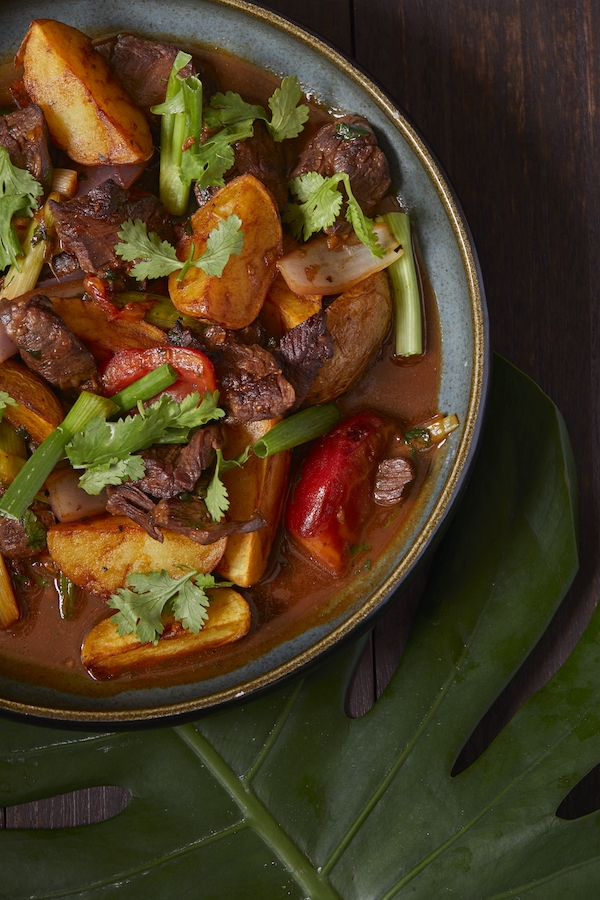 The highlight, and one of the more traditional Chifa dishes, was the Lomo Saltado (HK$190), a tender melt-in-your-mouth stir-fried beef tenderloin with bell peppers, potato wedges, tomato and soy sauce, and the Meat & Rice (HK$100), a mix of roasted chicken, pinto beans, red chilli, black sesame seeds and crispy wonton. If you still have room, the dense and creamy cheesecake with blackberry compote and coconut sorbet (HK$75) is a decadent yet extremely satisfying finish.
The relaxed atmosphere and the buzz are worth the visit alone and while we feel like the dumplings could be just a tad bit punchier – their unique small and main dishes, such as the Silken Tofu with avocado, Peruvian Chicken with chickpea puree and crispy noodles and Stir-Fried Prawn Cheung Fun with the sweeter and smokey Peruvian yellow Aji-panca chilli and XO sauce, are a great and fun introduction to Chifa cuisine.
Cocktails, dumplings and a chic Instagrammable space? Sounds like a great start to a night out to us.
Chifa, G/F, 26 Peel Street, Central, Hong Kong
+852 2311 1815
chifa.hk