There is a series of rooms in the Hermès headquarters that remain closed to the public. One of those is the former office of Émile Hermès, which now serves as his private museum – and we're about to get a glimpse of what lies within.
It's all very hush-hush. The meeting place is the bustling store on Rue du Faubourg; we are then led to another building close by. Our passports are scanned for reference. A traditional French-chic woman of small bone structure appears and leads us to the lift. We arrive in what feels like a room of a very old French apartment, chock full of collected antiques from floor to ceiling. "Welcome to the dream box," she says, and smiles.
Émile Hermès, from the third generation of the family, was somebody who appreciated and collected fine objects; this museum brings together items that have been in the family for generations, with the aim of igniting inspiration for the future – designers working for the brand are welcome to visit and be inspired. Would we be lucky enough to run into Pierre Hardy today? I tried to imagine Martin Margiela dropping by years ago. For anyone with an appreciation for craft and the beauty of decorative arts, your eyes will be in for an unimaginable treat in this series of rooms. Gilded cordovan leather, Russian leather artefacts, Japanese silk casaques, rabbit-bitten whips, a knife to dust bread crumbs from a table... Our wonderful guide, Ménéhould du Chatelle, is an endless fount of knowledge – about world history, the brand, the family and the arts.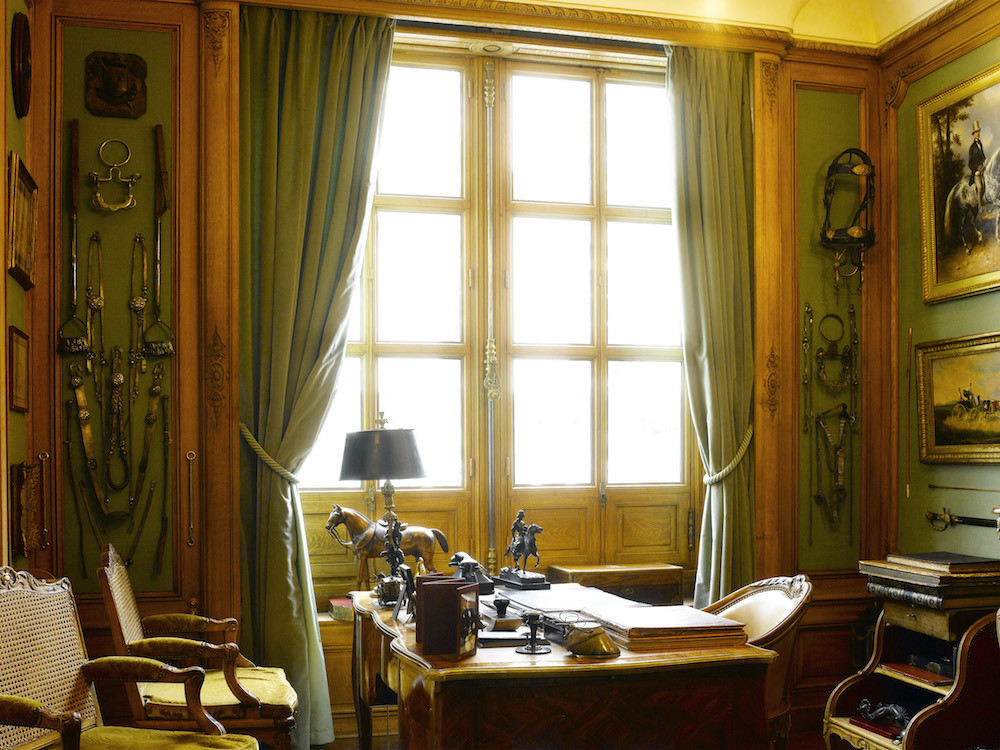 In 1837, Thierry Hermès, from the Left Bank of the Rhine (read: Germany), walked a thousand kilometres to discover Paris. His first stop was the Champs-Élysées, which seemed like a wonder of wonders and an endless avenue of horses and carriages. He bought a souvenir – an accordion-like card with a centre peephole that, when stretched out, reveals the magic of Paris through illustration on paper. As we all take turns peering into this antique tourist toy, genuinely delighted by something made by hand centuries ago, it makes all of our digital toys of the present feel so incredibly soulless.
Related: World's Most Expensive Handbag Sells at Christie's Hong Kong
Paris was a dream for Thierry Hermès. He wanted to conquer Paris and decided he would start by making harnesses for horses – there were some 90,000 horses in the city at the time. Thus began the Hermès brand. On display in the museum are hunting swords and whips made for French empresses – and, of course, there are saddles everywhere. One particularly interesting saddle is made of shagreen. Mr Hermès had become obsessed with fish leather, but it was a technique that only the Japanese and the Chinese had mastered. He finally discovered, with great satisfaction, that agate could polish such leather. Such titbits of stories and history fill these rooms.
Unusually, a large collection of dog collars fills a glass case. In fact, the chicest dogs of Paris were dressed by Hermès in the early 20th century and the brand was the top canine couturier. Seeing the collars now makes a clear connection with the brand's Collier de Chien line of leather jewellery, watches and cuffs popular today. It is, as Madame Chatelle says, proof that "inspiration is everywhere."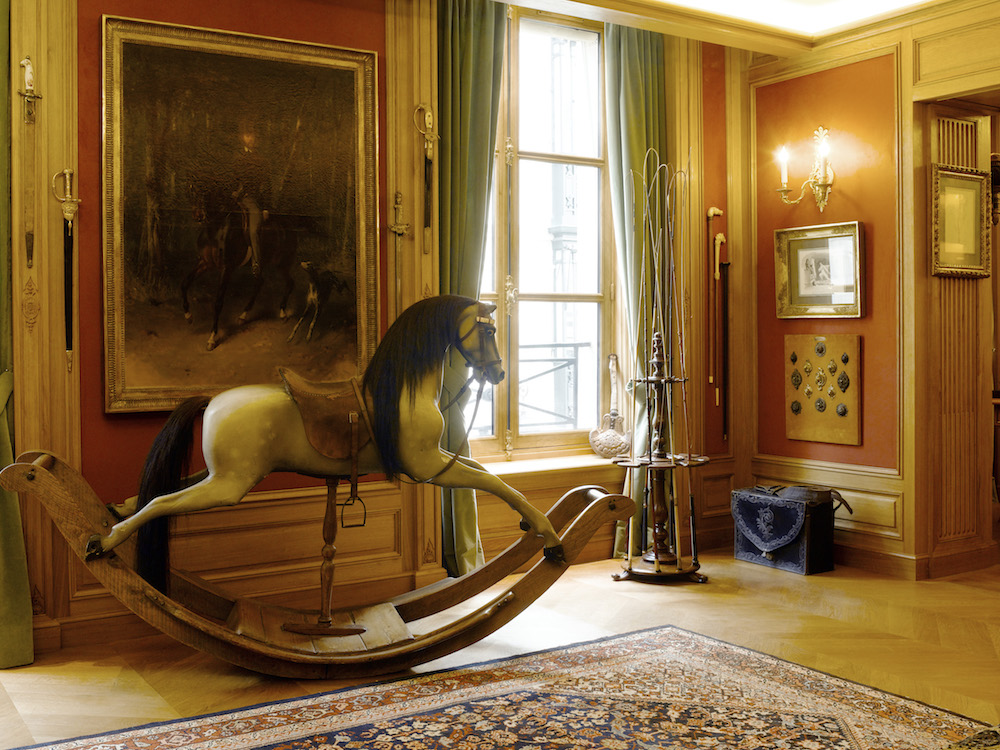 In another area, there is a beautiful paper carriage and horseman made entirely of tiny scrolls of paper. In the cloister of the 19th century, it was common practice to make objects from paper to be given as presents; they were gifts of patience and love, not of monetary value. Though the horse theme makes an obvious connection to the brand's roots, the reason for its inclusion is for its process – the delicate nature of the detail, the lessons of patience. The secret to longevity is in the details. What is made with time will last and be durable – and this is the essence of Hermès products. The natural soul and the spirit of the leather, silk or porcelain must always be invoked in the process. This must be part of why we adore whatever comes in those signature orange boxes.
At the end of the tour, we come to a drawing by Alfred de Dreux, which Émile Hermès had acquired for his private collection in 1923. This image would become the source for the brand's logo, and far more symbolic than the visual of a horse and carriage. What's interesting is how important the value of balance was, and continues to be, for the brand – between waiting for something and getting ready for departure, between mind and body, between the spiritual and the material, between masculine and feminine, and between memory and imagination.
This feature originally appeared in the January 2018 print issue of #legend