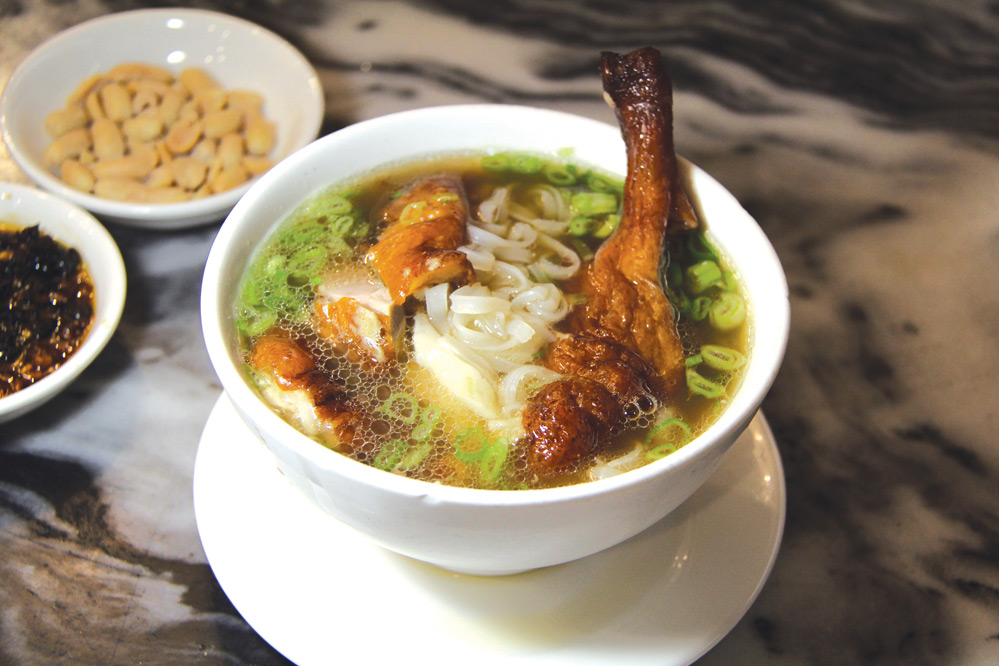 ​You've probably only just recovered from your Christmas food coma, but now it's time to dig in again to celebrate Lunar New Year. Noodles are a symbol of longevity, so I taste-trekked the city, from Central to Yuen Long, to bring you this inviting quintet.
1. Lung Mun Seafood Restaurant, Lei Yue Mun
Located in the city's seafood heaven of Lei Yue Mun, Lung Mun Seafood Restaurant has been around for more than 40 years and is famed for its Hong Kong take on lobster thermidor. Diners get to select their own fresh lobster from any seafood vendor across the restaurant. The lobster is then split in half, drenched in an oozy golden cheese sauce and then baked in the oven while resting on a bed of pan-fried rice vermicelli. A fresh take on the usual lobster yi mein, this is one decadent dish to be enjoyed with friends and family.
20-22 Hoi Pong Road West

2. Hing Kee Restaurant, Tsim Sha Tsui
A celebrity favourite, Hing Kee in Tsim Sha Tsui is a hotspot for those who crave typhoon-shelter-style seafood. Piping hot bowls of roast- duck ho fun (rice noodles) are also a specialty here. Don't forget to drizzle in the black sauce that comes with them. Made from the sauce of the restaurant's stir-fried- crab dish, fermented black beans and crispy garlic, it's so good that you will want to take home a jar. This place stays open until late and is a great place for partygoers to satisfy hunger pangs after one too many drinks.
1/F Po Wah Comm Building, 180 Nathan Road. 2722 0022
3. Ho To Tai Noodle Shop, Yuen Long
A Yuen Long institution since 1946, Ho To Tai Noodle Shop is famed for its Cantonese egg noodles, and diners flock to the small, two-storey restaurant to sample different noodle varieties that are made fresh every day. Favourites include the shrimp roe noodles, which come with generous servings of shrimp roe sprinkled on top, house-made fluffy yi mein that go perfectly with a side dish of beef brisket and radish, and shrimp-and-pork wontons with egg noodles. Ho To Tai's dried noodles can also be found in stores around Hong Kong.
G/F, 67, Fau Tsoi Street. 2476 2495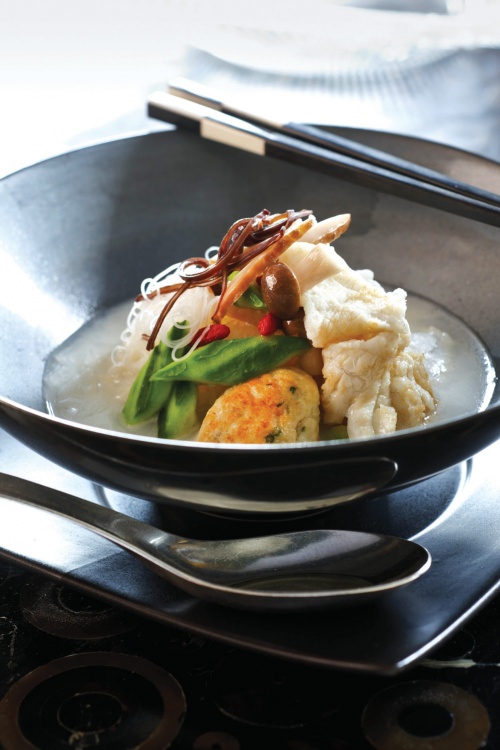 ​4. Sevva, Central
Sitting pretty on the 25th floor of Prince's Building, Sevva offers an expansive view of Central along with thoughtfully crafted culinary delights. A favourite on the menu is the fish soup vermicelli. "It looks like a simple bowl of mae sin, but tonnes of work actually goes into producing it," says founder Bonnae Gokson. And she means it. Time is invested in making fish stock, and quenelles of spring water tofu are hand-tossed together with fish, prawns and rice vermicelli to complete this light yet flavourful dish.
25/F Prince's Building, 10 Chater Road, Central. 2537 1388

5. Ho Hung Kee, Causeway Bay
A Causeway Bay street-side eatery turned upscale noodle and congee restaurant, Ho Hung Kee continues to draw crowds at its new Hysan Place location. The venue has been fitted with vivid turquoise booths so that diners can enjoy the restaurant's famed congee, wonton noodles and stir-fried beef ho fun in comfort. Their secret recipe for the latter's success no doubt lies in the home-made soy sauce that is finished with chives, onions, bean sprouts and tender beef slices. Definitely a dish not to be missed.
Shop 1204-1205, 12/F, Hysan Place, 500 Hennessy Road. 2577 6060​