The best holiday cocktails in Hong Kong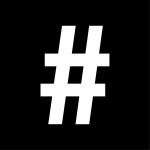 By: Sarah Engstrand
December 5, 2018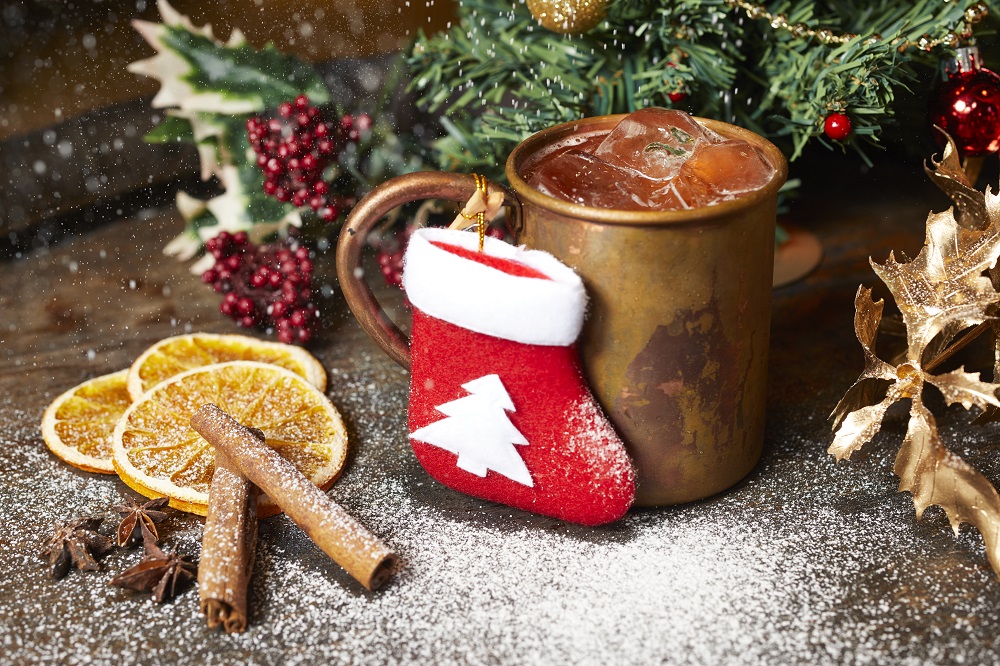 The weather is getting cooler and the movies are getting sappier, and this can only mean one thing: Christmas is coming. Don't miss out on a minute of merriment this season and enjoy all the most festive cocktails in Hong Kong. Yes, December brings crushing deadlines and holiday shopping madness, but there's always time for a tipple or two. This year we're spoiled for choice, with tons of creative concoctions on offer.
From the unusual, like Hua Diao rice wine and red date tea, to the opulent (have you ever sipped a cocktail from an ornament before?) read on to discover the most festive cocktails in Hong Kong this year.
Dragonfly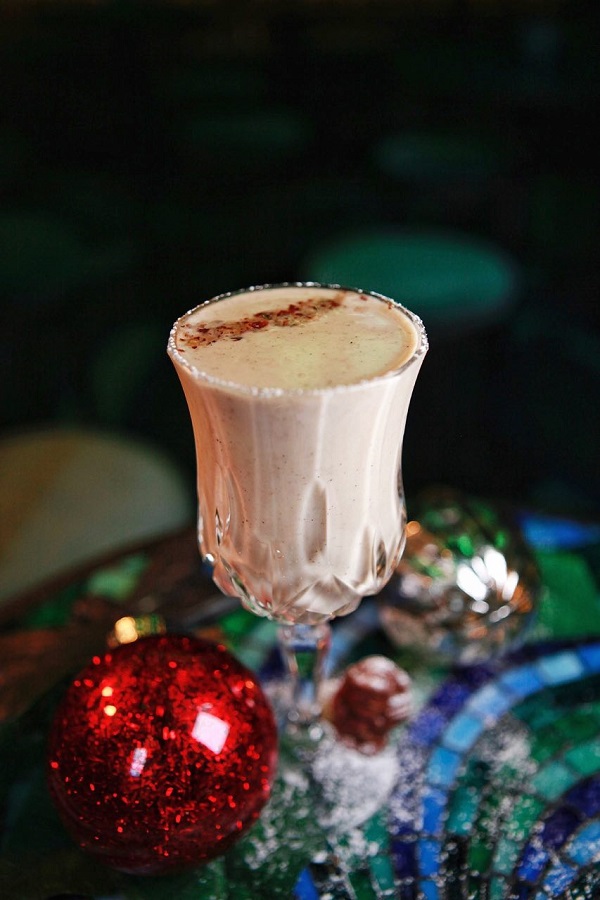 Tap into your inner Queen of Dragon(fly)s this Christmas with a decadent cup of Dragonfly Egg(nog) (HK$130) at Ashley Sutton's newest creation. Tucked inside Tai Kwun, Dragonfly is an art nouveau escape, with soft lounge music and sensuous surroundings—the perfect place to hide away from the "cold" and sip on something decadent. Their creamy eggnog is made with coconut rum, bourbon, coconut cream and vanilla, topped with star anise, crushed hazelnuts and nutmeg, and is available from 17 December, 2018.
Dragonfly, Shop 10&13, G/F, Tai Kwun, 10 Hollywood Road, Central, Hong Kong, +852 2777 2633
Read more: Ashley Sutton would rather build a spaceship
Uma Nota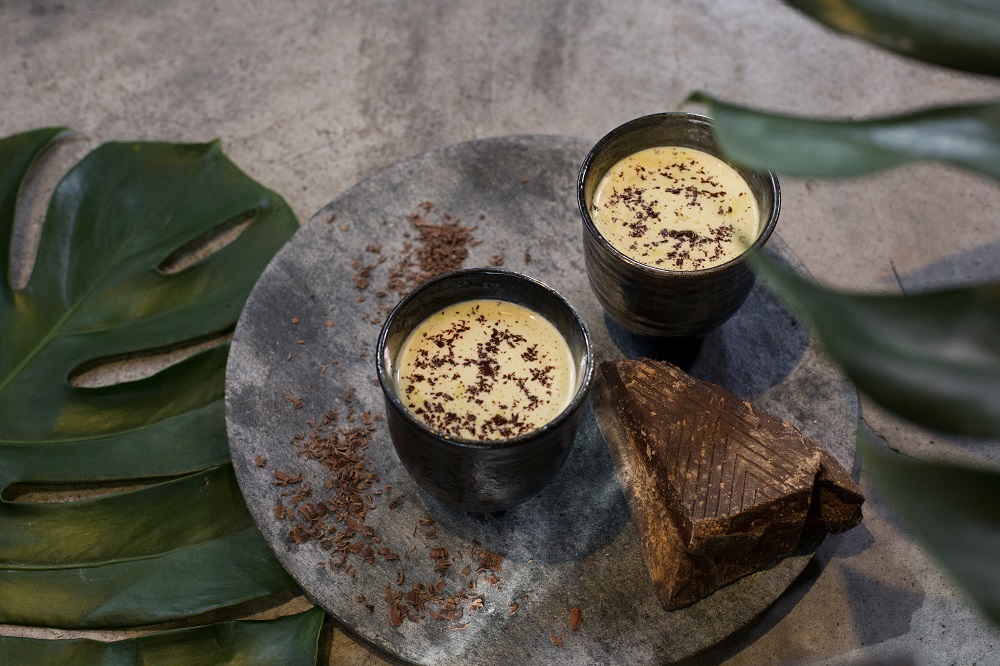 If you just can't get enough eggnog this season, head to Uma Nota for a Japanese spin on the classic. The Matcha-nogg (HK$100) is available from 15 December through the end of the month, and is a creative blend of Ezra Brooks Rye, fresh egg whites, cream and matcha. It's probably the healthiest eggnog you'll find this year, so it's okay to indulge in a few.
Uma Nota, 38 Peel Street, Central, Hong Kong, 2889 7576, +852 2889 7576
Bedu
Transport your taste buds to Lebanon this Christmas at this Bedouin-inspired Middle Eastern restaurant. For their cocktail inspiration, they looked to the night sky and created The Milky Way (HK$95), with chocolate bitters, almond milk, honey, vanilla, Disaronno, and a dash of Scotch whisky, it's an ode to the crystal-clear night of the nativity.
Bedu, 40 Gough Street, Central, Hong Kong, +852 2320 4450
Tivo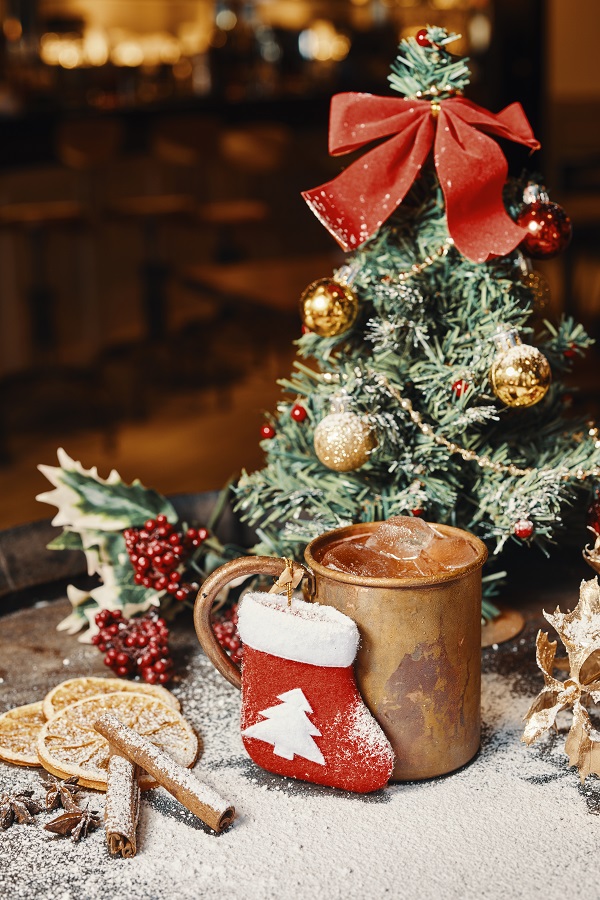 Tivo is one of our tried-and-true old favourites in Hong Kong, and it always delivers a good night and even better cocktails. This Christmas, we can't wait to try this chic Italian bar's Tidings of Joy cocktail (HK$88). Served in a copper mule mug, this is a refreshing seasonal addition, made with vodka, spicy mango, piquillo reduction, Aperol and agave, and topped with its very own stocking. This one is guaranteed to make you feel more naughty than nice.
The Tidings of Joy cocktail is available from 15 – 30 December, 2018
Tivo, 43 Wyndham Street, Central, Hong Kong, +852 2116 8055
The Dispensary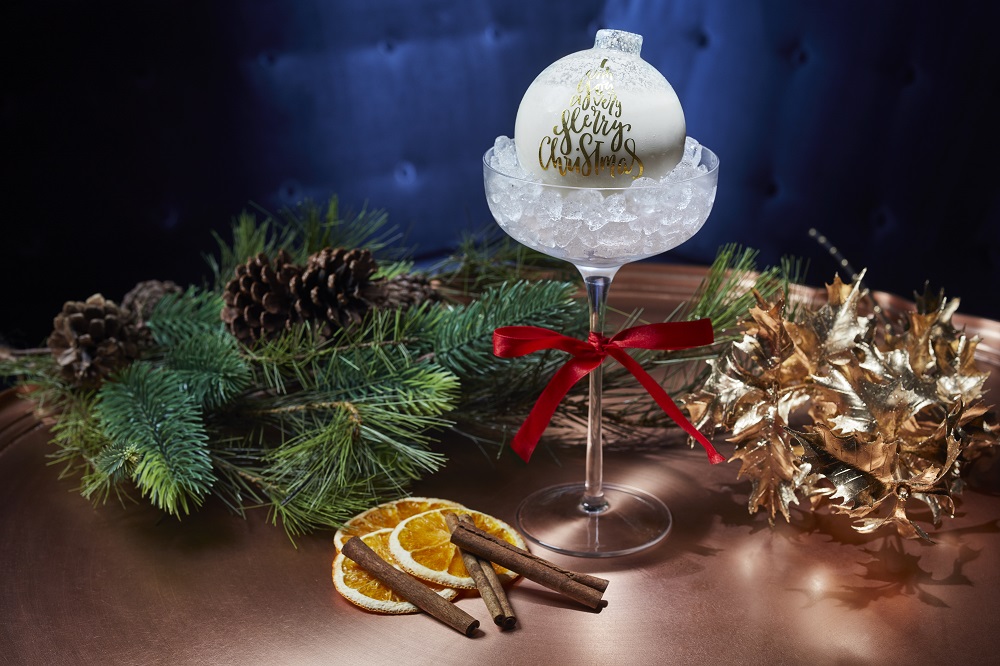 A new addition to the Hong Kong scene, Dispensary is already building a solid reputation as one of the go-to cocktail spots in Tai Kwun. For their first Christmas, they've created not one but three tempting drinks. The Noel Nightcap (HK$128) is a grown-up version of cookies and milk, made with cognac, biscuit liqueur, Earl Grey reduction, almond milk and cinnamon, and presented inside a glass ornament. Make sure to try their other two seasonal drinks, like the creamy Dan Tat (HK$98) and the gold-and-chocolate Vet's Antidote (HK$138), topped with a mint chocolate treat.
The Noel Nightcap is available from 15 – 30 December, 2018; the other drinks are available throughout the winter season.
The Dispensary, Block 01, Tai Kwun, Police Headquarters, 10 Hollywood Road, +852 2848 3000
CÉ LA VI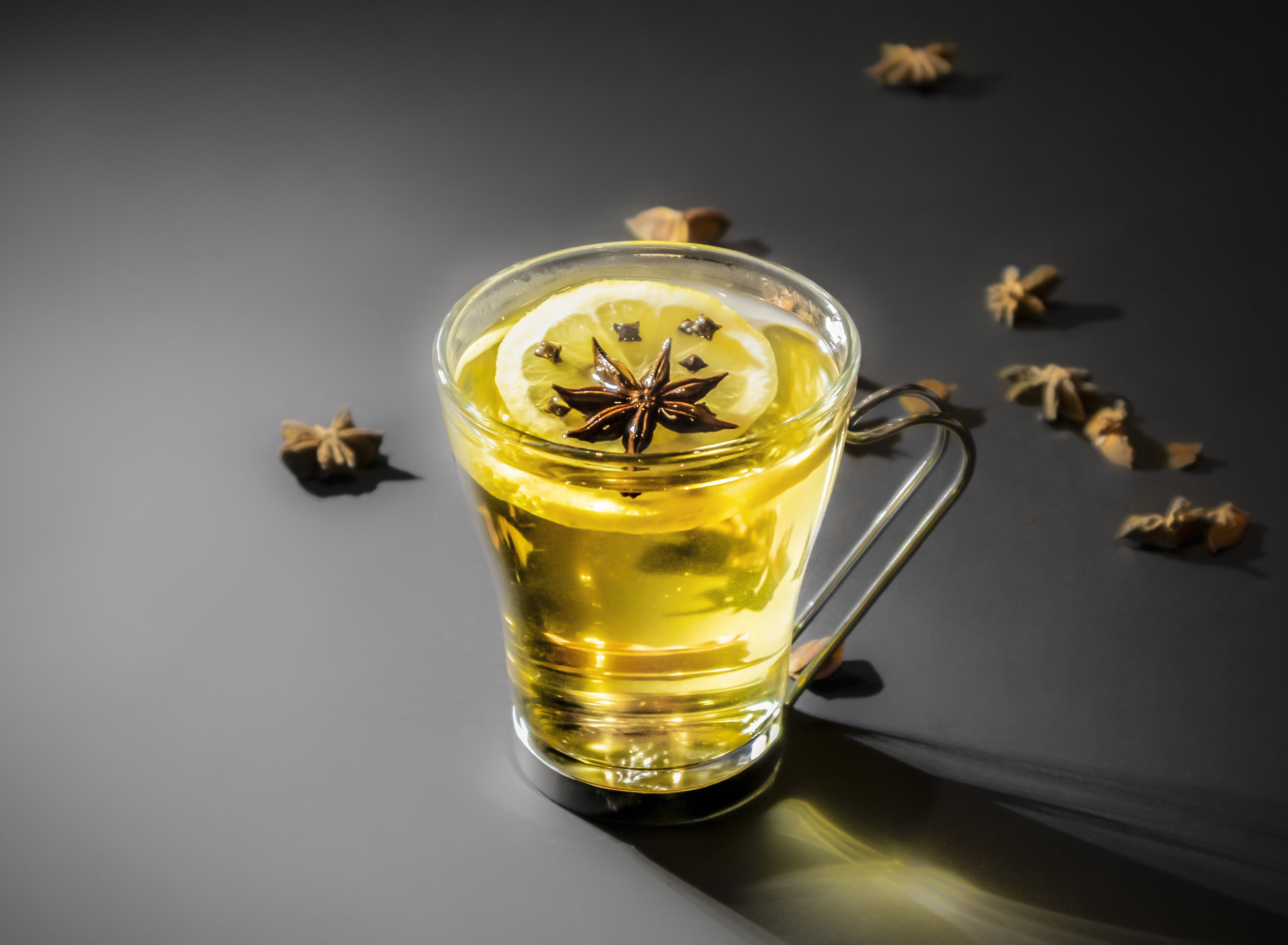 It doesn't really get chilly in Hong Kong, even in December, but sometimes we like to pretend. If you're dreaming of cooler climates, head to CÉ LA VI for their CÉ LA VI Toddy (HK$148). Their take on a Scottish favourite is made with Black Label whisky, spiced syrup and lemon juice – and it'll make you feel cosy from the inside out.
The CÉ LA VI Toddy is available from 1 – 31 December, 2018.
CÉ LA VI, 25/F California Tower, 30-32 D'Aguilar Street, Central, Hong Kong, +852 3700 2300
LEE Lo Mei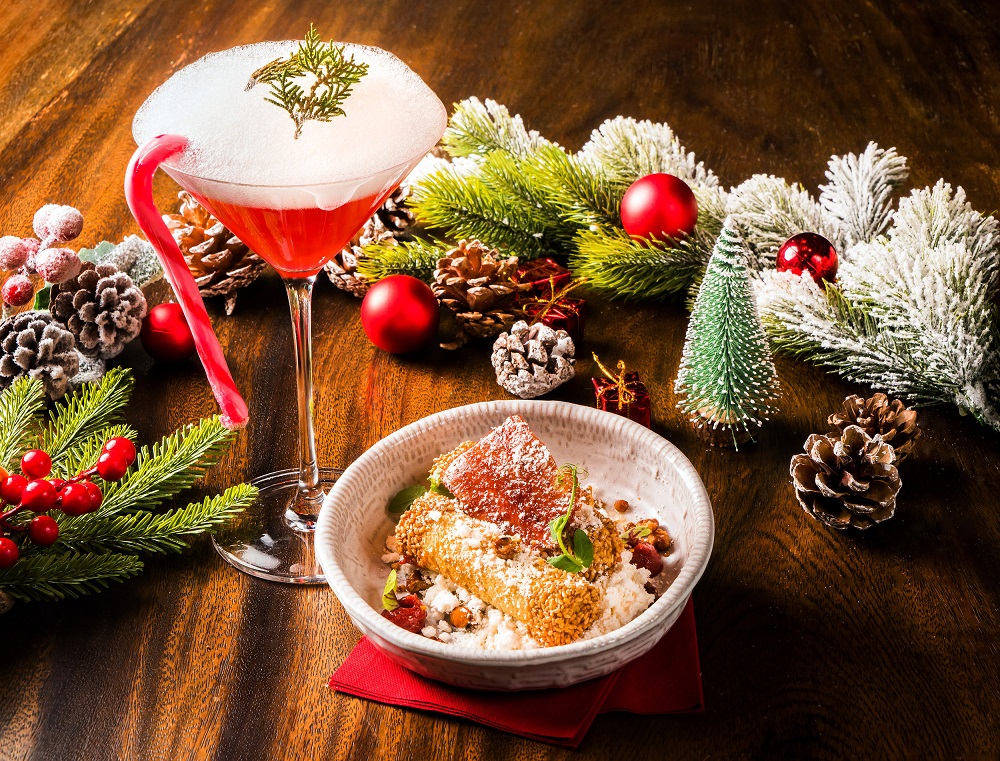 For those who lean more towards naughty than nice, there's LEE Lo Mei. This tongue-in-cheek den of Hong Kong nostalgia will have you feeling all kinds of merry with their Santa's Candy Cosmo (HK$128). First, you'll taste the sweet – like raspberries and Cointreau, but then you'll get the sour – like Yuzu Sweet and Sour, and an adorable candy cane hangs off the edge, if you want to share with Santa's reindeer.
Lee Lo Mei, 8 Lyndhurst Terrace, Central, Hong Kong, +852 2896 7688
Terrible Baby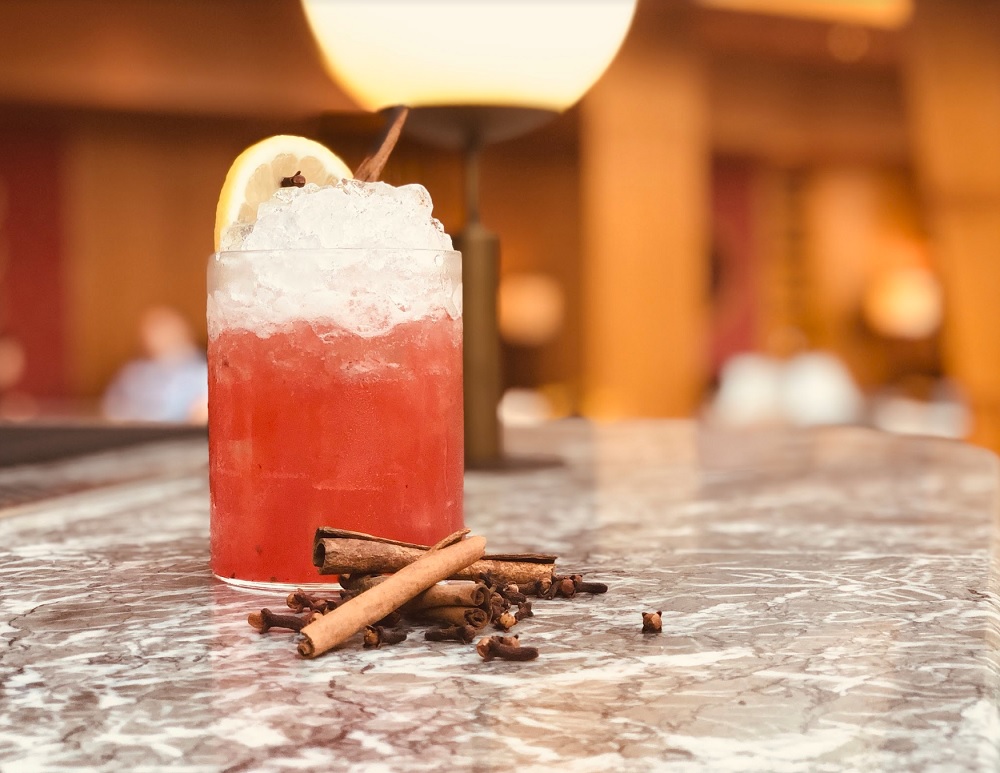 Eaton HK's Christmas cocktail is yet another reason to cross the harbour this festive season. For their inaugural Christmas, Terrible Baby – the space's flagship bar and performance space – has created the Boozy Rudolph. A combination of clove-infused Hine Cognac, Rebel Yell bourbon whisky, lemon, chai, blackberry and cinnamon syrup, it's practically Christmas in a glass.
Terrible Baby, 4/F Eaton HK, 380 Nathan Road, Jordan, Hong Kong, +852 2710 1866
The Butchers Club Burger
Mulled wine and chicken wings isn't the most traditional pairing, but it works. The Butchers Club has named the unique duo the Red Velvet Combo (HK$138), and it's available in all of their locations now. A pipping hot mug of spiced wine and free-range wings dipped in a rich wine sauce— how could this be anything less than perfection?
The Butchers Club Burger, 82 Stanley Street, Central, Hong Kong, +852 2347 0755
Starbucks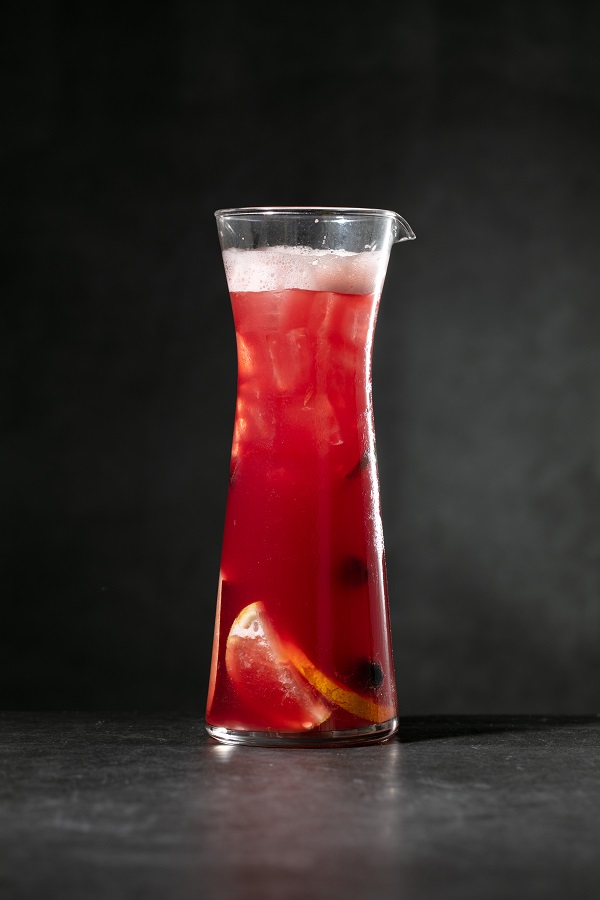 While this technically isn't a holiday cocktail, it's exciting enough to be included anyway. Starbucks will soon be offering Tea Cocktails (yes, with alcohol!) at their Lee Garden Flagship Store. They're launching five flavours, but we've got our eyes on the Hibiscus Tea Sangria (HK$98). The STARBUCKS® TEAVANA™ Hibiscus Tea base is jazzed up with red wine, brandy and Cointreau, topped with fresh fruits and finished off with a splash of soda water. Served over ice, it's a refreshing way to celebrate this season.
Starbucks Hong Kong Flagship, Lee Garden Three, Shop 101-110, 1 Sunning Road, Causeway Bay, Hong Kong
Employees Only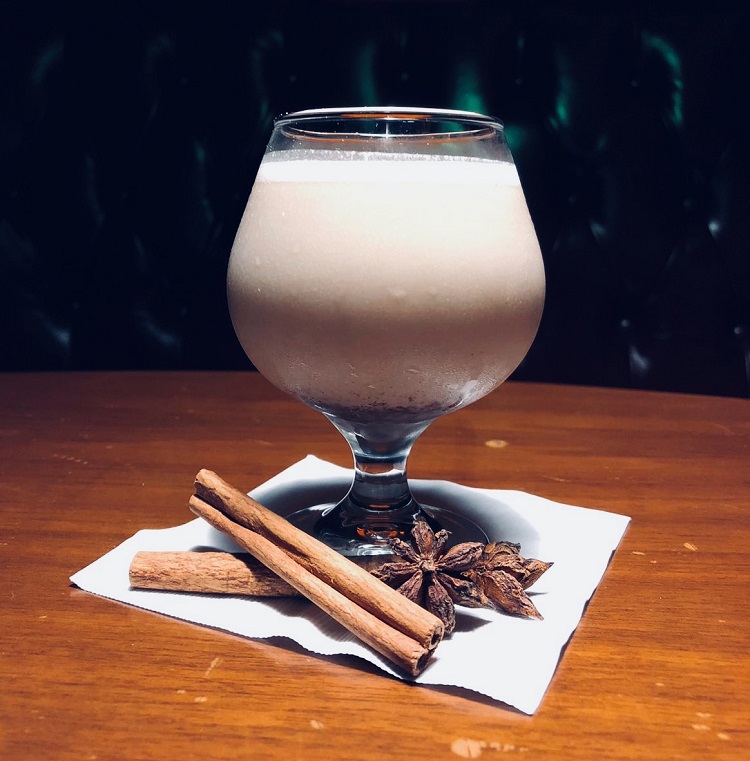 This New York transplant quickly became a Lan Kwai Fong favourite. The ultra-chic speakeasy is one of the hottest places to go for a strong cocktail and good cheer (all year long!). The team behind the bar have created two new specials to mark the season. Give in to your sweet-tooth with Uncle Charlie's Hot Chocolate (HK$140). Not quite like mom used to make, this version is spiked with dark rum, and served warm with a hearty helping of whipped cream. They've also created their own version of eggnog called a 'Rum Nog' (HK$140). Dark rum and sherry provide a much-needed kick to coconut cream sweetened with date, cashew and almond. Just think of it as a very merry smoothie.
Employees Only Hong Kong, 19 Lan Kwai Fong, Central, Hong Kong, +852 2468 2755
Read more: Meet the men behind the bar at Employees Only Hong Kong
Veuve Clicquot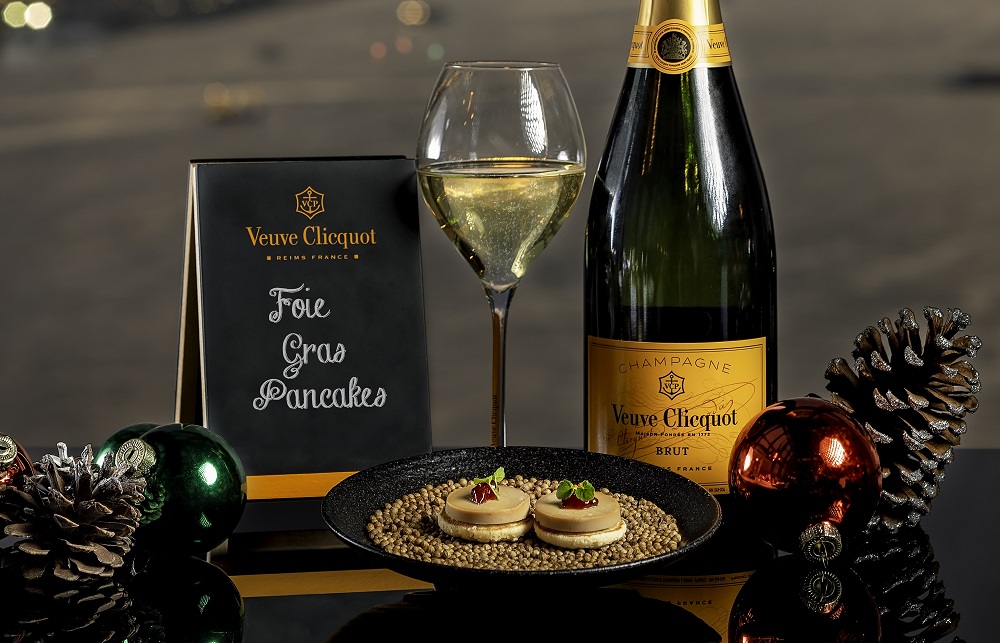 Nothing says the holidays quite like bubbly, so celebrate with Veuve Clicquot this year. The Champagne house has embraced the season with their new "Festive Treats"-themed Yellow Hour. Yellow Hour, in case you've missed it, is a quarterly aperitif that pairs the Champagne with snacks from some of the city's best restaurants—you can read more about it here. For "Festive Treats", Veuve Clicquot has teamed up with over 10 incredible restaurants, offering festive fare like a goat cheese tart with sherry onion raspberry jam at Ham & Sherry (HK$168) or a decadent foie gras mousse pancake with cranberry jam at Armani Aqua (HK$208). They have specials on at Aqua, Cassio, Commissary, DiVino, DiVino Patio, Fang Fang, Gaylord Restaurant, La Rambla, Namo Restaurant, Penthouse, Spasso and The Luxe Manor.
Read more: Veuve Clicquot introduces Yellow Hour
Dr Fern's Gin Parlour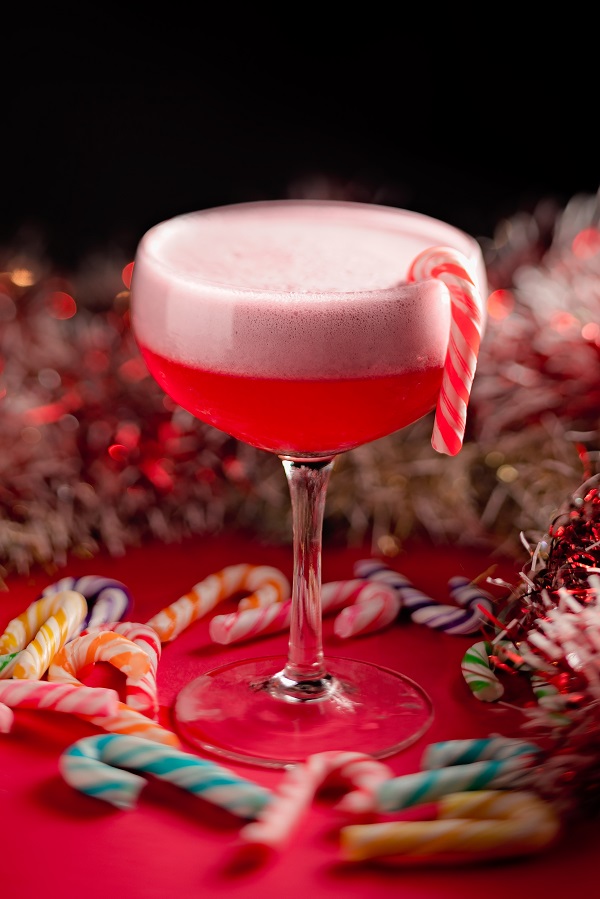 Do you have a case of the holiday blues? The doctor can cure that – just head to Dr Fern's Gin Parlour to get your prescription. He might recommend The Snowman (HK$160)—made with vodka, Monin vanilla, cream, Frangelico and garnished with dark chocolate, this medicine goes down very smooth. If you need a stronger dose, something like the Christmas Club cocktail should cure you (HK$160). If Applewood gin, mulled wine syrup and vanilla don't make you feel better, we're afraid nothing will.
Both The Snowman and the Christmas Club cocktails are available from 1 – 31 December, 2018.
Dr. Fern's Gin Parlour, Shop B31A, First Basement Floor, Landmark Atrium, Landmark, 15 Queen's Road, Central, Hong Kong, +852 2111 9449
Read more: The 6 best gin bars in Hong Kong
Foxglove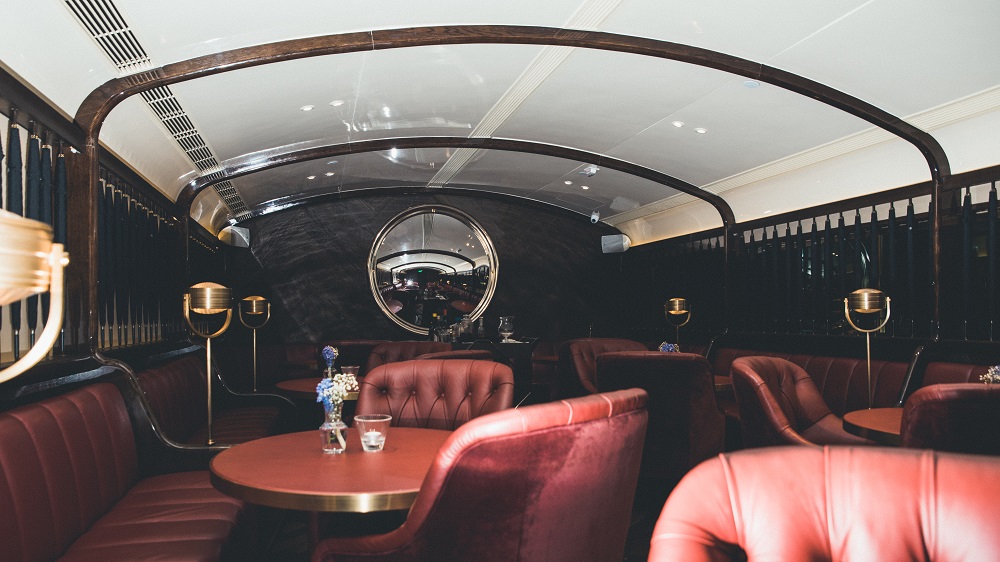 It's not really Christmas without Christmas movies – that's why Foxglove is transforming into a winter cinema this month. Every Monday (and Christmas Day), the umbrella-shop speakeasy will be showing classic films from 8:30pm. Keep an eye on their Facebook for the full schedule, but we can tell you they'll be playing Home Alone 1 & 2, Miracle on 34th Street, Love Actually and Elf. But the real stars of the show are the cocktails, of course. Like White Christmas (HK$130), made with apple brandy, shiraz, vanilla cream and dark cacao, and the Johnnie Jingle (HK$130), an unabashedly sweet tipple of Johnnie Walker Black Label, Frangelico, butterscotch caramel and coconut milk.
Foxglove, 18 Ice House Street / 6 Duddell Street, Central, Hong Kong, +852 2116 8949

Mrs. Pound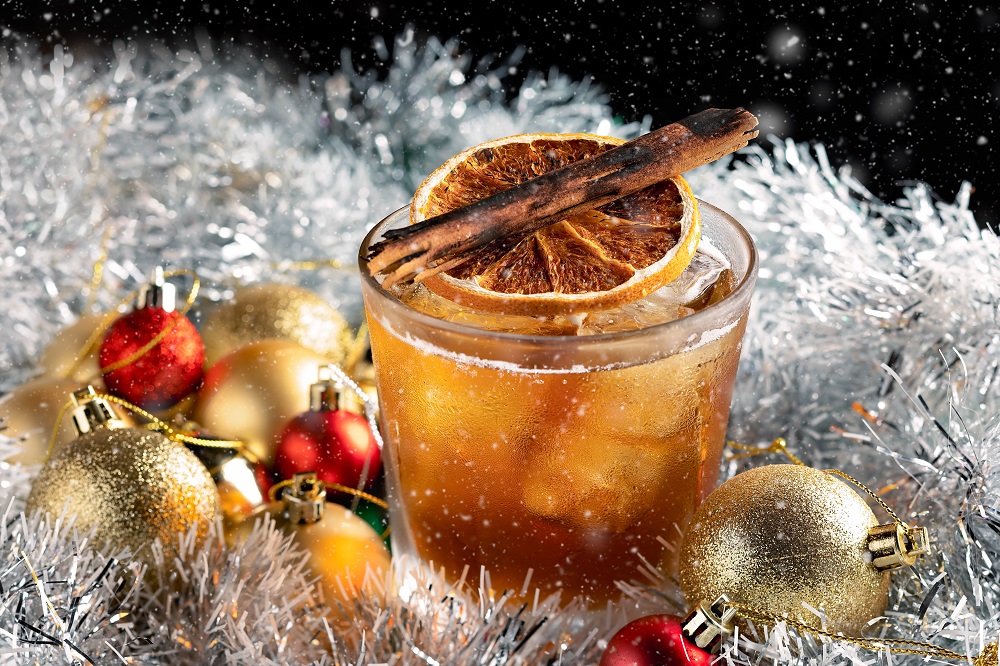 Hidden away in Sheung Wan, this sultry speakeasy is putting a little romance into each one of their cocktails. Couples can cosy up with A Date in the Snow (HK$130). Inspired by a Hong Kong' winter romance, this unusual but comforting pour is made with quinoa vodka, Hua Diao rice wine, red date tea and elderflower liqueur. For something extra warming, try the Christmas with Suzie Wong (HK$130). This recipe comes from a night long ago, when Ms. Wong and Mrs. Pound were dazzled by a man at a Winter Ball. Supposedly he made the girls a drink of Bacardi Ocho, coffee bean Mancino Rosso, black walnut bitters, cinnamon syrup and Thai red chilli, and it has remained one of Mrs. Pound's favourites ever since.
Mrs. Pound, 6 Pound Lane, Sheung Wan, Hong Kong, +852 3426 3949