Dior designer of dreams: inside the exhibition that celebrates the iconic brand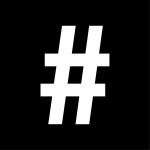 By: #legend
May 9, 2019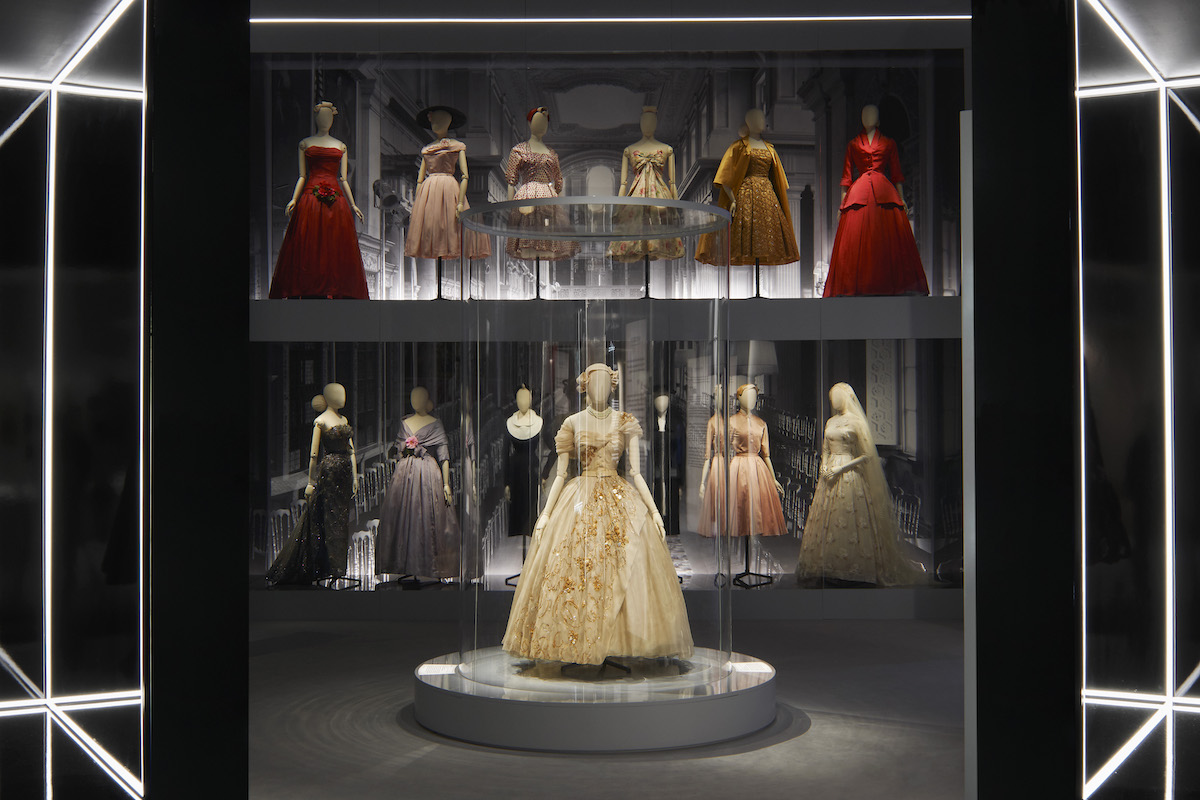 "Did women really have such tiny waists?" asks a woman facing a whittling bar jacket in ivory shantung silk with a black pleat crepe skirt from Dior's spring haute couture collection 1947. "They wore corsets!" pipes up her seven-year-old son chuffed with his quick fire response. The duo are amongst the thousands of visitors who are and will tour Christian Dior: Designer of Dreams at London's Victoria & Albert Museum. The expansive show that tracks the impact and artistry of Christian Dior over seven decades is a sell out.
One visitor, wearing a Dior beret, J'Adior ribbon tie stilettoes and sunglasses from Maria Grazia Chiuri's reign at the house, is on her sixth visit. "She's got my t -shirt," she exclaims pointing at a mannequin wearing the 'All Women should be Feminists,' top, worn under a loosened up version of the iconic bar jacket and a fluttery tulle ballet skirt from 2017.
It is remarkable how possessive women are over Dior. The house, the jewel in the crown of LVMH, encourages 'bonding.' There is a sense of complicity between the visitors, the curators, and the house – recognition that women adore Dior for the Cinderella magic we see in those glorious gowns and the spirit of joie de vivre. Even the most demure daywear as illustrated by a charcoal wool A line pleat skirt and elongated db jacket pinned with a lily of the valley posy (1955) has movement and a sense of propriety.
In the promotional films and archive footage, you witness how Dior embraced the medium of techni colour film. His house models performed, divesting themselves of gloriously hued satin opera coats in the Avenue Montaigne boutique in a choreographed show. John Galliano was to later take that drama to new levels with supermodels waltzing and swooning through the gilded rooms of Versailles, descending grand stairways, and through elaborate sets taking on fictive characters – grand dames, troubled contessas, devilish debutantes, ingénues amongst. Without the distractions of social media and torrents of commenting, the audience was also fully 'there.'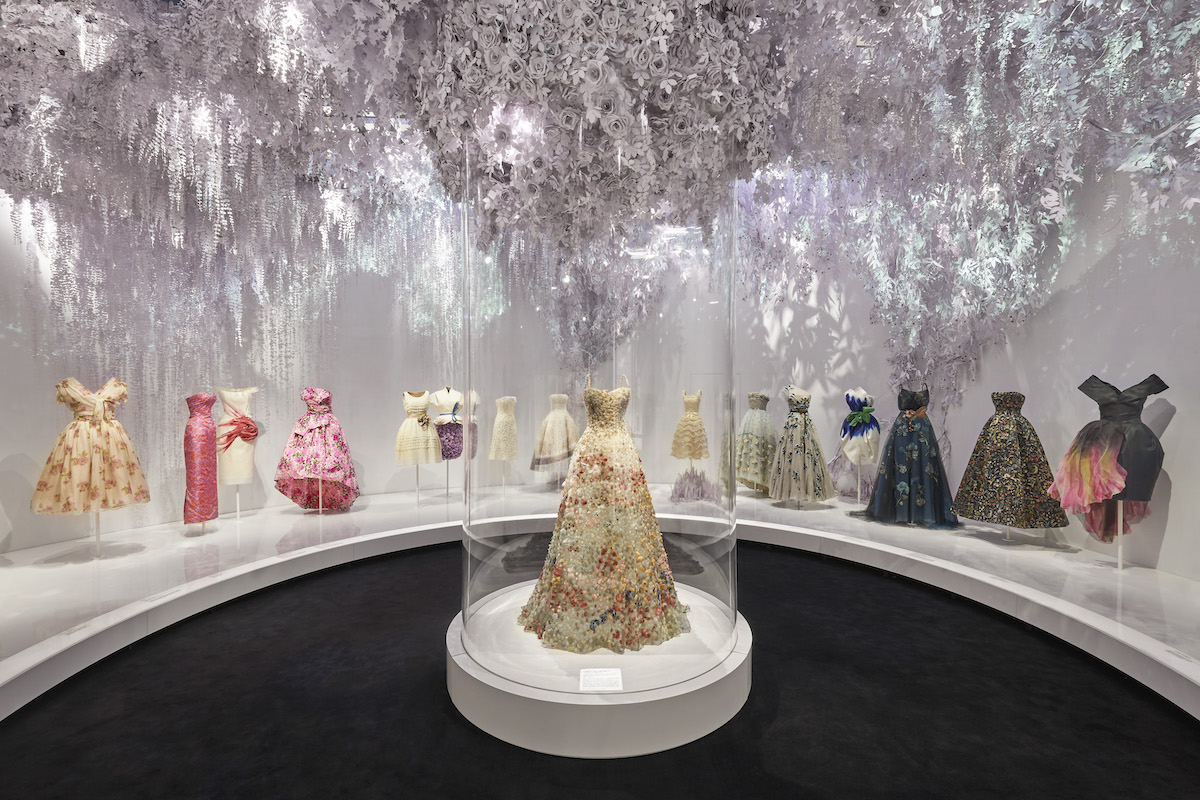 Before fashion seized the power of wearable logos and symbols, Dior claimed 'recognition' via a distinct silhouette that invariably enhanced the bust, trimmed the waist and flounced outwards at the hips. In design history, the New Look line is as iconic as Concorde, the Eiffel Tower, the I-phone and Mickey Mouse's ears. The silhouette, echoed on signage on ladies rooms worldwide, came to symbolize WOMAN.
With respect to the fact that Christian Dior died of a heart attack (at a health spa in Italy), just ten years after he established the house, the impact he made was unsurpassed. Within a decade, he seized the public imagination with his uplifting designs, swirling skirts and passion for design that he once described as 'ephemeral architecture.' With the boutiques modeled after grand townhouses (painted in the house shade of pearl grey), introduction of costume jewelry, perfume, handbags and shoes by Roger Vivier, Christian Dior laid out the blueprint for 21st fashion.
He foresaw the creation of immersive dream worlds and the possibility of a 'lifestyle' offer. With travelling trunk shows, brilliantly orchestrated media appearances and the licensing agreement CD Models (allowing ready to wear versions to be made of haute couture designs), Dior opened up and modernized the elitist, secretive and hierarchical world of haute couture. But most importantly, like a statesman, he knew how to proclaim from the top. The seasonal silhouette proffered in the cycle of change that governs the fashion industry today. Those iterations were taken seriously. Male news anchors announced the trends on 6pm national news. In the U.S. women staged protests against the excessive use of fabric. As sustainability comes to the forefront of the agenda, will those protests be heard again?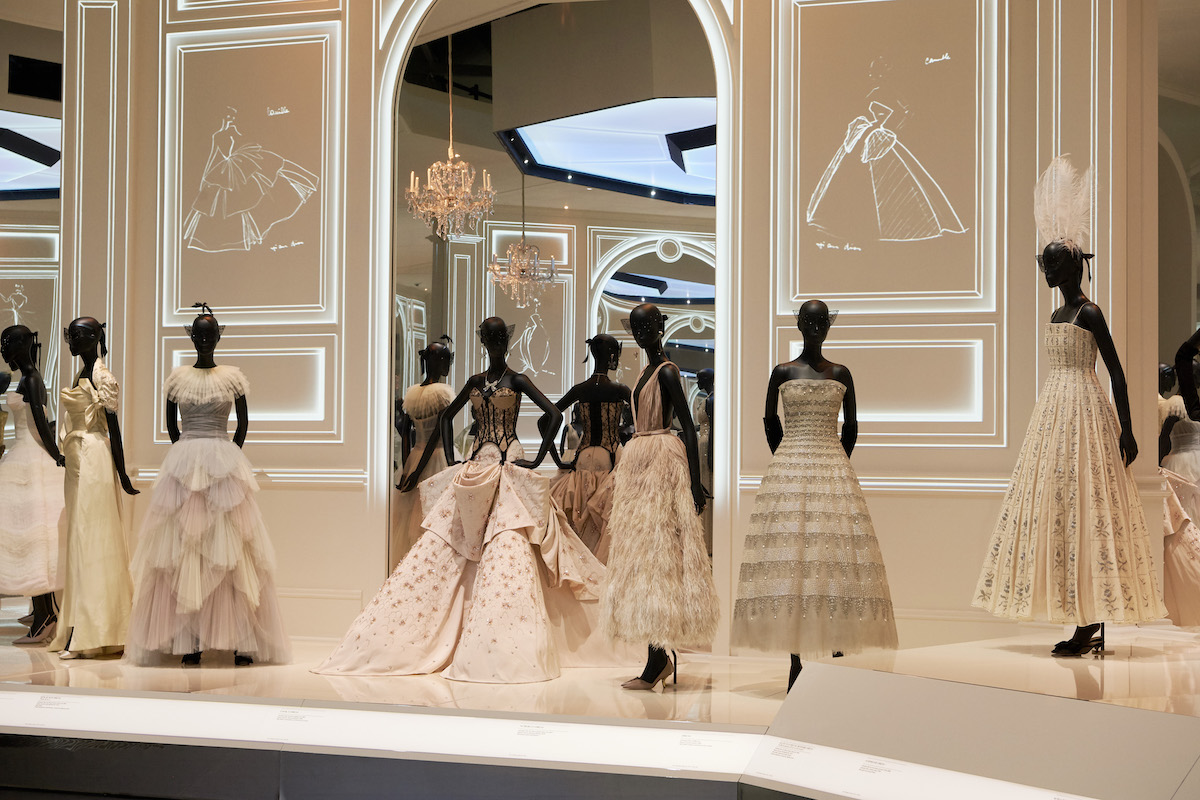 "In 1947, Christian Dior changed the face of fashion with his New Look, which redefined the female silhouette and reinvigorated the post-war Parisian fashion industry. Both nostalgic in aesthetic and forward thinking in approach, the influence of Christian Dior's innovative and experimental design was all pervasive and helped to define an era. Championing the artistry and craftsmanship of haute couture against a backdrop of ever-increasing mass manufacture, Dior combined astute business acumen and commercial opportunism with astounding creative talent," says Oriole Cullen, curator of the show. Even before the house opened its doors in 1946 plans were in place for the first Miss Dior perfume that Dior had dreamt up with nose, Serge Heftler-Louiche.
The exhibition that first opened at Musee Des Arts Decoratifs in Paris in 2017 has been re-curated by Cullen and her team to take in a big slice of British history.
Dior was an Anglophile (he wore Savile Row suits), held a deep respect for the Royal Family and adored stately homes and country gardens. In this time of Brexit crisis, the Brit/Franco relationship is double underlined.
"I love English traditions, English politeness, English architecture. I even love English cooking," said the ever so diplomatic couturier. In the 1950s, after rationing ceased, dined on Toad in the Hole, roast meats, over boiled vegetables and Jam Roly-Poly.
A swathed and draped white mother of pearl embroidered dress worn by the rebellious Princess Margaret for her 21st birthday is on display alongside a crimson organza strapless dress made for debutante, Emma Tennant in 1953. The choice of red was audacious. Tennant later wrote in her memoirs: "Easily fastened and almost indestructible, being built with whalebones."
Dior's designs had structure, symmetry and substance and they had an ability to make a woman truly 'present' in 3D. The exhibition of over 500 looks shows off that presence. In an age of 2D fashion when everything is communicated in imagery and on devices, the apprehension of exquisitely detailed designs that are as compelling from front side and back is thrilling. One of the most memorable sights is a room dedicated to the ateliers in which hundred of white toiles (test garments) are arranged floor to ceiling as a 'wunderkammer,' showing off the intricate construction and engineering of each garment. There is no creativity without the ability to 'execute,' and the toiles remind us of how much mediocre, lacklustre fashion there is the world today. That stark white room segues into a Diorama in which hundreds of products, photos are placed in vitrines with miniature and real size versions of the gowns.
"Christian Dior's design ethos was all about creating a holistic look pairing garments with accessories, scents and makeup," says Cullen. The 30 Avenue Montaigne boutique was like mini department store. Tableware and linen was even on offer. "Dior and interior designer and friend, Victor Grandpierre incorporated tones of pearl grey and white with matching medallion chairs, white lacquered furniture, bronze applique lamps with small shades and chandeliers. His salon was always filled with fresh flowers – a nod to his love of gardening," says Cullen.
The house has seen six designers at the helm with Yves Saint Laurent (Dior's assistant and just 21 when he was appointed) Marc Bohan, Gianfranco Ferre, John Galliano, Raf Simons and Maria Grazia Chiuri. Helming the house is one of the prestigious roles in fashion and each resembles a chapter. Saint Laurent dropped the waist and introduced the trapeze line and a cooler 'beatnik' air; Marc Bohan (1961-89) injected fluidity and pared back simplicity while Ferre reasserted bold structure and diva-ish flamboyance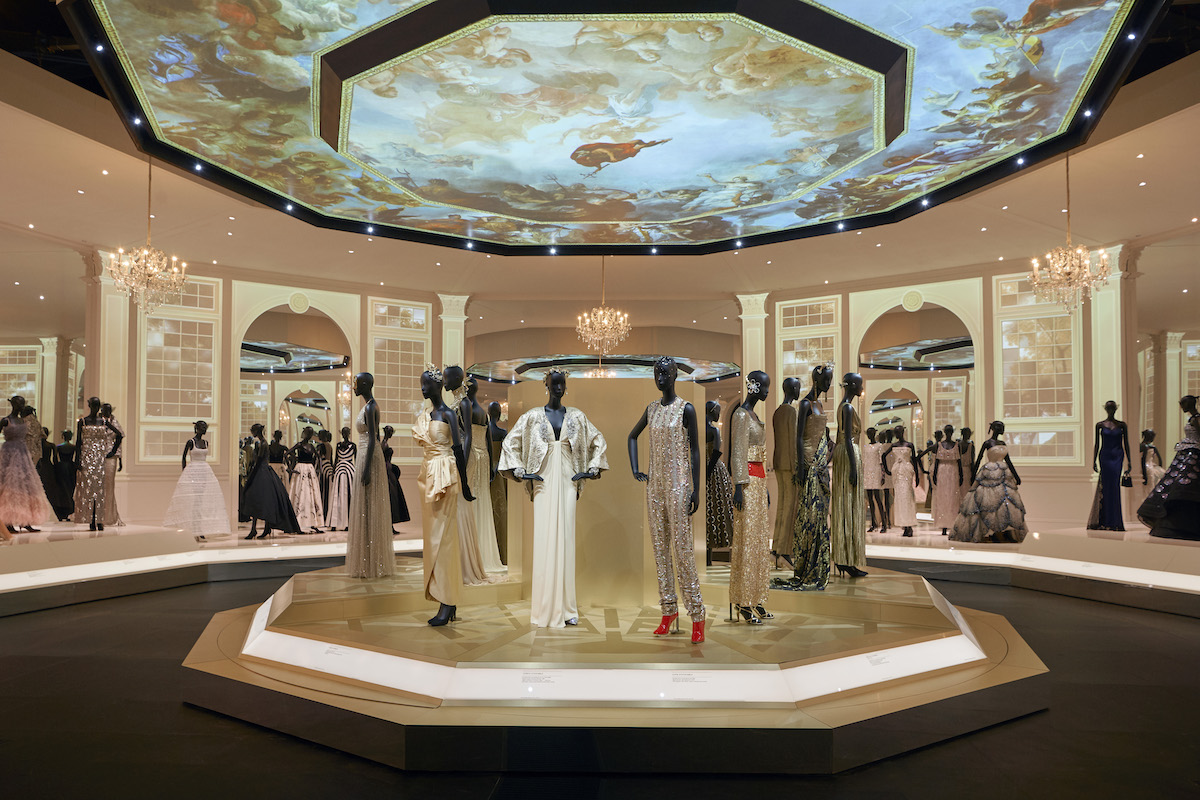 But it was John Galliano who jettisoned Dior into the late 20th and 21st century introducing denim, tie-dye, corset slip dresses onto the catwalk as well as accessories including the Miss Dior and the Saddlebag. He embarked on in depth travels – Egypt, to Peru, India, Africa – immersing himself in cultures and lands that he spun into exotic reveries. There is a bias cut gown made from luxurious versions of the embroidered fringed shawls that were commonly exported from China and a striking python skirt suit with a multi coloured mosaic collar worn by an Anubis.
The excessive workload was punishing, a catalyst in Galliano's fall from grace in 2011 when he exited the house following a public outburst. From drama and romance to purist form – Raf Simons then took the reins. His stinging colour combinations and collaboration with Sterling Ruby on prints infused Dior with a disquieting sense of the now.
How the brand is perceived now is a carefully calibrated orchestration of the present, the past, the spectacle and the reality of customers stepping into changing rooms. Maria Grazia Chiuri's has placed women centre of the frame with her relaxed 'liberated' silhouette, her alignment to fourth wave feminism and celebration of handcraft and the natural un-trussed female form. Her daughter, Rachele Regini, an art history student in London, is her advisor and 'youth' touch-point. "I strive to be attentive and open to the world to create fashion that resembles the world of today," says Chiuri who holds the heavy legacy sensitively.
The mother/daughter visitors to the exhibition are an education in them selves. In the grand final ballroom, you witness the power of self-projection. It feels also mandatory to imagine yourself as a Dior Cinderella and chose your own favourite from 70 haute couture gowns silhouetted against a digital backdrop of showering Swarovski crystals. The imaginary decision-making is tense, played out as mums and daughters trump tastes and debate styles from a strapless sequined silver and white column dress entitled 'Musique' (1956) to Galliano's giant blush pink gown topped with a lace corset (2009) and to a glimmering champagne chiffon dress by Chiuri (2018) bound at the waist by a web of silk ropes.
In that 'natural' waist, she speaks volumes about women's own dialogue with their body. Where Dior championed women as a 'prize,' a symbol of national pride, as ambassadors and as stateswomen in a Europe devastated by WW11, Chiuri embraces the soft power of the individual at a time when faith in politics and in nationalist identity is being eroded.
As you exit through the gift shop stocked with framed photographs, books, embroidered fripperies, tailors pins and scissors and the inevitable tote bag, the Dior dream billows through. There's a remarkable skip in the step as women walk down the Old Brompton Road. During his reign, Dior sold more than one and half times the clothes than fellow Parisian couturiers put together. Long live legend and the propaganda.
"Christian Dior: Designer of Dreams" is on until September 1st and the Victoria & Albert Museum in London