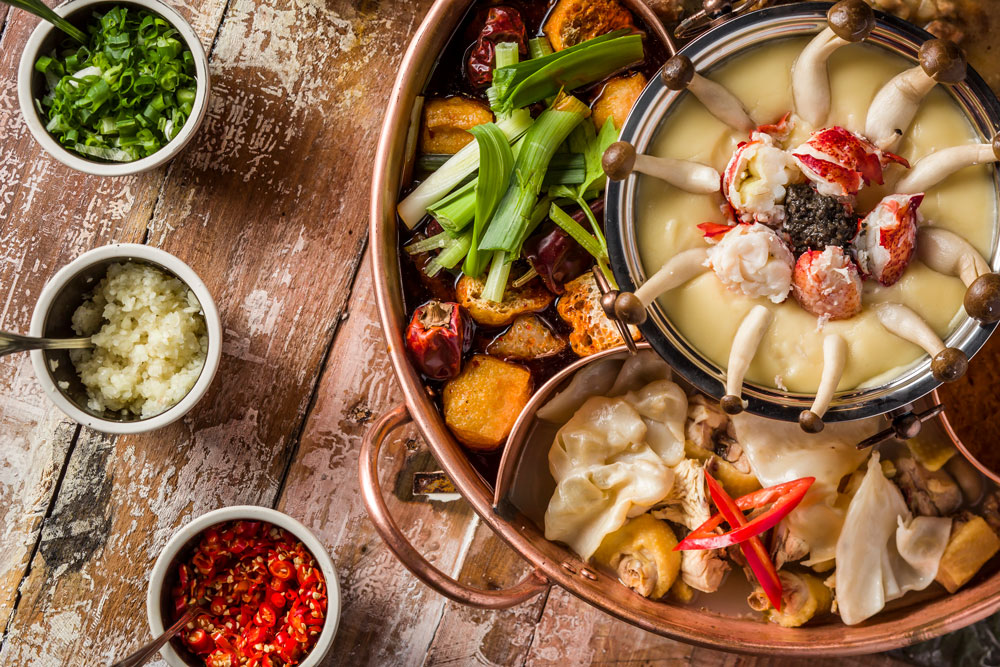 Autumn is here and autumn means hot pot. Hot pot restaurants have smartened up their act. The interiors are upscale, meaning you dine in comfort and style; the ingredients are no longer limited to meat and dumplings; and there are places that serve unique cocktails that enhance the experience. Here are my picks for the best hot pot spots in Hong Kong.
Megan's Kitchen
Megan's Kitchen in Wan Chai is mentioned in this year's Michelin Guide. The restaurant owes its popularity to good service and its wide range of uncommon soup bases. The most popular are the Tom Yum Koong Cappuccino, which doesn't contain coffee, Sichuan spicy tofu soup and the tomato-and-crab soufflé soup. The dumplings, made in-house, are sufficient reason by themselves to make the trip. They range from addictive wagyu truffle dumplings to rich-tasting mushroom and French onion dumplings to vegetarian vermicelli dumplings. The restaurant also offers squid balls, preserved-vegetable-and-pork meatballs and minced chicken meatballs, each with a quail egg inside.
Megan's Kitchen, 5/F Lucky Centre, 165-171 Wan Chai Road 2866 8305, meganskitchen.com
Shimo
When cravings for shabu shabu or sukiyaki hit, look no further than Shimo, at the Oliv building in Causeway Bay. This Japanese restaurant offers a range of set dinners with Kurobuta pork, taraba crab, thinly sliced Japanese and US prime beef. The set meals come with a platter of exceptional sashimi which is always fresh. Mind-blowing sushi is available à la carte. Mondays and Tuesdays are all-the-beef-you-can-eat days.
Shimo, 24/F, Oliv, 15-21 Sharp Street East, Causeway Bay 2321 3555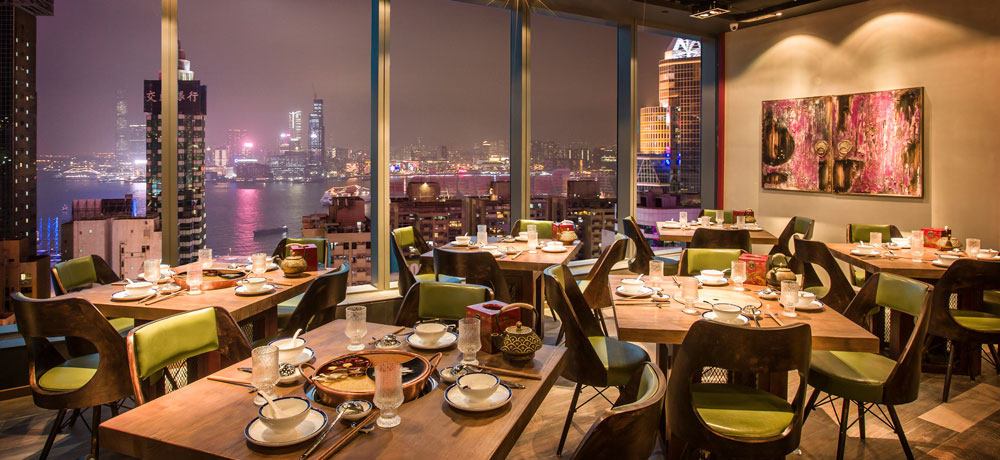 The Drunken Pot
Boozy hot pot dinners are the raison d'être of The Drunken Pot, which has branches in Causeway Bay and Tsim Sha Tsui. Diners can enjoy a variety of cocktails carefully designed to go with the food. The restaurant serves private-label Nagahama sake and aged whiskies. Traditional soup bases, such as satay broth, are served, as well as the Teochew broths that are the specialities of the house. The Signature Pot contains five different elements: whole papaya in soup; Boston lobster in tomato-and-lobster soup; beef brisket in clear broth; Sichuan-style spicy soup and Teochew-style satay soup. The Ultimate Drunken Pot consists of the Flame-grilled Lobster in Black Truffle and Cheese Pot, the Fish Maw and Chicken Pot, the Bak Kut Teh Pot and the Sichuan-style soup.
The Drunken Pot, 27/F, V Point, 18 Tang Lung Street, Causeway Bay 2323 7098, thedrunkenpot.com
Golden Valley
Golden Valley, in a quiet backwater of Happy Valley, has had a Michelin star for seven years, a well-deserved accolade for its traditional fish-based broths. Popular choices are the fish broth with pear, the Sichuan spicy soup and the mushroom consommé. The special fish-head soup with wild mushrooms and preserved vegetables should be ordered in advance, as it takes 30 minutes to prepare.
Golden Valley, 1/F, The Empire Hotel, 1A Wang Tak Street, Happy Valley 2961 3330
The Seafood Kitchen
The kitchen in this restaurant, a favourite in Kennedy Town, first steams seafood in a nine-layer pot and then transfers it to pots on the tables for the diners to finish the cooking. Live seafood is brought in daily and kept in tanks. A range of soup bases is available. The soup is on the bottom layer, where all the juices from the steamed goodies above collect to make a delicious climax to the meal. Reservations are advised.
The Seafood Kitchen, G/F, Shop E & F, 18 Catchick Street, Kennedy Town 2556 8555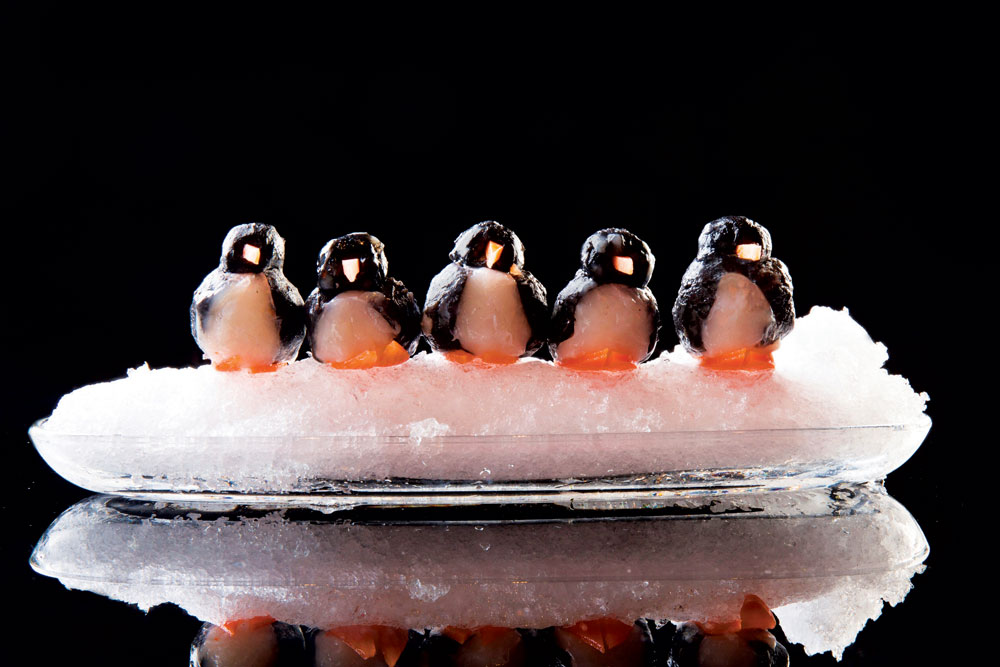 San Xi Lou
All you lovers of spicy food should test your limits at this restaurant in Mid-levels, which is famous for its fiery Sichuan dishes and its hot pot. If you have a taste for moderate spiciness, try the Sichuan Mala hot pot. If you have a cast-iron constitution, go for the Water Cooked Fish, consisting of sliced fish in a broth of dried chillies and hua jiao, a kind of pepper from Sichuan that will make your mouth tingle. A reservation at San Xi Lou is a must, especially on cold, rainy days.
San Xi Lou, 7/F, Coda Plaza, 51 Garden Road, Central 2838 8811
Market Hotpot
Move over Tung Po Kitchen, there's another fun dai pai dong in town. Market Hotpot is famous for its chicken and fish maw hot pot. The customers eat in the midst of a bunch of Instagrammable seafood stalls, each offering the live catch of the day. If you prefer to dine street style, this is the place for you.
Market Hotpot, 2/F, 43H Dundas Street, Mong Kok 2782 2003