What to expect from the Year of the Pig
February 1, 2019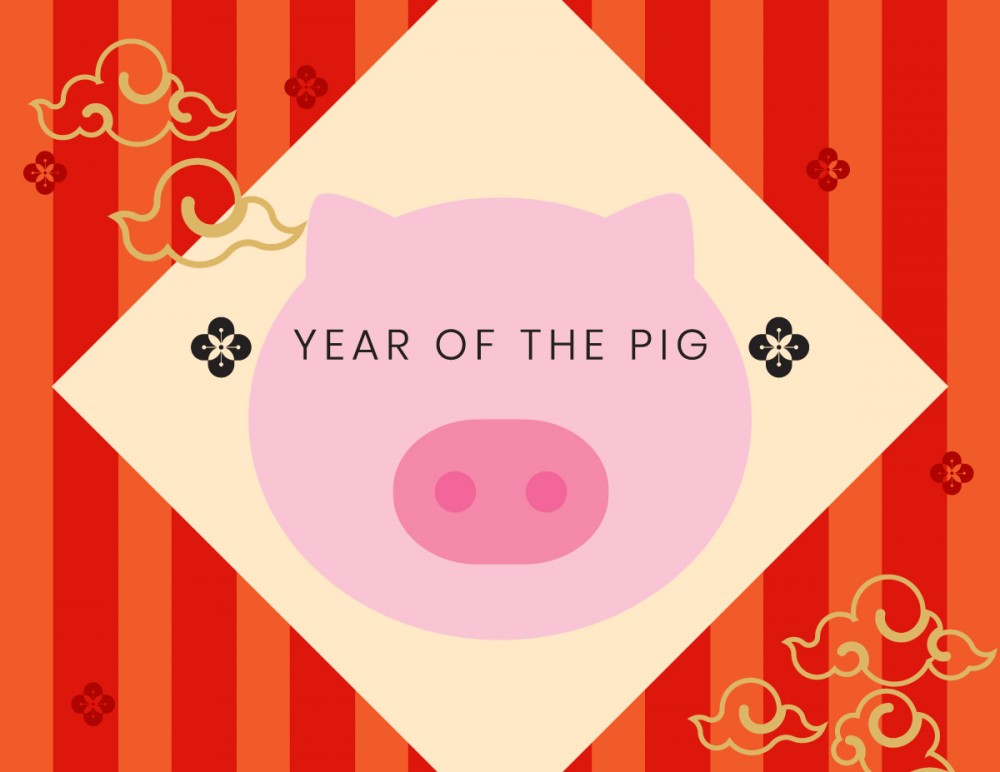 We're nearing Chinese New Year in 2019 and if you walk the streets of Hong Kong, you'll find shops selling pig stickers, pig dolls, pig masks and… well, pig everything. Not to be left out, fashion brands are joining in on the act: Gucci has come up with The Year of the Pig collection, Etude House is selling a Happy with Piglet collection, Givenchy has a Flying Pig collection and more.
If you are not familiar with the concept of Chinese zodiac signs, it is a 12-year cycle based on the Chinese lunar calendar. Each year represents an animal, thus there are 12 zodiac signs. Every year each zodiac animal has a unique fortune, and below is what this year holds in store for you based on your animal.
Pig
This year is filled with opportunities and the stars will give support to improve business. It is an amazing time to reap what you sow. Astrologers say that people can expect improvements in their relationships and learn from it. This year seems to be a great one in terms of health as well. In addition, 2019 is a very useful year for those who plan on a start of a healthy lifestyle.
Rat
According to astrologers, the year of the pig will be way better than the dog year, 2018. They should take special care of their health and also be aware of bad luck influencing their success.
Ox
This year will be an auspicious year for people born in ox years. They might get to have a peaceful time for themselves and with their partners as they could have been busy last year. They will also have opportunities to start or improve on their relationship.
Tiger
People born in the tiger years will try focusing on living a better lifestyle and they might even try discovering their inner personality. In general, it will be a great year for tigers, especially when it comes to health.
Rabbit
This year, people born in the rabbit years will try creating and doing things that make them happy. 2019 will be a year filled with love, happiness and warmth.
Dragon
This pig year brings unexpected changes in the lives of people born in the dragon years. They will get to express themselves freely and might take steps towards making a serious commitment.
Snake
This pig year brings people born in the snake years the opportunity to improve on their old plans. They could even get the chance to execute old plans that did not work earlier.
Horse
This year will hopefully bring stability in the lives of people born in the horse years, especially for those who had an unstable life for the past few years. There are possibilities for things to improve much better than in earlier years.
Goat
This year will be remarkable for people born in the goat years. They might go through a time where they can actually improve all aspects of their life. More importantly, they will also get to experience love.
Monkey
This year, those born in the monkey years will try focusing more on their inner self and could concentrate on their spiritual growth. In particular, they will concentrate more on their own peacefulness and calmness.
Rooster
This year will bring roosters something special to their careers or relationships. Moreover, they will regain their position and authority in 2019.
Dog
2019 will be an important year for those born in the dog years. They might go through a time where they must make important decisions for their future to progress in life.
For a more detailed horoscope, click here