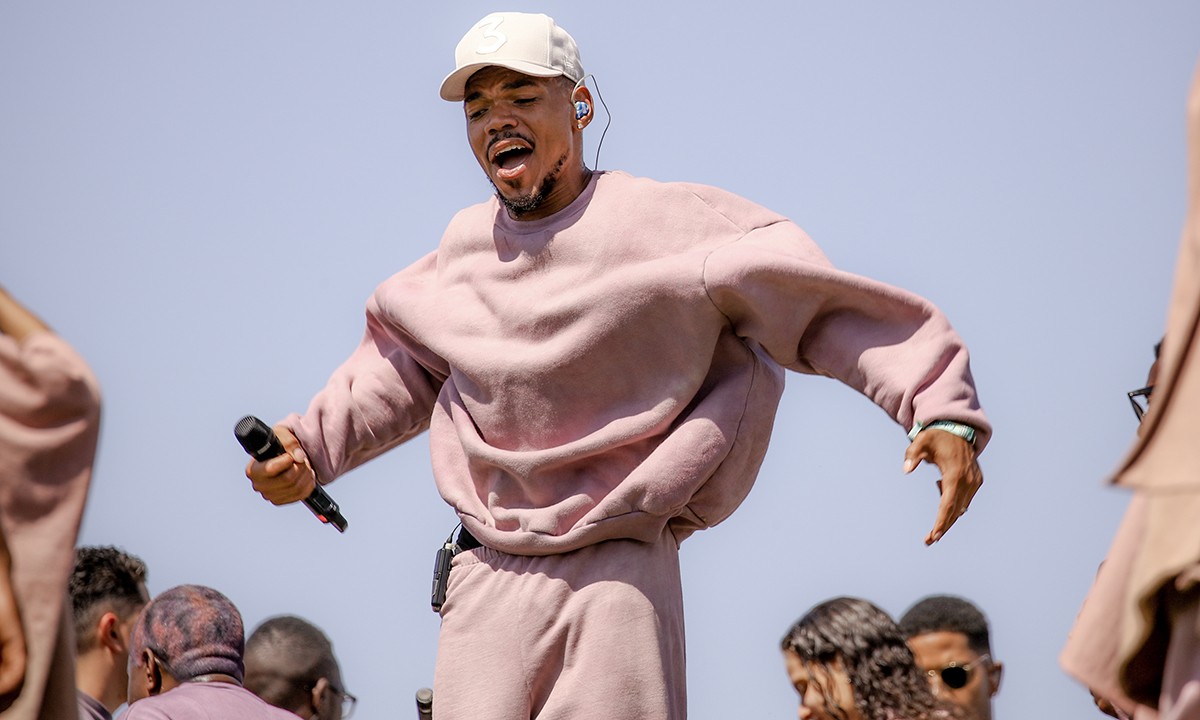 After a three-year hiatus since his last solo project, Chicago-native Chance the Rapper has just released The Big Day — the artist's long awaited and highly anticipated debut album. Despite being his fourth official solo project, this is technically Chance's first studio album, with the previous three projects being designated and marketed specifically as mixtapes.
Announced by the 26-year old last Tuesday on The Tonight Show Starring Jimmy Fallon, The Big Day is the first album Chance has decided to actually sell. This is a particularly notable shift, given the rapper's history as a groundbreaking success story in independent recording, free distribution and streaming. Chance's previous solo projects form a trilogy of free mixtapes; 10-day in 2012, Acid Rap a year later in 2013, and his most recent and massively successful gospel-rap celebration, Coloring Book, which was released in 2016 and broke records as No. 8 on the Billboard 200 albums chart and the first ever streaming-only project to qualify for the Grammy's.
With each successive mixtape, Chance proved that an anti-label, high-school suspended, fun-loving Christian kid from Southside Chicago could give his music out for free and still manage to collaborate with the likes of everyone from Kanye West to Justin Bieber, and capture the attention of the world. So, while he remains committed to self-releasing his music independent of any label, the choice to sell this album signals a new era in the artist's business model.
The album, of course, also signifies a completely new era for the Chance's artistry. Comprised of nearly two dozen tracks, The Big Day boasts a massive and eclectic range of big-name features. John Legend accompanies Chance in the intro choruses of "All Day Long", and from there the rapper introduces a diverse set of verses and voices, including but not limited to: Ben Gibbard (Death Cab for Cutie frontman), Shawn Mendes, Randy Newman, Ari Lennox, Megan Thee Stallion, Gucci Mane, DaBaby, Smino and two songs featuring Nicki Minaj, who is given the spotlight in the album's electric closer, "Zanies and Fools."
With family being one of the heaviest themes of the project, Chance also manages to include the voice of his father, Ken Bennett, and an entire song about growing up in "Roo", which features his younger brother, rapper Taylor Bennett. With such an expansive variety of features, it is no surprise that the album is Chance's most sonically diverse to date. While some have criticised the album for a lack of cohesion and focus compared to his previous mixtapes, there is no doubt that the project presents a genre-defying celebration of a new phase in Chance's life of marriage, fatherhood and success.
Through the years, the world has seen a playful, rascally kid grow into a social activist committed to reforming Chicago's public education system—and his music has certainly developed in tandem. Now that The Big Day has finally arrived, the album invites fans around the world to celebrate the newest evolution of Chance the Rapper, and to get a glimpse into the next stage of the artist's career.
Listen and purchase now at chanceraps.com