BTS: Inside the K-pop darlings' Army of worldwide fans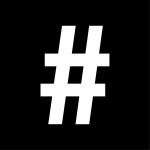 By: #legend
July 3, 2019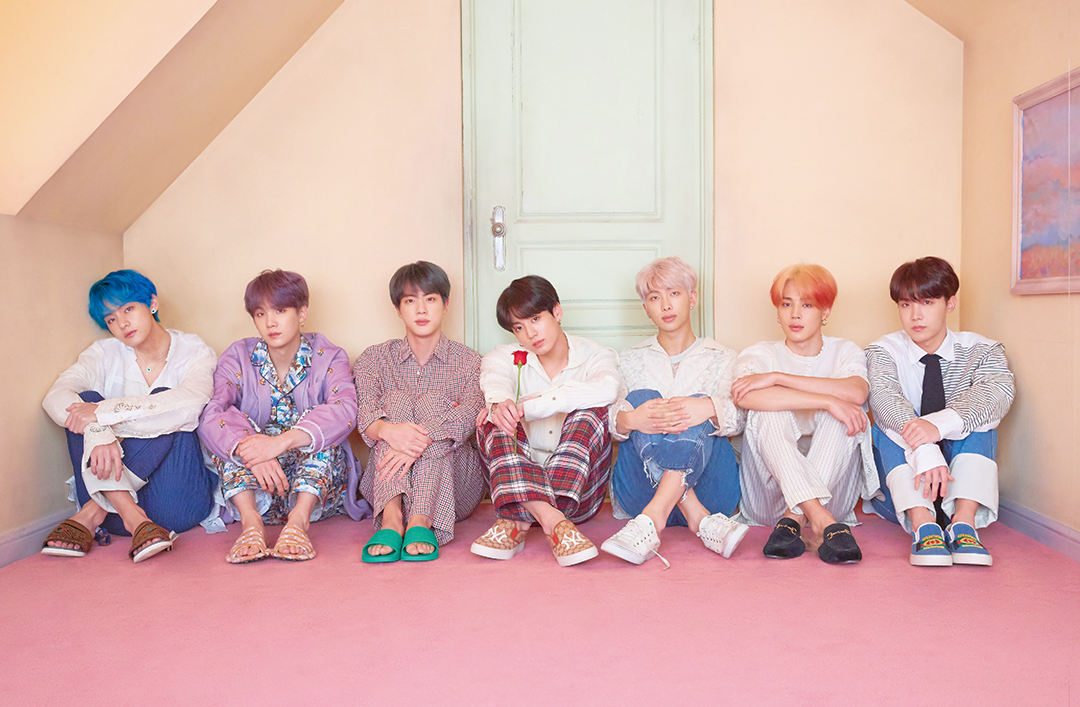 On June 1, 2019, boy band BTS made history at Wembley Stadium as the first Korean group to play the iconic London venue. For the first of two sold-out shows on the England leg of the "Love Yourself: Speak Yourself" tour, 60,000 seats were full of light and energy as the drama unfolded on a world stage that has been graced by the likes of Queen, the Beatles and Beyoncé.
Surely you've heard of BTS by now. The septet, aka the Bangtan Boys, were formed in Seoul in 2013 as a hip-hop group under the entertainment agency Big Hit. Switching into a multi-genre output that includes hip-hop, R&B and pop, the BTS phenomenon has grown worldwide, especially in Asia. These seven boys – Jin, Suga, J-Hope, RM, Jimin, V and Jungkook – now have more than 20 million followers on Twitter and more than 750 million views for their "DNA" music video on YouTube, numbers that speak volumes about their global fanbase.
Behind this amazing growth, their fervent supporters are known as the "Army" and have been crucial in BTS' ascent to success. Here, two Army members discuss their love of the K-pop stars: Celine Ma, a 20-year-old studying in HKU, and Mary Yeh, a Taiwanese student studying in the UK, who has been an ipdeok (a Korean slang expression that means "to become a fan") of BTS since their debut. She recently went to Wembley to see BTS for the first time, saying, "Words can't describe how amazing the concert was and how incredibly proud I am of BTS!"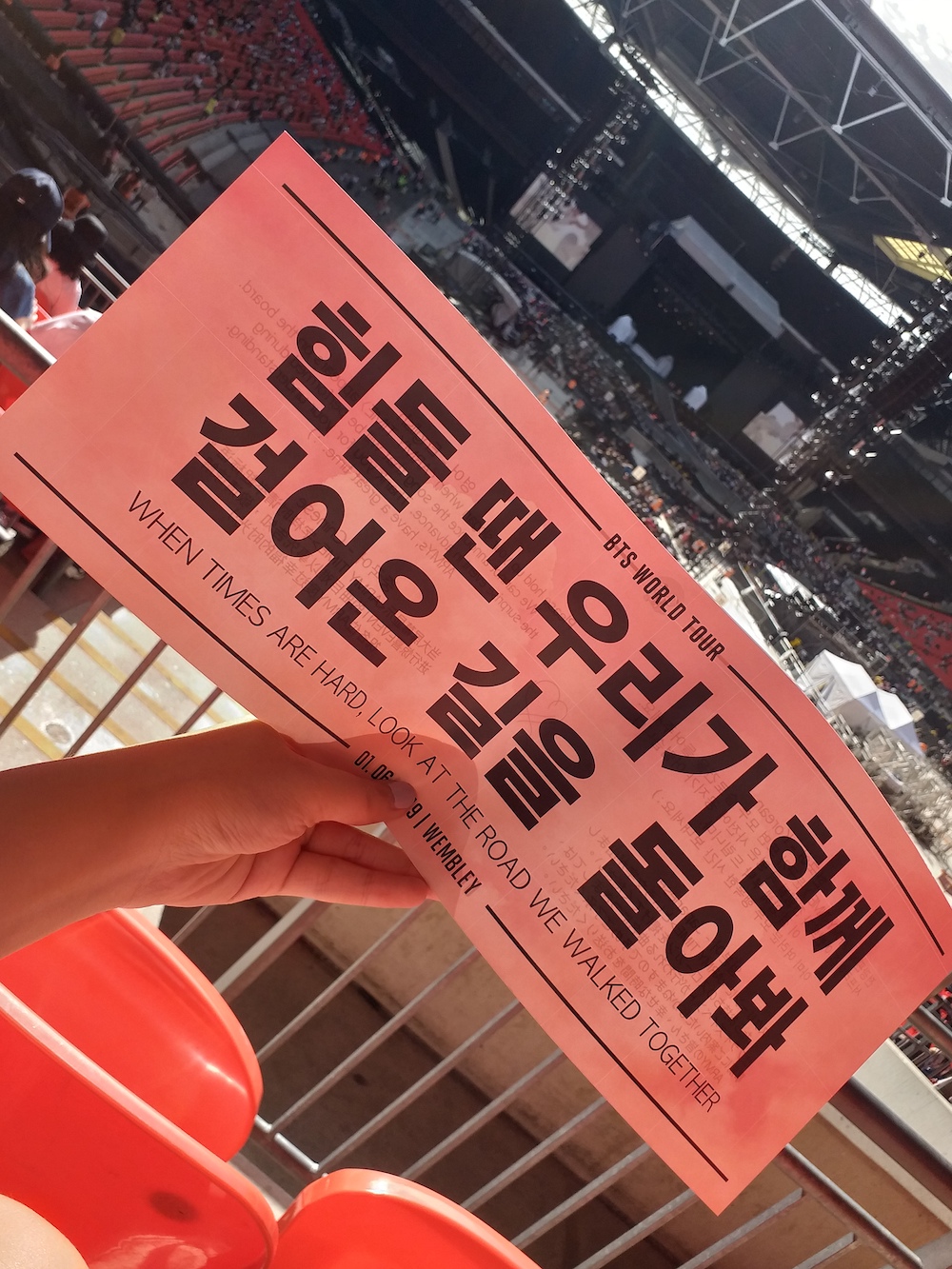 When and why did you start to be a fan of BTS?
Celine Ma (CM): When I first watched their "Spring Day" music video in February 2017. Firstly, I was attacked by their visuals. Also, it was close to my high-school graduation, so the lyrics touched me, as my friends and I were going to university in different countries.
Mary Yeh (MY): I first discovered BTS through a friend, who showed me their debut teaser photos and I became a fan shortly after, around October 2013. It was a combination of their songs, stage shows and reality show Rookie King that caught my attention.
What made you become a fan of BTS and not the other idol groups?
CM: Firstly, because Nam Joon (aka RM) speaks fluent English, so I can understand him. Later, it was because of their songs and lyrics, mostly. I love how they highlight positive messages, rather than love and things that other artists do. And it's definitely their visuals and reality shows as well. They really bring me power and enjoyment.
MY: I've liked a few other idol groups in the past, but they came and went, while BTS has been the only constant. It's their genuine, raw passion for what they do and the messages they want to convey. That makes them stand out from other idol groups for me.
What's the most fangirling behavior you have done for BTS?
CM: Umm… I guess I'm rather sensible, like I know the priorities and my responsibilities that should be considered first when I am going to do something. But I do buy things from them, like albums and BT21 products [animated characters on messaging app Line]. My rule is that if I spend money, I want that money to be meaningful – to go to them instead of anyone else. I'm studying Korean by myself. Streaming on music apps and YouTube counts I guess, since what I can do due to the limited resources I have. Definitely talking about them with friends and on the internet as well.
MY: I've translated tweets, videos and news articles for BTS for five years and counting. I believe it really helps more and more people get to know the group and understand their music more. For example, this is one log by V that I translated from Korean to English for Bangtan Subs:
How do you feel about their growth and success? Did you expect that they would grow to this level?
CM: They're definitely much more mature and stable. I am proud of who they have become today. I would say what they have achieved is reasonable and worthy, given how hard they work and how different they are in the sense of music and the messages they deliver, rather than surprised. Nothing is impossible.
MY: Honestly, I never foresaw such specific achievements, but I believed that their songs would be listened to by people all over the world, their stage shows would be appreciated and their messages would touch the hearts of many people one day in the future. I knew they would achieve great things and expected nothing less than amazing, and they're continuing to do so. Watching them grow over these six years has been absolutely incredible and somewhat surreal. Seeing them each grow as a person alongside their music has been truly inspiring and their success is very much deserved.
Did BTS influence or change you and your interests – maybe even your future plans?
CM: [laughing] It could be cliché for the Army, but they tell me to love myself more. School, friends, and family are important, but self-care and self-love come first. They give me power when I am facing difficulties in many aspects. And in terms of music, for sure. I wasn't really a K-pop or hip-hop person before – now only BTS! [laughs] I started to learn Korean also and am starting plans to work in Korea someday, since I am an education student, so I could hopefully find an international school in Seoul.
MY: BTS made me realise the importance of dreams and positivity, and loving myself as well as others around me. Their mindset is really admirable and they're role models that I look up to, because they work extremely hard in order to achieve their goals. Their determination also inspires me, giving their best for everything that they set their minds to. They've definitely played a part in giving me a clearer idea of the direction that I want to take my life in.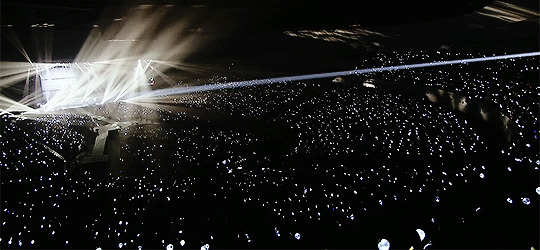 What do you think is the main reason for BTS becoming global icons?
CM: Social media is one for sure. YouTube videos, Twitter and V [a live broadcasting app for K-pop stars] make them feel more realistic compared to other celebrities. Also, their songs and the messages they deliver about facing yourself, equality and freedom. Those messages are what people, as well as the whole global society, have been talking about.
MY: I think it's a combination of quite a few things: their sincerity, their performances, their fans and social media. When I say sincerity, I mean how they're willing to open up to us about how they feel and their worries through "logs" – sort of like a video diary – and how they put their sincere thoughts and emotions into the songs they compose. Their performances and choreographies are more often than not goosebump-inducing, especially with their synchronisation and incorporation of different elements such as traditional Korean drums and so on. I think fans have also played an important role, especially those who translate their content, videos, blog posts and songs from Korean into English and other languages. Social media platforms such as Twitter help with the circulation of this translated content, as they're shared with more and more people. BTS also has a large presence on YouTube, with original videos including behind-the-scenes snippets and what the members are like offstage. These videos and their use of social media to post about their day-to-day happenings help us to connect with them more.
Describe BTS in one word.
CM: Valuable. It's a really bland word, but what I want to say is they are just regular people, so they definitely aren't perfect. But who they are and what they do are worth my respect and adoration. I am glad this world has BTS and the seven boys. They are a treasure.
MY: Sincere.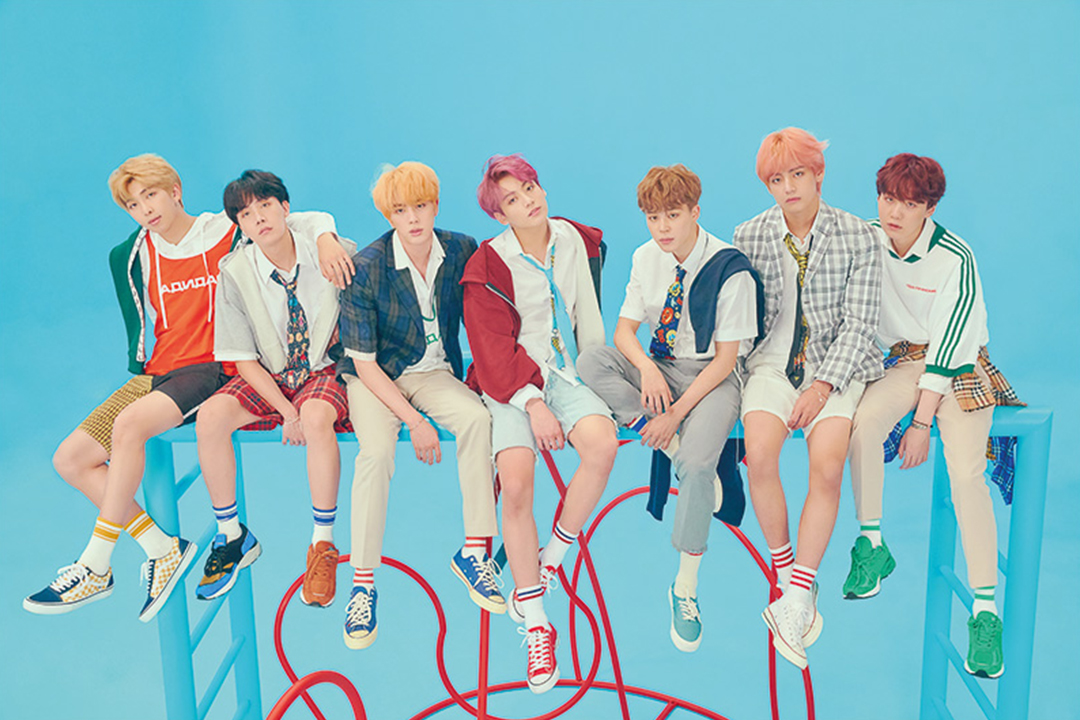 So what is so special about BTS, exactly? Let's explore each member of the group:
RM
Though he only lived abroad for four months, RM (Kim Nam-joon, formerly known as Rap Monster) is a fluent English speaker who is the "brain" of BTS. The 24-year-old learned English by watching Friends with his mother, has an IQ of 148 and placed in the top 1% of grades among all Korean high schoolers. Above is a speech he delivered at the United Nations. Smart guys are really hot, right?
J-Hope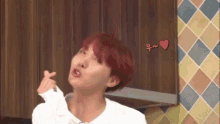 Famed for his aegyo (acting or talking cute in a baby-ish manner), just as his name suggests, J-Hope is here to give hope and cheer people by showing his cutest moments. Actually, when he first debuted, he was too shy to show off, but he's now known as the king of aegyo. The 25-year-old's hilarious, over-the-top actions even make non-fans smile.
Jin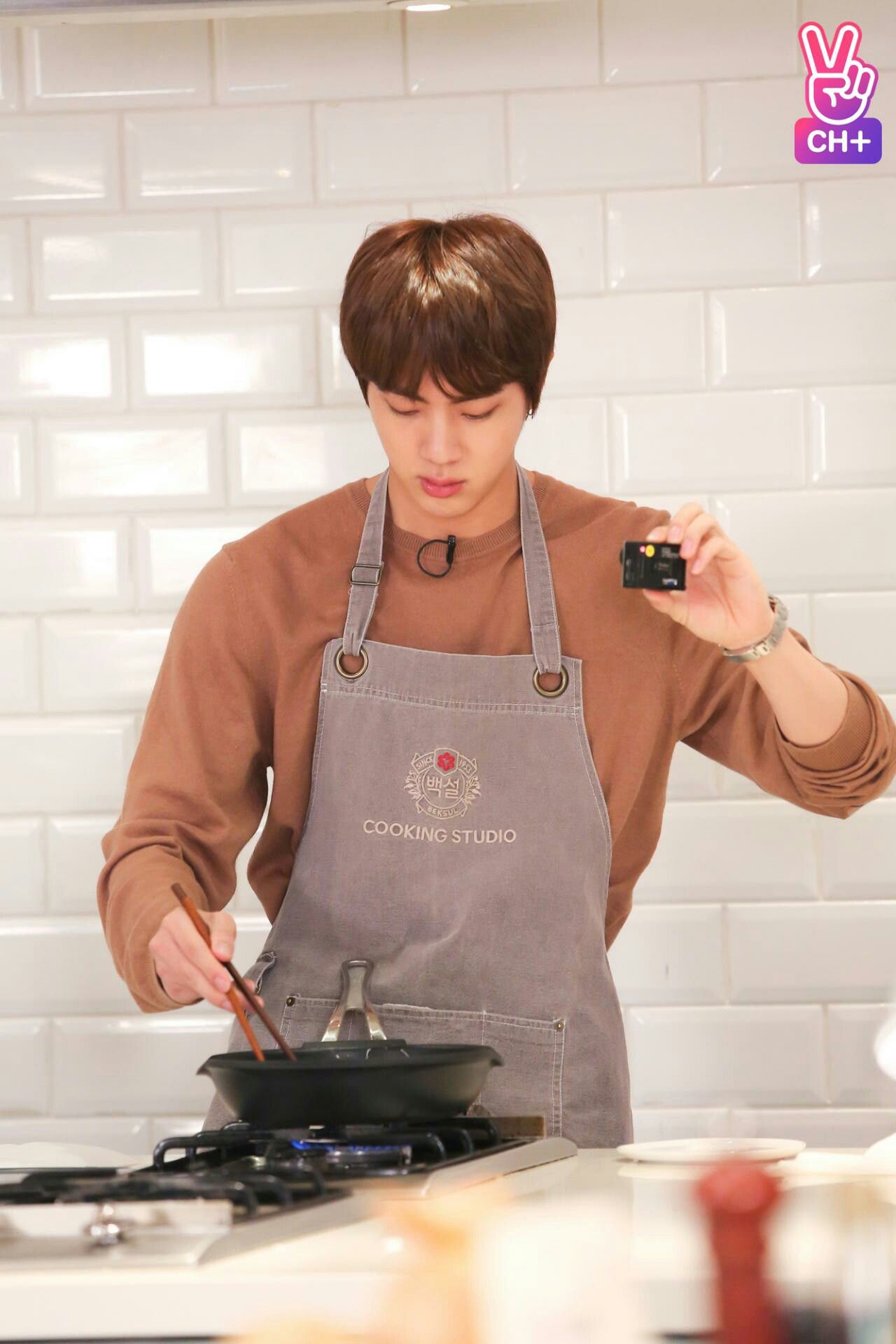 With his classically handsome face and broad shoulders, fans are positively addicted to Jin. He's an eligible 26-year-old bachelor and loves cooking. Though he's probably too famous and busy to cook much these days, here's a blog post of Jin cooking and eating.
Jungkook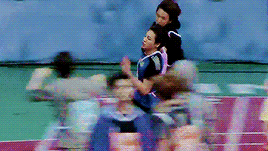 Nicknamed the "Golden Maknae" (maknae refers to the youngest one within a group or society) by RM, the 21-year-old Jungkook is simply perfect. Singing, dancing, rapping, acting… he can do it all. Adding on to those fundamental skills, he has amazing athletic abilities, is the strongest Bts member, is a proficient painter and much more. All aspects of this golden child are pure gold.
Jimin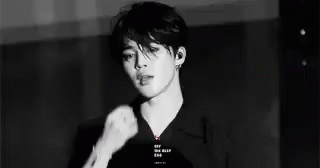 "What action did Jimin do more than 40 times during his birthday V app message?" The answer: sweeping his hair back. Apparently the 23-year-old does it unconsciously, but fans love this action. Why? The answer is in the GIF. Even if you're not a huge fan, you can still fall in love with his sexy habit.
V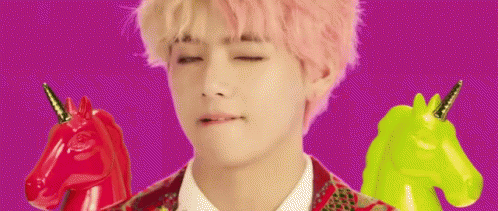 Ranked #1 among the most handsome men in the world by TheBest Poll in 2019, the 23-year-old V (aka Taehyung) is not only handsome, but also cute and sexy. And extra-sexy when he bites his lip; in fact, V is famous among fans for licking his lips every 2.8 seconds (a slight exaggeration). He's killing us with his adorableness.
Suga
In BTS fandom, there's a Korean expression min bba dap, which is an abbreviation of "There is no answer if you started falling in love with Suga." It's impossible to get the talented 26-year-old composer of the group out of your mind once you start. Suga produces songs (not just for BTS, but for other artists as well), raps and plays the piano extremely well. Above is a short video of him playing "I Need U" on piano.
So, are you ready to join the Army?