Behind Grammy-Award Winner Dana Leong's Unique Contribution to Music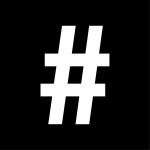 By:
June 30, 2016
"I'm an experimentalist," says Dana Leong. "I've tried many different things, tried working only the night shift to see how it affects my brain, tried going into isolation to work. I've moved my entire life to Shanghai. I've constantly challenged myself by going into unfamiliar situations to see what reward there is." The musician, composer and producer, winner of two Grammy Awards, has just moved from New York to the equally intense city of Shanghai. Like any modern musician, he is constantly on the road, time and again in airports and hotels in strange cities, toting heavy equipment and arguing with airline check-in staff about excess baggage.
"Every aspect of my life has been full of compromise and transition. Travel is a constant negotiation – a double-edged sword," Leong says with a wry smile. But travel also takes him where he can experience the joy, the passion, the glamour and that exquisite feeling of performing in front of a crowd of thousands, or that equally exquisite feeling of performing at an intimate private event, where all eyes are focused on one spot. Audiences are moved and enthralled by Leong's distinctive mix of funk, electro and jazz, interspersed with touches of smooth soul or upbeat hip-hop. The precise effect depends on the mood, or whether he's performing solo or with one of his groups, which include the Dana Leong Trio and the Milk & Jade quartet.
Leong is world-famous as an electric cellist, trombonist and tech whizz on his laptop during live performances. If they're lucky, he may treat an audience to tastes of all three skills. Whatever the musical mix is that day, it's always fresh, emotive and intriguing. His style is evolving, becoming simultaneously technically complex and effortlessly cool, drawing in younger fans who might otherwise be intimidated by the seemingly highbrow genres he's fond of mixing.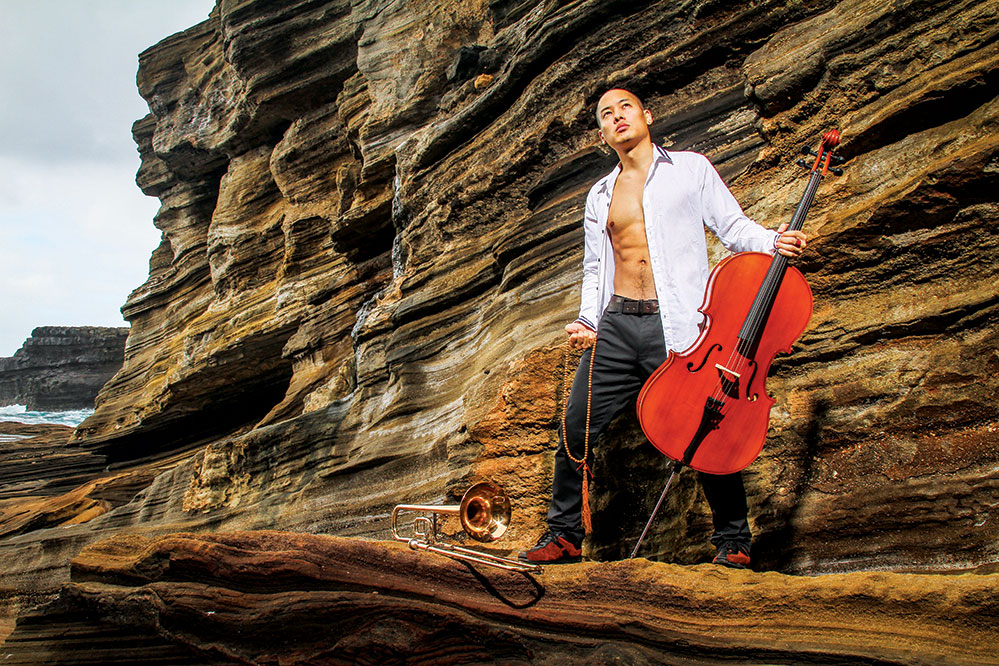 The move to Shanghai has stirred up plenty of excitement. Leong has played at TEDxShanghai, at the Brawl on the Bund charity boxing event, at several of the city's jazz clubs and at private parties for the elite of Shanghai society. The musician's instrument of choice nowadays is by itself enough to draw a crowd. It's an elegant, bright orange, electric cello especially designed for him by Yamaha. The cello is modern, portable, sturdy and sexy as hell. For the past eight or nine years, Leong has been playing remarkable sets on it, bringing fun, experimental music to audiences around the world.
The mainland holds lucrative commercial opportunities for the composer of theme music for brands such as Hermès, Virgin Galactic, Porsche and Montblanc. Leong's career has been full of collaborations that have combined his music with the visual arts and technology. His cooperative efforts are focusing more and more on philanthropy and healing music.
Leong was born and brought up in the San Francisco Bay Area. He began playing music at an early age. "I have pictures of me playing the piano when I was one," he says. His early start was due to the influence of his Japanese mother, a professional musician who appeared on a Japanese television show called Stage 101 in the 1970s. Her urging made Leong a proficient cellist and trombonist by the time he was 10. He began playing professionally in San Francisco as a teenager, and by the age of 16 he was teaching a class in jazz at Stanford University. Experiments with various genres of music and new technologies began soon after.
Musical diversity has always been part of Leong's make-up. He says growing up in the Bay Area exposed him to hip-hop in its heyday and the urban culture that shaped his artistic attitudes. He injected hip-hop and 1990s street culture into electro and more highbrow genres such as experimental jazz, so offering the music scene an unmistakeable sound that would become uniquely his.
The musician says he passed many of the important milestones in his career in his early days, before he began winning accolades such as Grammys. Many of those milestones were meetings with his musical heroes. "When I was in college, I snuck into a press event with The Neptunes: Pharrell Williams and Chad Hugo. I came in with a camera that I always carry, said that I was a reporter – and they actually gave me access to them," Leong says. "At that point, I was almost star-struck for the first time." Now Leong has opportunities to work with many of his heroes. "Since then, what happened is almost the opposite," he says. "I'm happy to meet these great musicians and find out that they are just normal people."
Moving in such exalted circles has taught Leong the price of success and fame. "There's a saying: 'It took me 20 years to become an overnight success,' " he says. "Even if you look at one-hit wonders and look throughout their lives, it's usually a lot of work and a lot of sacrifice." He believes there is no sure-fire shortcut to the top.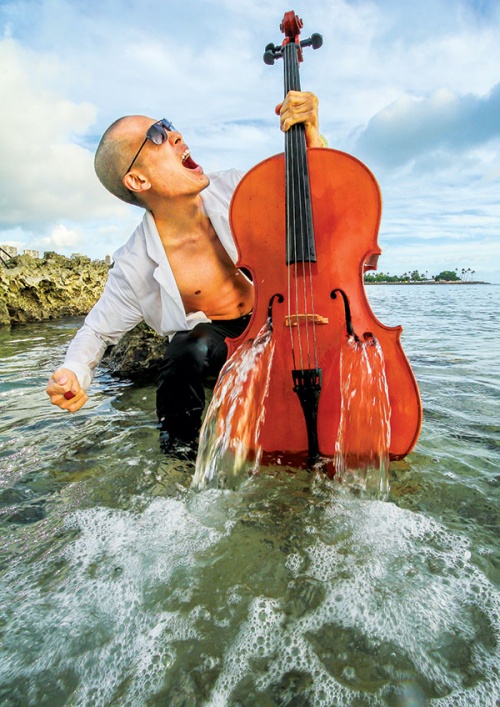 And Leong believes staying on top means more work, requiring constant innovation, evolution and reinvention. So he strives to remain at the forefront of technological innovation in music. He's constantly playing with new programs on his laptop and working out how they can affect his sound. And working with digital visual artists has raised his work to another level. But being at the helm of anything can be tiring – and difficult, even for an artist that stands on such solid foundations.
"I remember having a serious conversation with one of my last business partners when we didn't see eye-to-eye anymore," Leong says. "We founded [the partnership] on the premise of being a cutting-edge musical company that was always looking for and always at the forefront of new tech." He says the new technology was meant to be applied not just to music, but also to marketing music and communicating with the fans. But the partnership was losing sight of its vision, Leong says, so he told his partner: "I'm going to keep going my ways, and you guys go your way." The moral of the tale is in his partner's response. "My partner said, 'It's really hard to be at the forefront all the time,' and that, 'I'm happy to settle.'"
Leong, in contrast, is strongly disinclined to settle. "You don't know whether you'll be rewarded by continuously trying to blaze trails," he says. "But that's what makes me happy. I like to see what's out there, and test things. Today was one off those moments where I actually saw myself grow." He opens his bag to reveal a tangle of wires sprouting from his laptop, speakers and God knows what else. "I am like Super Mr Technology, just like I set out to become. I'm actually quite happy right now."
The musician's obsession with technology goes beyond the electronic dance music mixes in his work, being part and parcel of his musical philosophy. The big success stories in any genre of music easily capture our attention, but tell us little about how music affects people in a broader sense. Leong stresses that we often forget the importance of traditional or folk music to communities and their well-being, or how the seeds of pop music in a developing country can capture the hearts of its youth, however unsophisticated the sounds.
Leong is an ambassador for the American music industry and has the opportunity to see the broader picture. He has travelled the globe for years, performing in all sorts of places, including those where modern music is in its infancy. "I was in Laos as a US ambassador in 2008, when they lifted the ban on creating pop music," he says. "At that point all the artists that I met were getting their first breaks in the media, and that was really the birth of their modern music scene. It was awesome to witness."
Such experiences inculcate awareness of the power of music and how it can help a country's people express themselves creatively. In a place such as Shanghai, it is rare to find the sort of clout as a musician or exposure to the variety of modern music around the world that Leong boasts. The city has few musicians, composers or producers known outside China, and fewer still that have won a Grammy or worked with the likes of Sean Combs, Kanye West and DJ Qbert. But in China the musician has the opportunity to wield his influence on a grand scale.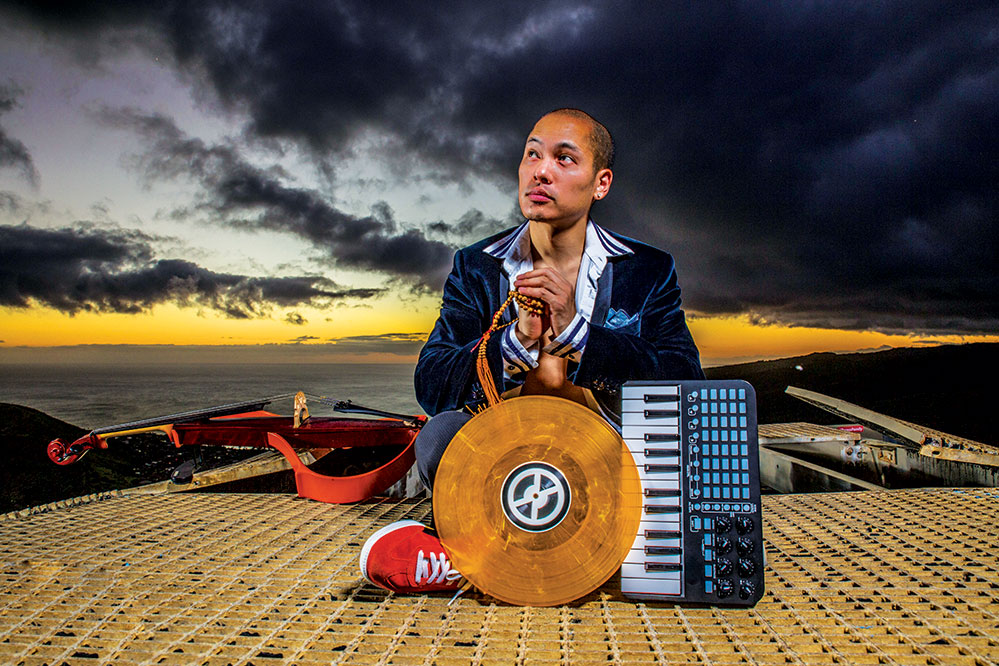 Leong believes that making his dreams reality in China requires collaboration. He regards dialogue between artists, a sort of musical ping-pong diplomacy, as priceless. And bringing people together is his forte, he says. "Over the last year before I came to China, I promised myself that I would have one pot- luck dinner a month at my house in New York. And, without fail, for a whole year I invited different people coming in from out of town or living in New York," he says.
"In a city like that, and to some extent here in Shanghai, people are extremely busy. The sad part of that is that you might hardly ever see your friends. So I decided to do something about it. It was a way of bringing my friends and the community together in a way that was very primordial: eating together."
In Shanghai, Leong has been seeking out potential collaborators. He has been socialising – attending parties and networking dinners – where he has been building up valuable guanxi with the movers and shakers of the cultural scene. Shanghai is awash with cultural opportunities, and the musician is excited about the future.
Leong says his next step is to build a community for top musicians in China. With missionary zeal, he argues that the world at large can be persuaded to take China's modern music scene seriously, if some effort is put into the task. He says he will need the help of some of China's home-grown stars of classical and pop music.
The task will employ Leong's talent for bringing together different forms of creative expression to construct something altogether new. It is a talent he has been using in the US for years. He remarks: "It's one of my specialties in artistic collaborations, and also in business: really seeing who will spark together, and then seeing how to connect the dots."