Lynus Woo's art stretches beyond his first solo exhibition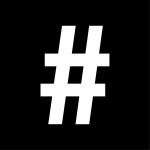 By: Stephenie Gee
May 30, 2022
Lynus Woo does not correspond to the common cliché of an artist. A modest and eloquent conversation partner whose horizon goes far beyond the realm of the art, the man of many talents talks to Stephenie Gee about his first solo exhibition, what his art means and how it's not that far of a stretch from fitness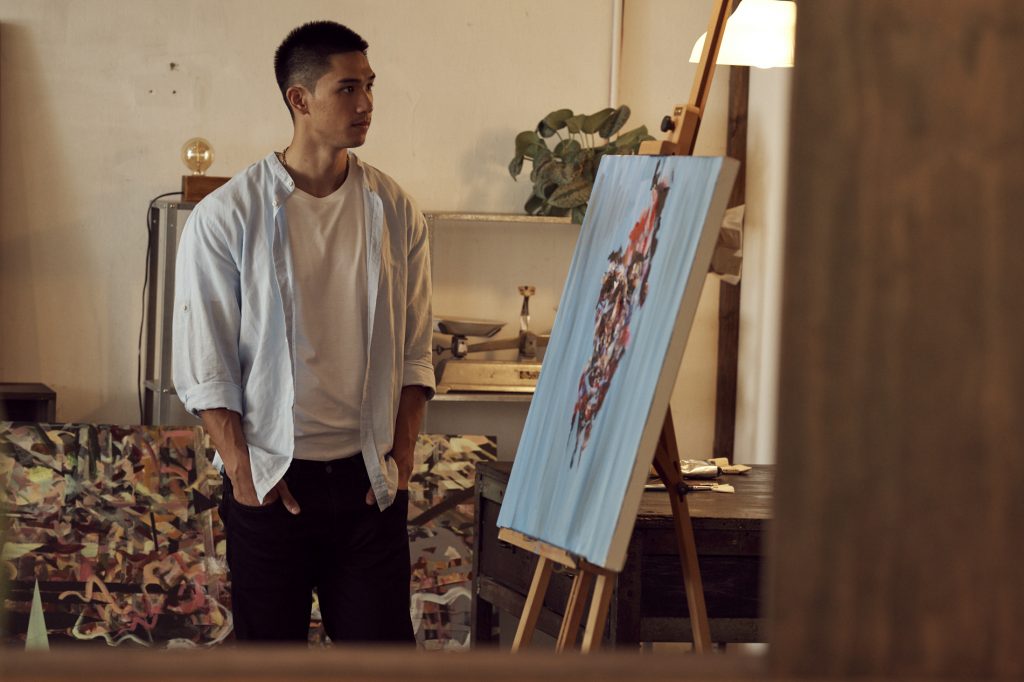 For Lynus Woo, every painting is a journal entry. Richly layered in colours from blacks, whites, reds, yellows and blues, his portraits – a direct transfer of an experience or memory – situate the complexities of identity and character, from which he hopes to stimulate discussion and reflection.
This, along with an abundance of movement and dynamism that he brings to his canvases with impassioned brush strokes, his first solo show Lynus Woo: A Pilgrimage in Colours takes viewers on a journey of self-reflection and self-evaluation. One that is enhanced with a meticulously thought-out setup that brings the viewer in as a moving component of the work.
"I've deliberately not covered the walls in white," he explains as we sit in the soon-to-be-gym space with minimal lighting, encircled by paintings and our own reflections. "I've left the mirror out because you become part of the whole exhibition. And when you're walking past each painting, you actually see yourself through the mirror and you become part of the painting and the whole piece."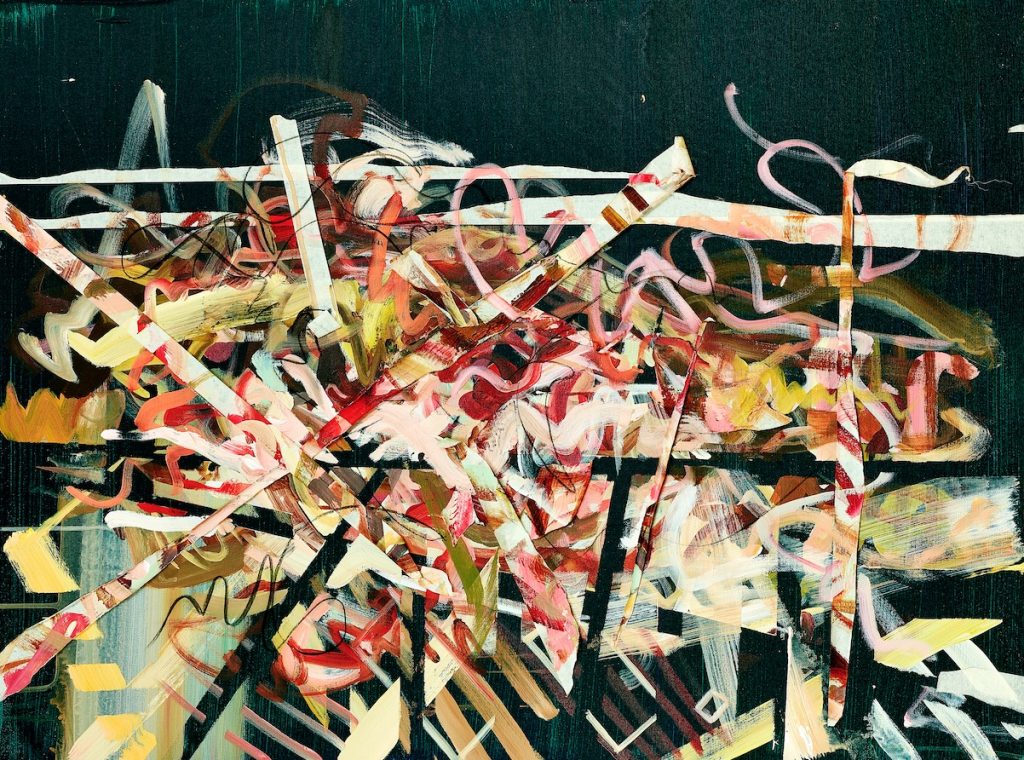 Whilst the pandemic no doubt has had quite the impact on life as we know it, it has not actually been a total disaster for everyone. At least for Woo, this dire threat to humanity is one of the reasons why both the exhibition and opening of REP. were made possible.
"Ever since I came back [in 2019], I always wanted to do a show because I've never had a solo exhibition," he says. "And the Covid situation accelerated the whole thing. I was able to find a space to open a gym – I probably would still just be a personal trainer if it wasn't for Covid. And I thought it was a very good opportunity for me to combine these two ideas together."
Also see: Ellen Pau from science to M+ façade art
Born in Hong Kong, Woo has created art for as long as he can remember, having enjoyed drawing and doodling as a kid (like many of us). But it wasn't until high school at Harrow School in London did his creative practices begin in earnest when he decided to pick Fine Art as one of his GCSEs "because I thought it used to be my hobby." But during those early stages, it wasn't an artist he dreamed of becoming, instead, an architect. That was until he began to realise – after internships and summer schools – that architecture was more than just designing and building good looking structures.
"I realised that the thing I was sold on in architecture wasn't actually that true," he says. "In the sense that you're not really going on the first day of your job and designing buildings. That's just not going to happen. You have to work your way up and it comes with a lot of restrictions because, at the end of the day, you're designing for someone [else]. So even though you can implement your own style, they might not like it.
"Then I realised that I liked the art and creative element in architecture that I thought would be in there. So that's why I thought, 'Why not just do Fine Art?' There's no right or wrong. I could do whatever I want on it. And then even if someone doesn't like my work, it creates conversation, which is the most important thing, I think, in art."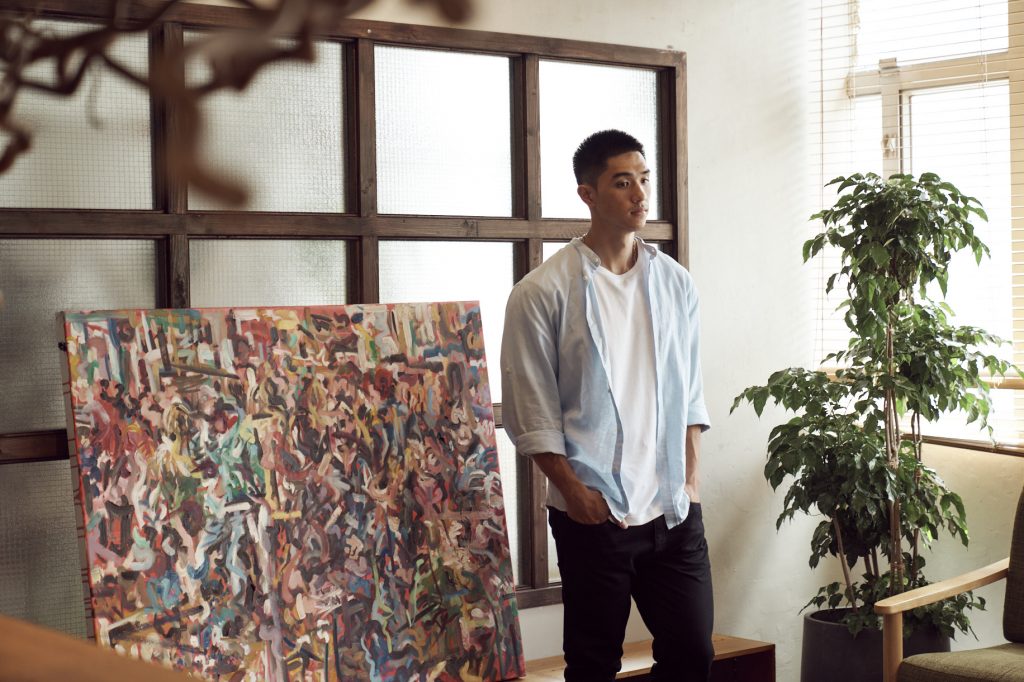 At a cursory look, Woo's paintings – mostly in his preferred medium of oil paints, which he fell in love with for their history, richness and vibrancy – read as successful portraits (both self and of others), abstractly composed and brilliantly coloured. A closer look, though, inspires and provokes questions and contemplations – exactly his intention.
"These two paintings, I deliberately displayed in front of the mirror," says Woo, referring to Soul Searching and Undressing, two canvas paintings that were torn up and reinvented into three-dimensional installations that represent the idea that "you should never be satisfied with who you are, even if you are doing very well, you can always do better." "They would have their lights turned off until the last minute when everything else would be shut off, and then they'll be lit up.
"And that kind of guides people into looking in these two paintings. They'll look themselves in the mirror and become part of the painting, and just really question themselves. Not in a bad way, but more like contemplating about what they've done, what they've achieved, what they could be doing better and et cetera."
As the art world continues to expand and accelerate, many artists have expanded the scope of their artistic expression. But the 26-year-old, though always up for a challenge, is staunch in his passion for capturing characters and emotions, which is achieved through portraiture. Never an easy task – rendering the human form, let alone the individuality of the subjects – yet Woo does so with such artistic finesse and expression. And more than just using and exploring the possibilities of colours, which he's always been fascinated by for their ability to create identities, Woo creates colours.
"It's such a recognisable thing that is being used not just in painting," he says of portraiture, listing examples such as Starbucks and the pound and dollar slip. "And from that, I found that it was such an iconic thing to do, which is why I started doing it. Also, I thought it was such a challenge. In the sense that if I was painting someone that I knew or everyone knew, if I did something slightly wrong it'd be very noticeable compared to say, a street landscape.
"But then towards the end, when I started painting more and more, I realised it wasn't the fact that I really wanted to paint. It was really more about the characters and their emotions, and what I think of the person. Hence why another challenge that I found was how to implement my style and the message I want to convey, and at the same time, make the person recognizable."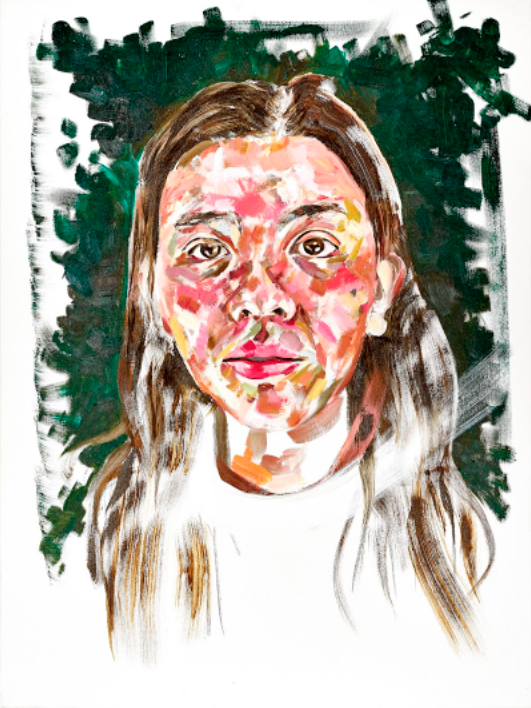 To do this requires not just skill and talent, but a detailed and perceptive understanding of the subject – the very reason why his works mainly feature paintings only of himself and those closest to him. Like ~700 nanometers, the centrepiece of the exhibition features family members and influential figures that played a part in Woo's upbringing.
Though, that's not to say he doesn't paint landscapes or those he isn't familiar with. "Even if I paint random people in the past, I would actually sit down and try and get to know them before I do anything," he says. "I wouldn't paint someone I've never seen before or just from a photo because I don't think I would be able to do my best."
For the show – which runs from May 20th to early June (the demand of RSVPs had prompted an extension of the show's run) – to be inaugurated at REP., a pioneer of new concept gyms also the brainchild of Woo, may seem odd to some, if not most. After all, the nexus between art and fitness is not one that stands out. But not for the man who has also taken up a career as a bodybuilder and physical trainer. Rather than seeing it as two separate worlds, Woo sees it as just different expressions of the same language.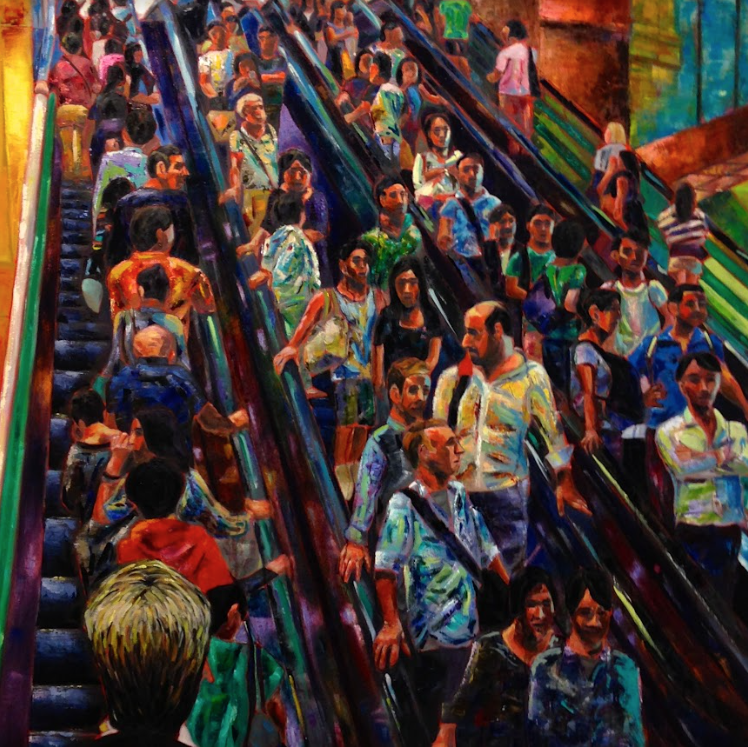 "' Why am I doing the exhibition here?" – A lot of people would ask me that, and the reason is that I want to show that this space is not just a gym," explains the University of Oxford graduate. "I want to blend art and gym together because I see them as the same thing. A lot of people would be working in the gym for the desired body and for me, the body is a work of art. It's also probably everyone's best work of art, as long as you're comfortable in your own skin.
"I understand they might seem very different, but then I always think they're the same thing but just interpreted in a different kind of form." First and foremost, both are physical in nature – there's a physicality of paint just like how of working out. And secondly, both create conversation.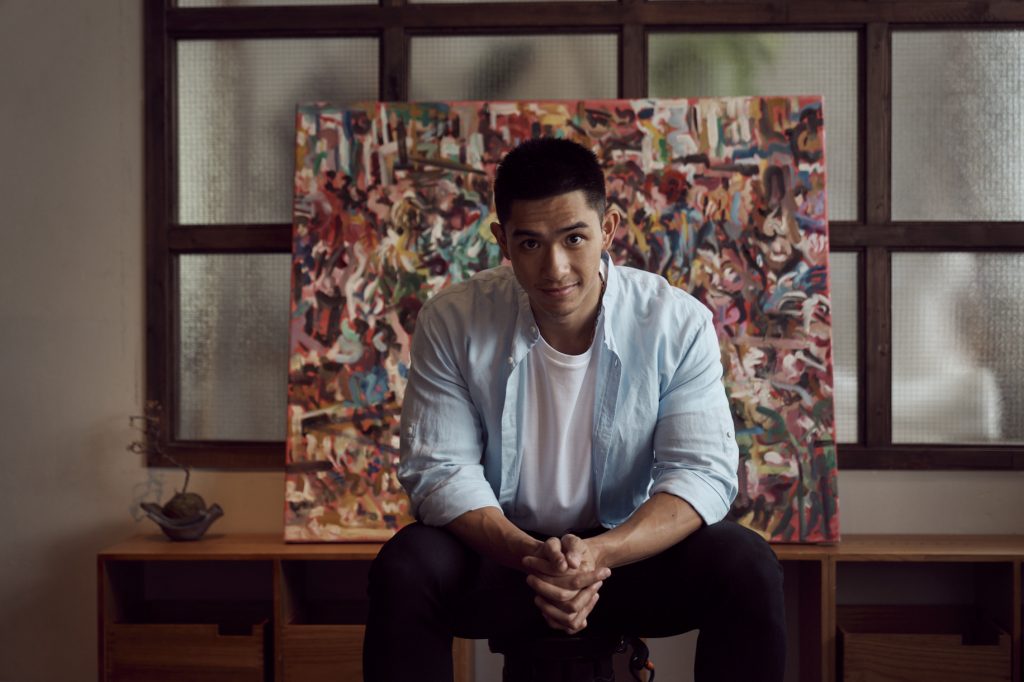 "In art, the conversations are quite easy to see," he continues. "When you're talking about artwork with a friend or with the artist, or if you go to a gallery, you discuss what the art is about. But then also from a personal trainer standpoint, when I talk to my clients, the conversations we have are actually nearly as important as what we're doing in the session. They learn from me the techniques of training, but I also learn from them and their experiences and what they do in their profession."
This desire to bring positive energy and spark communication is the aesthetic of Woo's works. How he achieves this is through reflecting on his own interactions, both with himself and with others. "For each one [painting], I could tell you what I was actually thinking at that time and I wouldn't need something big to happen in my life to be inspired," says Woo. "It could be inspired by my clients telling me about their daily struggles or something. I mean, I could go in now and probably with my state of mind at the moment, paint something."
Also see: 5 fan-favourite things to know about "singer-turned-actress" Hyomin
Still, there are times he feels uninspired. "Monday to Friday, when I'm training people, I have to wake up at 4:30 in the morning to train my first session at 5 am," says Woo with a laugh. "And then my last session would be like 10 pm. I mean, those days, trust me, I definitely do not feel inspired to paint."
So what's next for Woo? Uncertainty reigns as to where things go from here, with the pandemic and all, but perhaps another show sometime in the future, he tells me. But for now, he's going to just focus on completing the show and running the new gym, which spans two floors and features an exhibition space ("there'd be a lot of things that could happen. One week it could be my exhibition, and another week could be a corporate or business event. Or someone might want to display their, say, pop-ups.") private lounge, salad bar and more.
But no matter what, this won't be his first taste of major accomplishment, especially with his humility and undying vigour to learn and explore. "I think my whole life, even if I get to 70 years old, I'm still going to be learning," says Woo. "There's always something new, and what I'm thinking about certain things now, could really change in the future."