Aqua Hong Kong's David Yeo on the future of the food & beverage industry and sustainability
March 4, 2020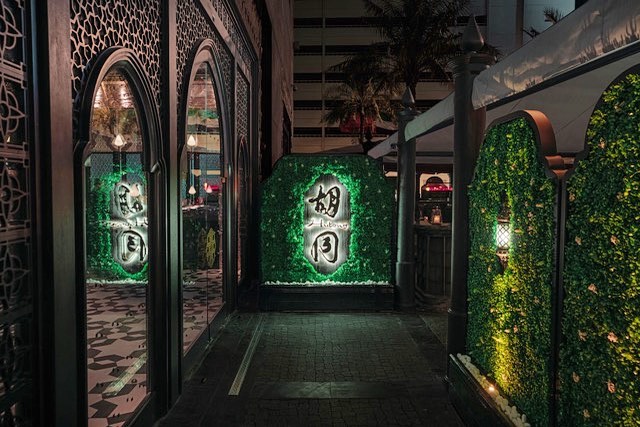 With over seven dining concepts in six major cities around the world, including Hong Kong, Beijing, London, Dubai, Miami and New York, it's not always easy for the Aqua Group to manage customers' preferences, cultural differences and daily operations. However, founder David Yeo, has found a winning formula to appeal to a diverse customer base and create a successful global brand.
Recently, we caught up with Yeo to talk about Aqua's new restaurant at Dubai's International Financial Centre, his views on the future of the food & beverage industry and his focus on sustainability.
Congratulations on the opening of Hutong at Dubai's International Financial Centre. Tell us what's so special about it.
Thank you! Each Hutong restaurant shares the same DNA but offers a slightly different menu and design. The new Hutong in Dubai is inspired by the heritage of the silk road, particularly around Xinjiang in the west of China and Kyrgyzstan as this was a fascinating meeting point and a melting pot for Arabic and Chinese cultures.
Our handcrafted sandstone wall is inspired by the towering Emin Minaret from Urumqi in Xinjiang. Guests can also admire towering 15-foot-high wooden screens surrounding the dining area, which have been hand-carved in China and shaped in Arabic design, with delicate Chinese carvings on the interior representing clouds.
In terms of food, whilst there are crossovers with serving signature items, each Hutong around the world has dishes that are utterly unique. For example, among the dishes created for the Dubai restaurant there is Suen Cai Yu – a seabass and pickled cabbage crispy dumpling and Hamour Fillet, locally sourced and served in a traditional chilli broth.
Many of your restaurants around the world are located in iconic building, like The Shard and One Peking Road. What is the main reason behind picking this iconic locations?
We do like the challenge of occupying prime real estate but honestly, when I first saw the space and the view from those restaurants it completely took my breath away, and still does to this day. I want every guest to have this same feeling while enjoying the most incredible dining experience. With every site I choose I often see in my mind the concepts and the design that I want to achieve. The decision process is very personal which makes it very rewarding when it all comes together and a restaurant is brought to life.
How do you adapt your dining experience based on the location?
We actually try not to make a lot of adaptations to our cooking. We take pride in sharing with our diners authentic pan-Northern Chinese cuisines – albeit our take on these cuisines, in that we are lucky to be able to have modern cooking techniques not available in the past. So we are constantly evolving, offering guests an authentic taste but pushing boundaries with traditional flavours and non-Chinese produce at the same time. For Dubai, we have a non-pork kitchen but are able to adapt our dishes without compromising our focus on taste and texture.
According to different markets, do you run businesses in different ways?
Any successful business operation is always run with the same meticulous attention to detail and financial discipline. Where we may differ in the various geographical locations is how we operate our brand of lifestyle dining. For example, in London and New York, guests prefer to stand and enjoy pre-dinner cocktails and drinks at the bar whereas in Asia, many guests prefer to be seated as soon as possible and catch up around the table. Social media presence is de rigour these days regardless of where you are in the world!
What do you think about the future of the food and beverage industry?
Thanks to shows like Masterchef and The Great British Bake Off people are definitely more interested in cooking these days and this trend looks like it is here to stay with so many self-proclaimed "foodies" and food bloggers on social media. At Aqua, we are never about following the latest trends but prefer to focus on continuing to improve what we do best. For us, good food and warm attentive service will always be at the forefront of our mission and aspirations.
Today, Sustainability is more important than ever and Aqua Hong Kong recently launched the new homegrown menu. Does it hint that the group will be focusing more on sustainability in the future?
Sustainability has always been a focus for us. When we first opened Aqua Kyoto in London in 2009, we were the first to reject the use of wild bluefin tuna. In Aqua Shard we focus on low carbon foot print insisting on line caught fish mostly from the British coast, and eco-friendly produce and ingredients from within the British Isles.
Homegrown was our first step in Hong Kong towards sustainably growing the freshest, most unique herbs. We are continuing this activity with our Master Mixologists who will further explore herbal infusions in both cocktails and non-alcoholic beverages throughout this year. In terms of our sustainable efforts we are always on the lookout for improving processes and sourcing sustainable materials. Whilst the no-straw movement is relatively new still to Hong Kong, it something we championed back in February 2018 and since then we have been providing biodegradable straws upon request. Our straws are made from natural fibres derived from potato starch. These compostable straws break down after 21 months without any residue and impact to the environment. In addition, Shiro's takeaway boxes are made from a renewable source; they have been carefully designed using sustainable paper.
Are you planning to start a new concept anytime soon?
2019 was definitely a very busy year involving a lot of different time zones. Our U.S. expansion started with Hutong in New York, then Miami and now Dubai. This year, we certainly aren't slowing down: in Hong Kong we are launching two new restaurant locations and in London, we also just renovated Aqua Kyoto and Aqua Shard. There are plans to bring our second-tier restaurant concepts to London.
Name one of your favorite dishes from Aqua Restaurant Group
I have so many, but at the moment I would have to say it is the Dim Sum Platter at Hutong in New York which includes a selection of Lobster squid-ink dumplings, Pickled Chilli Cod dumplings, Rosé Champagne shrimp dumplings and Vegetarian spinach dumplings. It was recently praised by The New York Times, and made me particularly proud to bring a part of Hong Kong to New York.
What's your New Year's Resolution for 2020?
I start every year with good intentions that usually involve losing the extra weight from an over indulgent Christmas! In addition to sharing our passion for good food and wines with others, I would like to remind myself and encourage others to focus more on sharing our good fortune with those who are less able to help themselves.
Who's your #legend?
I would like to think that I am still too young to have one! Mother Theresa and Sally Andersen from Hong Kong Dog Rescue come pretty close though!