Can't operate until you've had a cup of joe? Whether you're celebrating International Coffee Day (1 October) or simply a coffee lover every day, we've gathered some of the world's coolest accessories and gadgets for fans of the brew:
Barisieur Coffee Alarm Clock
"Getting up in the mornings would be so much easier with coffee," according to the people at Joy Resolve, who designed this one-of-a-kind coffee alarm clock (tip: it also makes tea!). Now, this is the kind of problem-solving technology we need, with state-of-the-art craftsmanship to boot. If the aroma of freshly-brewed coffee by your bedside doesn't wake you up, we don't know what will.
Price: HK$3,559
Available at joyresolve.com
Gold personalised double walled cafetiere
Treat your eyes – and your taste buds – to this personalised gold cafetiere by Becky Broome. Its minimalist design with a brushed gold finish adds a touch of sophistication to any kitchen, while the double-walled structure keeps your coffee pipin' hot for longer. What's more, each cafetiere is hand-etched to order and can be personalised with up to three initials in a bold uppercase font. 
Price: HK$841
Available at beckybroome.com
Ember Temperature Controlled Mug
If you've ever struggled to keep your cup of coffee (or any hot drink) at just the right temperature, struggle no more! The Ember temperature control smart mug lets you set your ideal drinking temperature on your phone and notifies you when it's been reached. Best of all, it'll keep it at that temp for up to 90 minutes straight.
Price: HK$1,087
Available at ember.com
Coffee Joulies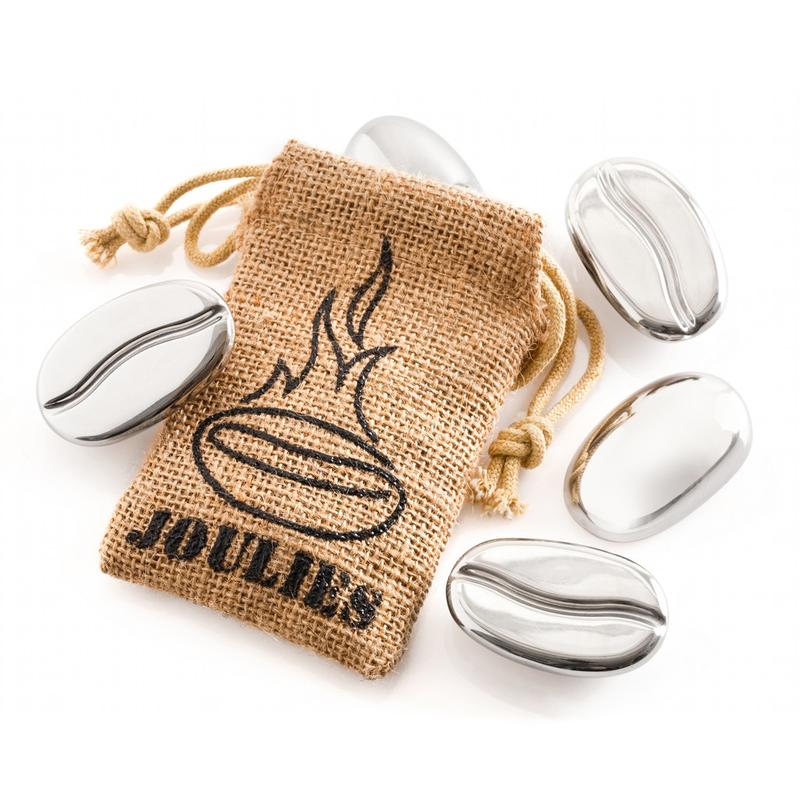 Not a fan of scalding hot coffee? Coffee Joulies can help with that. As seen on Shark Tank, these stainless steel capsules help cool down coffee to a drinkable 60°C quickly and then reverses the process to release the energy stored back into the coffee. Translation: your coffee will be ready to drink quicker and stay warm for longer.
Price: HK$387
Available at joulies.com
Handpresso Pump Set
For those who need their espresso fix even while on-the-go, the French-designed Handpresso Pump is the ultimate device. Using only the power of your arms, the Handpresso works like a bicycle pump to build up pressure and provide a creamy espresso on-demand with ground coffee or ESE pods. The set also comes with four Unbreakable Cups, a heavy-duty stainless steel thermo-insulated flask and two napkins.
Price: HK$1,345
Available at handpresso.com
Goat Mug Horn-shaped Coffee Mug
Looking to impress the local baristas with your unique to-go cup? This horn-shaped Goat Mug should do the trick. It not only comes with two faux leather straps of different lengths for easy carrying, the lid is also designed to be easily opened and closed with just one hand. If you must set it down, its holder can even be turned into a stand. The Goat Mug claims to be 100% leak-proof and will keep coffee warm for up to two hours. 
Price: HK$267
Available at goat-story.com
Bushwick Kitchen's Trees Knees Coffee Maple
Made for true coffee addicts, Trees Knees Coffee Maple syrup lets you put a little coffee into just about anything – think pancakes, meat glaze, cocktails or even your usual brew. Infused with Stumptown Coffee Roasters Hair Bender Blend, go on and add notes of dark chocolate, cherry, toffee and fudge to your favourite treats. Bonus points for being gluten-free, paleo-friendly and vegan, too.
Price: HK$108
Available at bushwickkitchen.com
See also: Hong Kong's newest coffee shops – October 2020 edition