Did you know that studies have shown that people are more stressed during the summer than other seasons? Beat the summer slump with yoga. Known for its relaxation benefits, this ancient practice can also increase flexibility and help you tone your body. Luckily, there's no shortage of Hong Kong yoga studios. From big to small, intense to calming, you're sure to find the perfect studio for you on this list.
PURE Yoga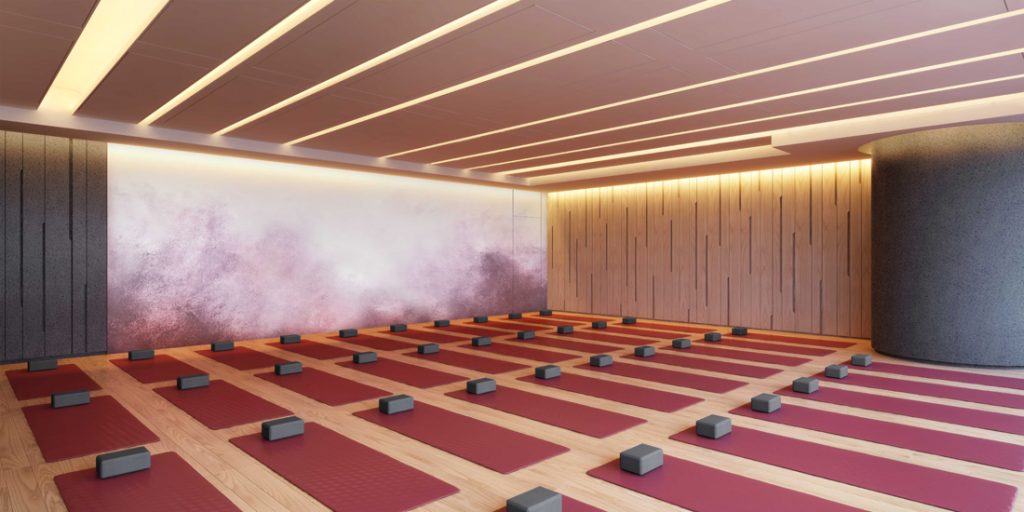 A staple in the Hong Kong gym scene, PURE Yoga is loved by many yogis and for good reason. With locations all over Hong Kong, this studio is perhaps the most accessible on this list. Newcomers to yoga are well taken care of here with their "Pick a class for me" quiz and easy to understand "5 pillar system" which groups all classes into one of five categories. Challenge yourself with their line of hot yoga classes or opt for something more healing with their Gong Meditation class.
PURE Yoga, 25/f, Soundwill Plaza, 38 Russell Street, Causeway Bay, Hong Kong, +852 2970 2299, pure-yoga.com/hongkong
KITA Yoga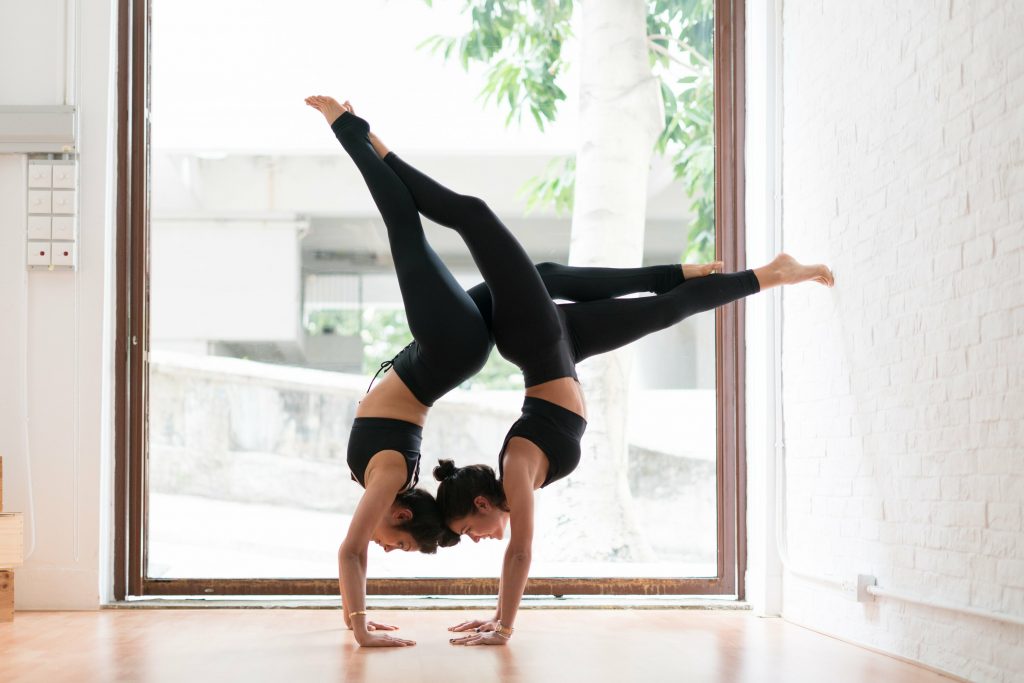 Located at The Upper House for the summer, visit KITA yoga at the Sky Lounge to take your yoga class to new heights – the 49th floor to be exact.  From slow, breath-centred class to rigorous flows with inversions, potential yogis can choose how they want to challenge themselves with five different types of classes available to suit your ability. Founded by Natalie Soderstrom and Nikita Ramchandani, KITA yoga features a team of all female yoga instructors that promise not to take themselves too seriously.
Kita Yoga, Sky Lounge at The Upper House, 88 Queensway, Admiralty, Hong Kong, +852 9159 6190, kita-yoga.com
Karma Yoga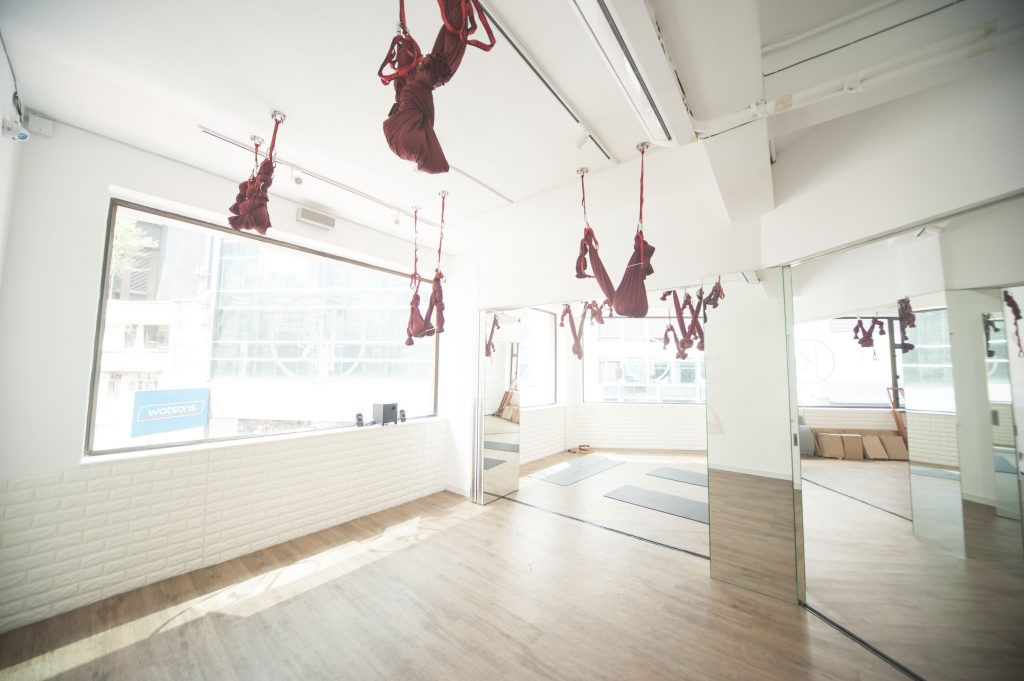 With up to nine classes a day, yogis are spoiled for choice with Karma Yoga. This Hong Kong yoga studio offers everything from Chair Yoga (which is good for stretching and flexibility) to Aerial Yoga (recommended for back pain sufferers) out of Causeway Bay. Snag a spot in one of their limited workshops with expert instructors, like hand balance master Miguel Sant'ana. Be sure to act quickly as they sell out fast!
Karma Yoga, 3/F, 19 Yun Ping Road, Causeway Bay, Hong Kong, +852 9386 3267, karmayoga.hk
The Yoga Room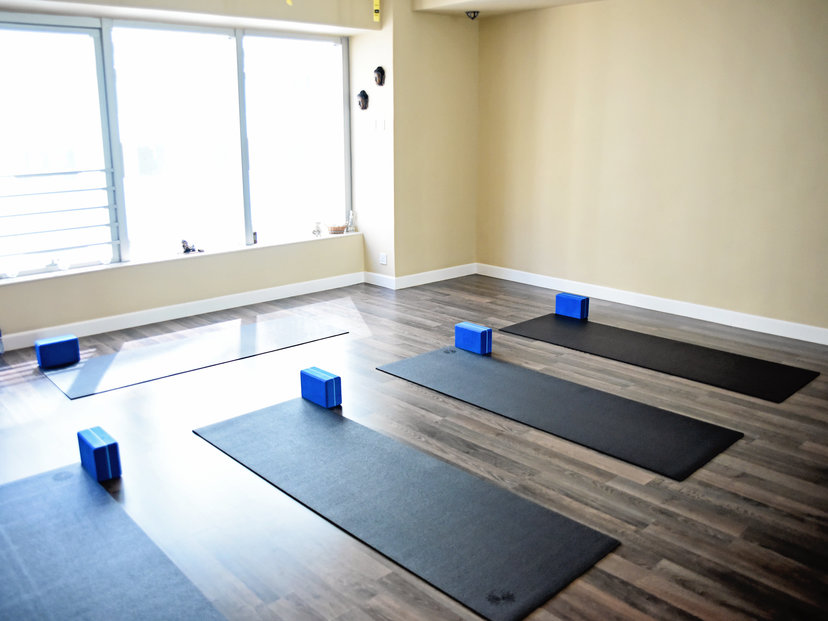 Spread over four floors, The Yoga Room is the spot for small classes. Hosting over 90 hours of classes a week, this studio features more specialised classes, such as Pre-natal Yoga and Mum & Baby Yoga. Check out their summer schedule throughout August for workshops, like Handstands are for Everyone. For those looking to become certified yogis over the summer, The Yoga Room also offers teacher training programmes in different yoga disciplines.
The Yoga Room, 3/F, 4/F, 6/F & 16/F, Xiu Ping Commercial Building, 104 Jervois Street, Sheung Wan, Hong Kong, +852 2544 8398, yogaroomhk.com
Fivelements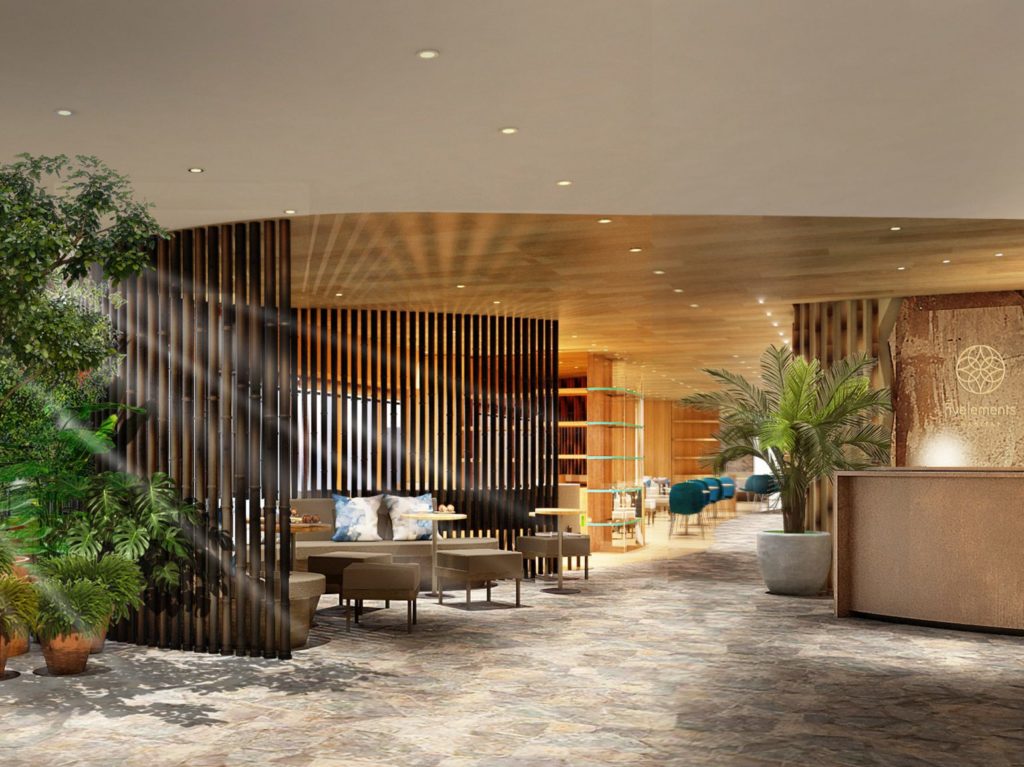 For a holistic wellness experience, there's no place in Hong Kong like Fivelements with their yoga studio, spa and restaurant. With the widest range of classes of any studio on this list, beginners will be happy to find lots of gentle stretching classes to ease you into becoming a fully-fledged yogi. Put your mental health first with Therapeutic Yoga, intended as a "less threatening" and "noncompetitive" session to reduce negativity.
Fivelements, Level 13A, Tower One, Times Square, 1 Matheson Street, Causeway Bay, Hong Kong, +852 3106 2112, fivelements.com.hk
Anahata Yoga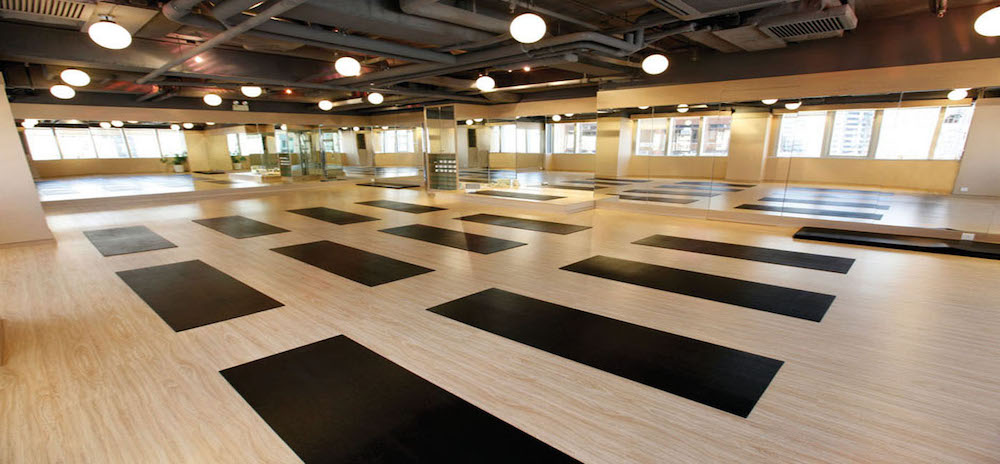 Named after the fourth primary chakra which represents love and compassion, the significance of this name reflects the passion of the instructors at Anahata Yoga. In a modern and luxurious environment, this studio promises personal attention to everyone in their classes. For a truly targeted experience, the Andiappan Yoga – Therapy series features yoga classes that aim for particular health goals, like back care and weight control.
Anahata Yoga, 18/F, One Lyndhurst Tower, No. 1 Lyndhurst Terrace, Central, Hong Kong, +852 2905 1822, anahatayoga.com.hk
Be Earth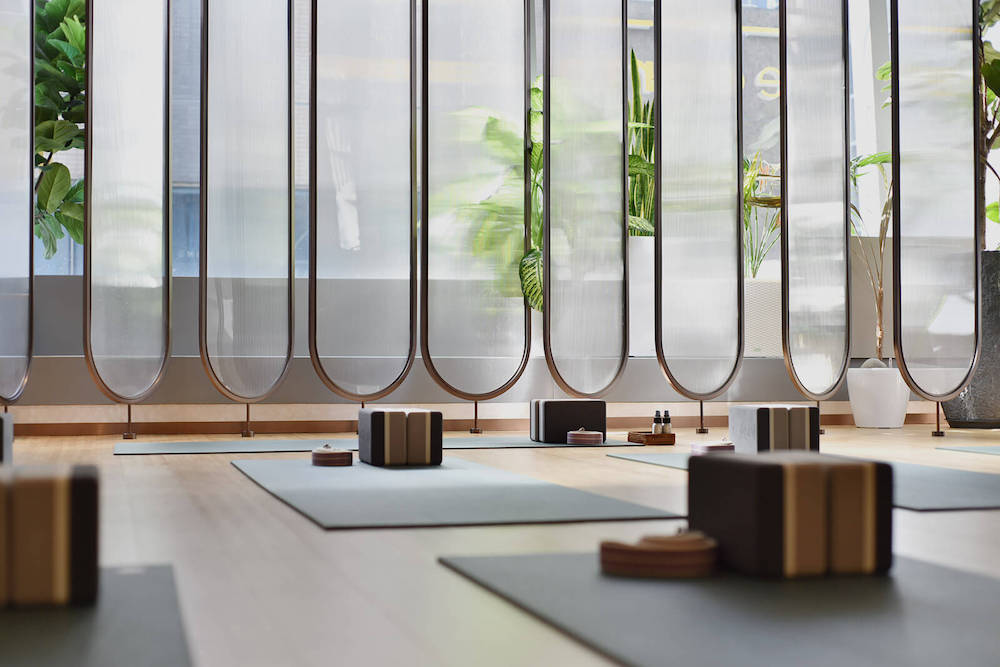 Founded by #legend100 influencer Elva Ni, Be Earth has four yoga rooms with a team of highly experienced teachers. Something to note is their mindfulness towards sustainability. From their naturally sourced mats to all-natural shower products, everything has been carefully chosen with the environment in mind.
Be Earth, 2/F, On Building, 162 Queen's Road Central, Central, Hong Kong, +852 2833 5323, beearth.com.hk
Lemon Drop Studios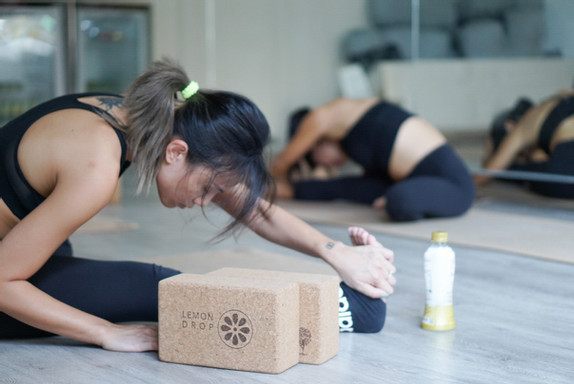 You won't be able to find a more highly-rated studio than Lemon Drop Studios in the Kennedy Town area. While small and cozy, the big windows and high ceilings make sure you're having a class full of natural light. Their teachers come highly recommended and are sure to leave you feeling relaxed and refreshed after class. Try out their 90 minute Summer Combo classes for the perfect blend of HIIT and yoga with 45 minutes each.
Lemon Drop Studios, Room 2515, Hong Kong Plaza, 188 Connaught Road West, Sai Wan, Hong Kong, +852 9812 5989, ldshk.com
Santi Space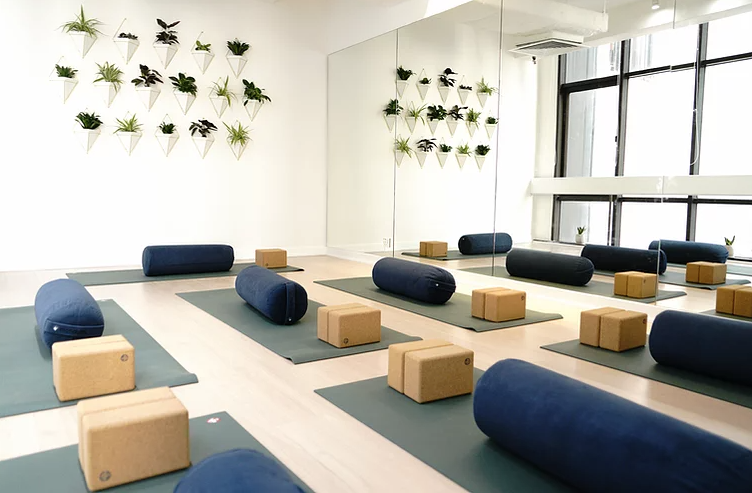 In Sanskrit, the word 'śānti' means peace and tranquility and Santi space strives to provide exactly that with their green studio space. As a small studio space with floor-to-ceiling windows, Santi Space is a rare find amongst the hustle and bustle of Wan Chai. What stands out to us are their classes with crystal singing bowls. Stop by during your lunch break and join their Noon Healing with Crystal Singing Bowls to feel recharged in a flash.
Santi Space, 5A, Lockhart Centre, 301-307 Lockhart Road, Wan Chai, Hong Kong, +852 9602 8864, santispacehk.com
Flowga Studio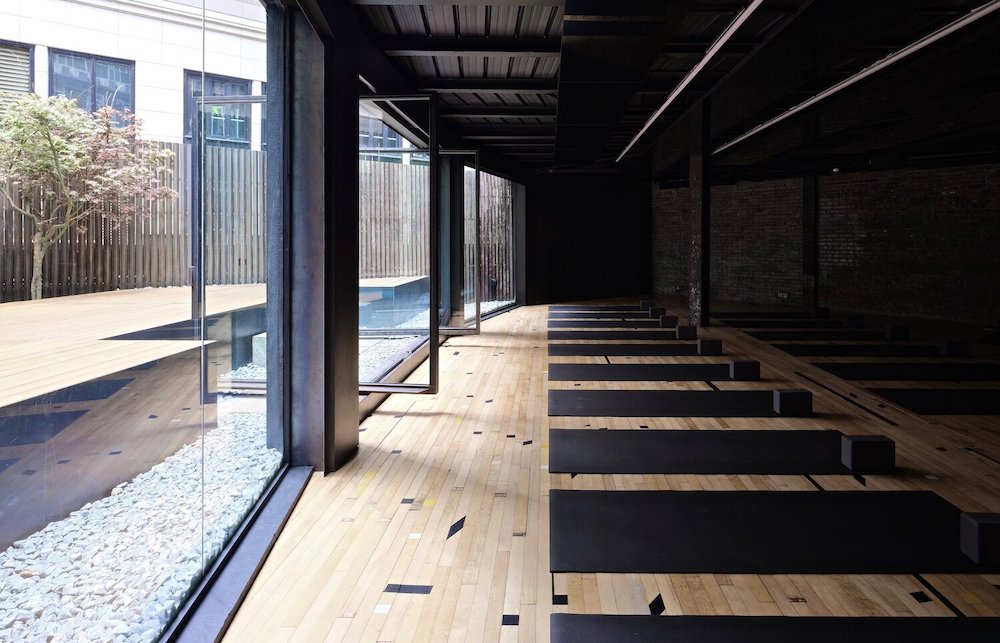 Don't let its cool appearance fool you, Flowga Studio only has one thing on their mind: to make you sweat. Promising a full-body workout along with "bumpin" beats, this studio specialises in hot yoga classes with a Vinyasa yoga core. So don't expect your typical "no talking, focus on your breathing" type of yoga session. With classes like "Sweat n' Flow" and "Sweat n' Burn", that should give you some idea of what you're in for.
Flowga, Unit F, 1st Floor, Winner Building, 37 D'Aguilar Street, Central, Hong Kong, +852 9129 1366, flowga-studio.com
Flex Studio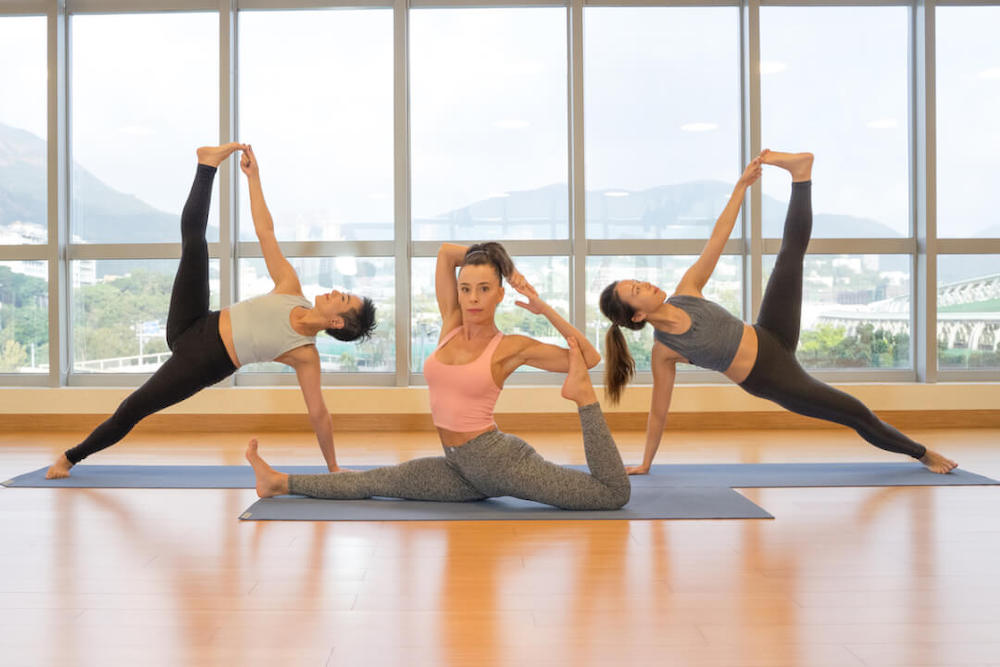 With not one but two locations, Flex Studio promises a premium yoga experience and prides itself on delivering noticeable results. Come for their power yoga classes for an intense, but mindful flow – they also offer barre and pilates if you're looking to strengthen your core. Check out their sun-lit studio in Wong Chuk Hang for plenty of natural light.
Flex Studios, 3F, Man Cheung Building, 15-17 Wyndham Street, Central, Hong Kong, +852 2813 2399, flexhk.com
Shan Studios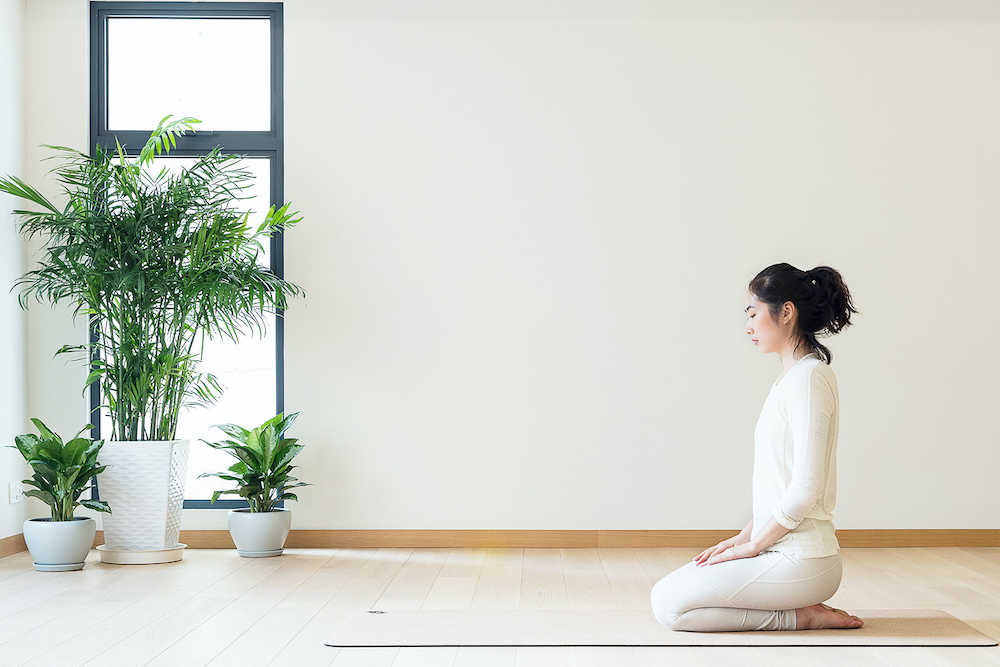 There's no place like home. Specifically designed to feel like home, this studio created a space immune to the competitiveness commonly felt when doing sports. For the ultimate calming yoga experience, Shan Studio is the way to go. With a special focus on mindfulness, each session starts with a mindfulness exercise to help you compose your attention. If you're in the mood for extra mindfulness, classes like Mindful Flow allow you to further explore mindfulness during class.
Shan Studios, 902 Sun Hing Industrial Building, 46 Wong Chuk Hang Rd, Hong Kong, +852 9306 6788, shanstudios.com
Inspire Yoga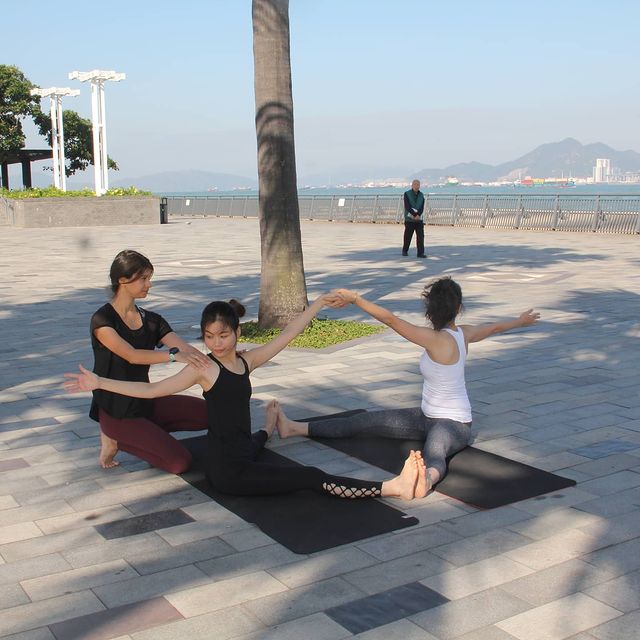 Maybe a class full of bendy yogis is a bit too intimidating for you or if you're just looking for a more personalised experience, Inspire Yoga could be the solution you're looking for. Highly customisable and flexible, this company makes your yoga class all about you. Whether you want to keep things online or meet up face-to-face, Inspire Yoga adjusts to your schedule. Perfect for those workaholics who just can't seem to find the time for a regular yoga class.
The Yoga Lane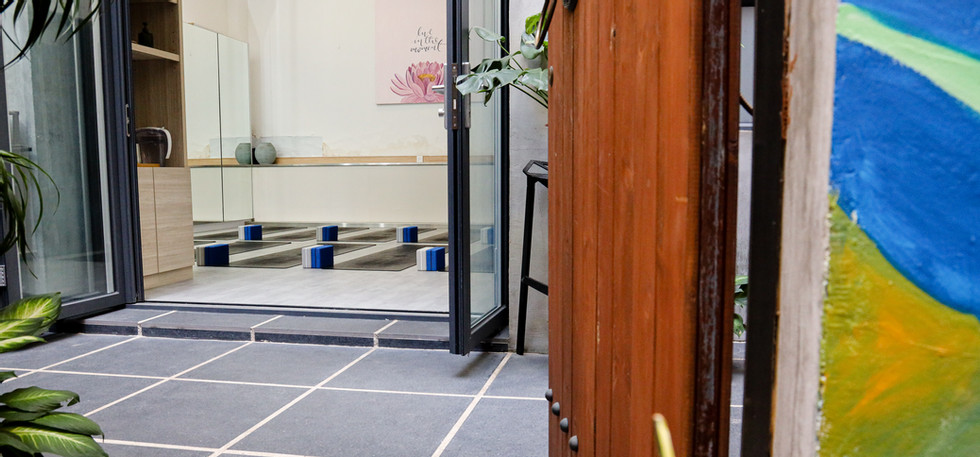 In this cozy studio, personal teaching and attention from instructors are a given. If you're a beginner, there's nothing like a small class size and an attentive instructor to help you fall in love with yoga. This is the place to go if you're looking to build your endurance and strength with a Vinyasa session or you want to take things easy with a Hatha yoga class.
The Yoga Lane, Basement, 27 High Street, Sai Ying Pun, Hong Kong, +852 9339 9069, theyogalane.com
The Practice Group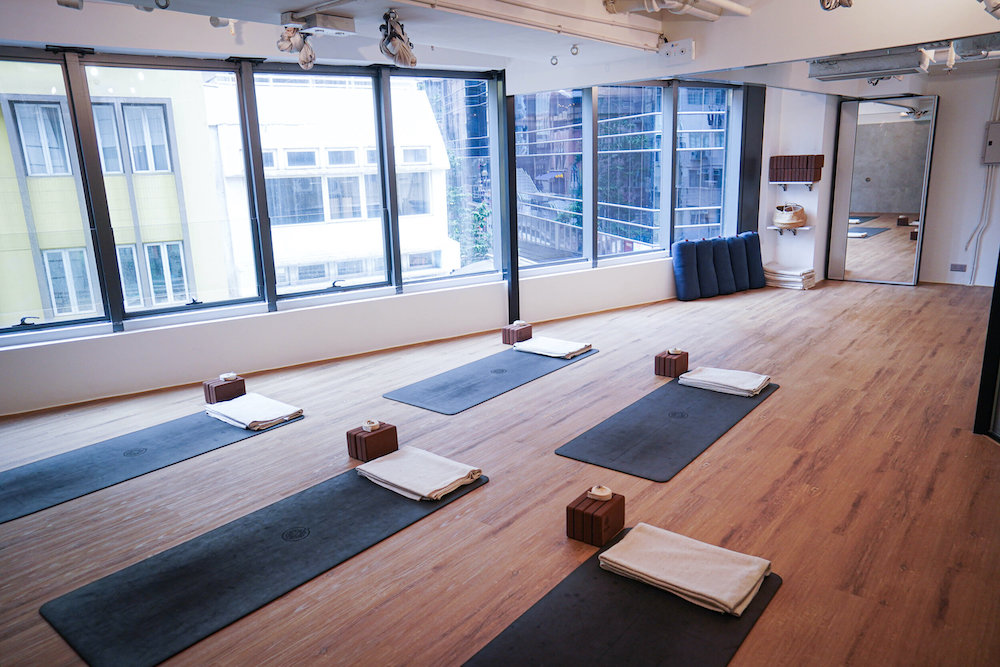 In the mood to boost your fitness level? The Practice Group's Strength & Conditioning class helps students learn functional movements that they can carry over into their daily life. Looking for something more low-key and chill? The Meditation & Pranayama class uses guided meditation to calm the mind, while breathing exercises refresh the body. Classes are held in English & Cantonese, so there's no need to worry that you won't understand the instructor.
The Practice Group, 4/F, C Wisdom Centre, 35-37 Hollywood Road, Central, Hong Kong, +852 9855 7693, thepracticegroup.com
See also: International Yoga Day: 20 Hong Kong yogis to follow on Instagram