Fashion stylist and influencer Justine Lee travels through time, space and the spectacular world of Chanel fragrances at Le Grand Numéro de Chanel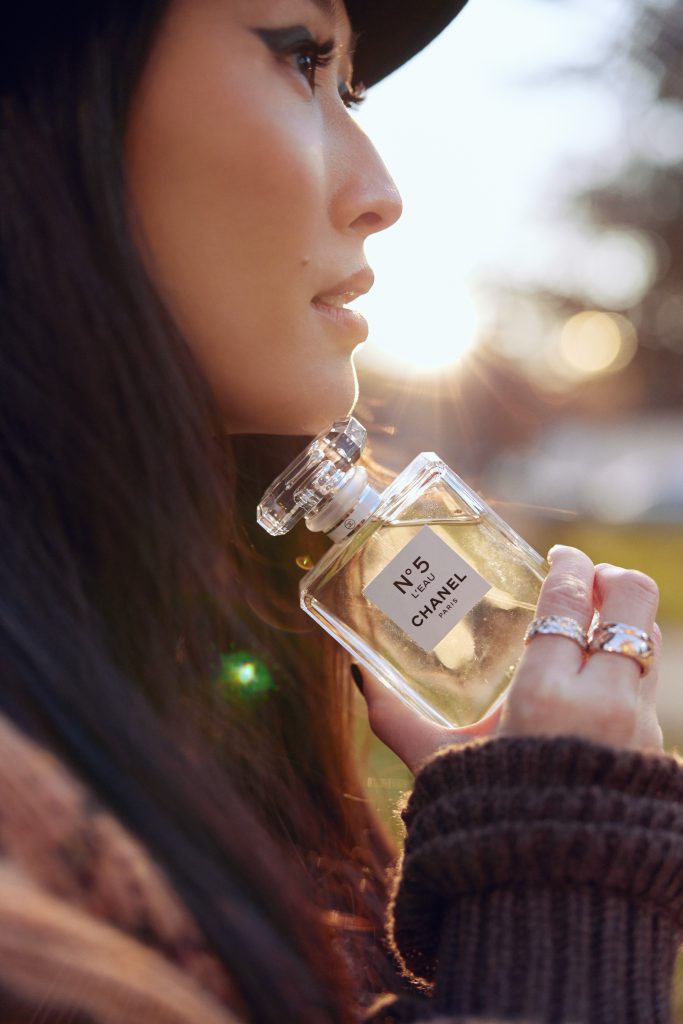 Ever since Coco Chanel became the first fashion designer to lend her name to a fragrance and the first to name a fragrance after a number, the house of Chanel has been revolutionising the world of perfumery. So it's only fitting that an exhibition to explore its many spectacular scents would be unlike any other in the history of the industry.
Le Grand Numéro de Chanel, previously held at Paris's Grand Palais Éphémère, peeled back the curtain on the world of Chanel fragrances with an immersive and emotional journey through every facet of their creation and expression. Among the many Chanel devotees who were swept into the olfactory kaleidoscope was Hong Kong's own fashion stylist, consultant and influencer Justine Lee.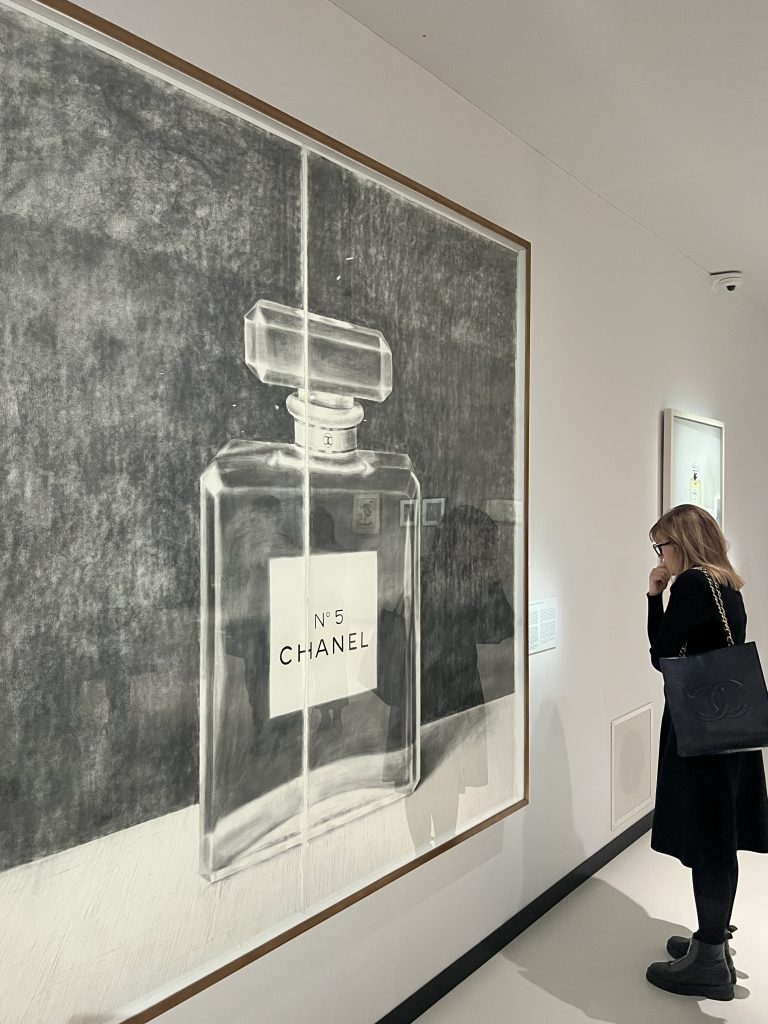 "Le Grand Numéro de Chanel was such a sensory experience. I was blown away by the scale of the set-up and how Chanel was able to capture the essence of each fragrance," she says. "It was remarkable to see the rooms dedicated to Chanel N°5 – it was almost like a museum, filled with works created in homage to the fragrance by artists, both past and present, while hallways were lined with famed N°5 advertisements.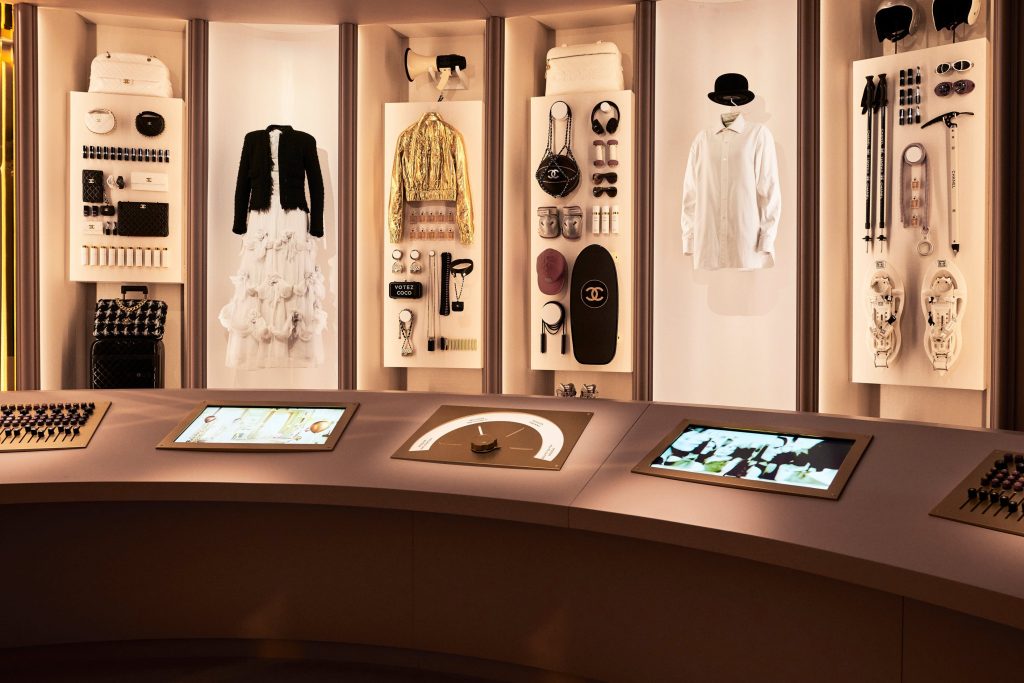 For Lee, whose passion for fragrance dates back to her early 20s, one of the most memorable experiences at Le Grand Numéro de Chanel was the room dedicated to Les Exclusifs. "It was a psychologist's office of sorts and probably the most interactive way to find your fragrance," she recalls. "Upon entering a dimly lit room, we were greeted by fragrance experts dressed in lab coats who encouraged us to take a seat or lay down for an analysis. By answering a series of questions, they would then 'prescribe' a scent which could be picked up at the counter at the back of the room. It was such a clever touch!"
Lee also enjoyed delving into the history of what makes Chanel fragrances so unique. "N°5 is made up of over 80 different ingredients, and this was in the 1920s when perfumes were typically only made up of one flower or ingredient. It was complex, it was ahead of its time and it became so synonymous with Chanel's brand," she says. "Coco Chanel was a rule breaker in the way she dressed, the way she designed and the way she lived – much like how this scent broke barriers in the fragrance industry."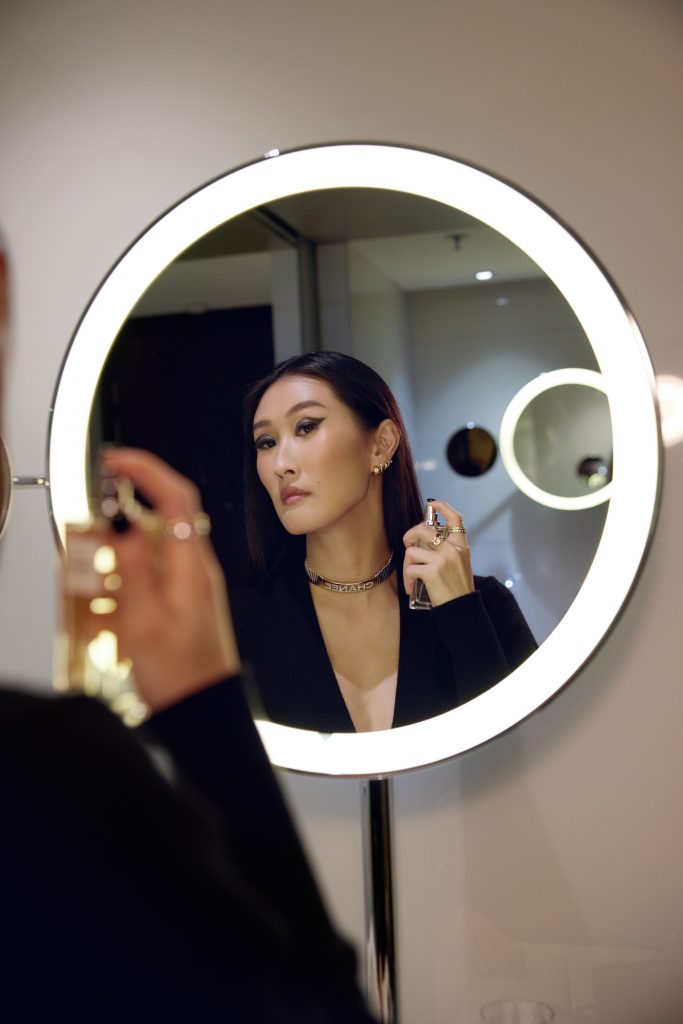 Indeed, every detail of N°5 from the ingredients to its iconic glass bottle, set the stage for an entirely new era of fragrance that lives on in the people who wear it today. "I don't feel completely dressed and ready to leave the house without putting on a fragrance for the day. It's become a ritual and is the final step of my getting-ready process. I choose it based on my mood, how I'm feeling, the time of year and where I'm going," Lee says.
The control room at Coco Mademoiselle was similarly unforgettable. It was so special to see archive fashion pieces and special props (some of them weren't even produced, they were just samples made for commercials). Seeing these iconic fragrances come to life in these playful ways, it perfectly encapsulated the spirit of the scents."
"I alternate between Chanel N°5 L'Eau, and Boy Chanel and Sycomore from Les Exclusifs for my everyday fragrance. I have L'Eau in different sizes and formats – body wash, all-over mist, hand cream and the eau de parfum in a travel case – it goes with me everywhere. When I get dressed up, I like to top off my look with a spritz of Chanel N°5 or N°22 from Les Exclusifs, which both have a powdery finish that feels a bit more feminine. I also love the N°5 hair mist – it's very subtle but I love catching a whiff of it as I move."
Photos courtesy of Justine Lee and Chanel
Also see: Chanel: Le Grand Numero de Chanel exhibition, an olfactory odyssey in Paris