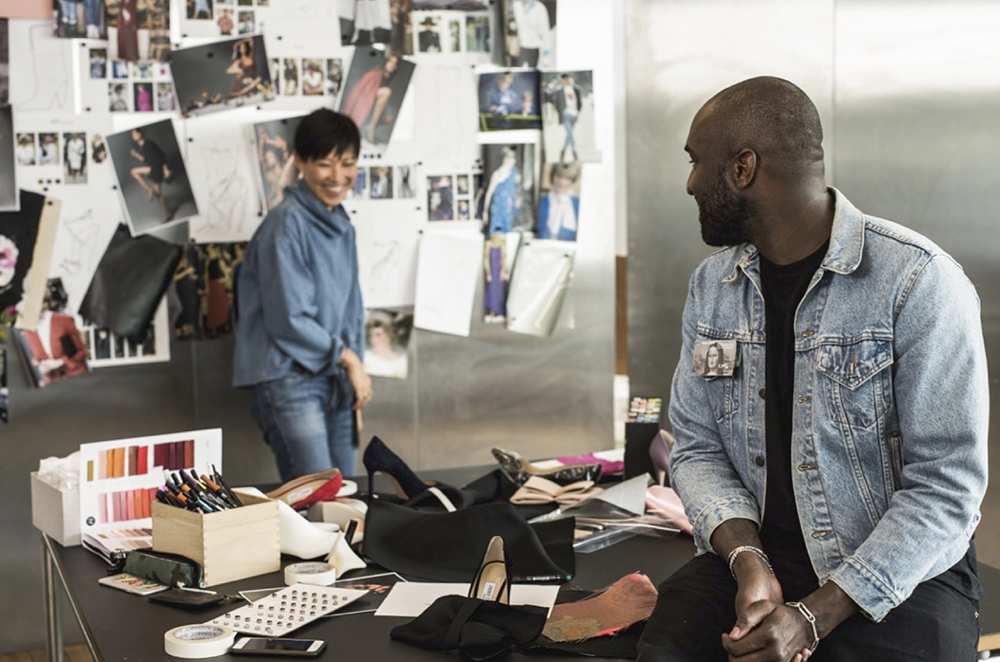 Twenty years ago, Princess Diana united the world through the mourning of her untimely death – and today, her message of unity is still alive. It has brought together two seemingly opposite brands. Really, who would have ever used the names Off-White and Jimmy Choo in the same sentence? But lo and behold, for spring/summer 2018, Sandra Choi of Jimmy Choo and Virgil Abloh of Off-White combined forces to present a collection paying homage to the late Princess Diana. Nobody would have ever expected a label known for its cult-level streetwear to be on the same wavelength as a shoemaker to British royalty – but such is the fashion world today.
How did you two meet?
Sandra Choi: We met in September 2016 in New York because Virgil was DJing for our 20th-anniversary event. We went for a drink before the event to get to know each other; he had been on my radar for a while and I was interested to meet him. I looked up his background, and I was like, "Okay, let's get together."
Virgil Abloh: It was my idea to collaborate. Straight away I was like, "I want to meet whoever is in charge. I want to develop a relationship with her." When we first met, I did a scan, cataloguing the brands she was wearing. Well, our brains are so astute. If you have synergy, it's like, "What's your taste? How do you finish a sentence?"
Choi: He's a connoisseur of fashion! I was impressed by his fashion intuition. He instantly identified my plain cotton T-shirt as Comme des Garçons; this is when we started to talk about working together on a collaboration. We connected on that design level immediately. We clicked. It's so nice actually to meet someone who's got a different point of view and a completely different perspective. I have so enjoyed Virgil saying, "I want the unexpected." Together we wanted to make something both figurative and luxurious.
Why Jimmy Choo?
Abloh: I'm not an expert in shoes, so that's why I went to an expert to make them.
Choi: Our collaboration still has the identity of both our brands – that is the key.
Abloh: It was coincidentally magic. The theme of the collection was Princess Diana and Jimmy Choo had such a connection with her – they even had her actual last. Designing shoes for her, my idea was to sort of bring that into contemporary times – so going to the house that has the actual mould of her foot and basing the collection not only figuratively, but also from first-hand knowledge.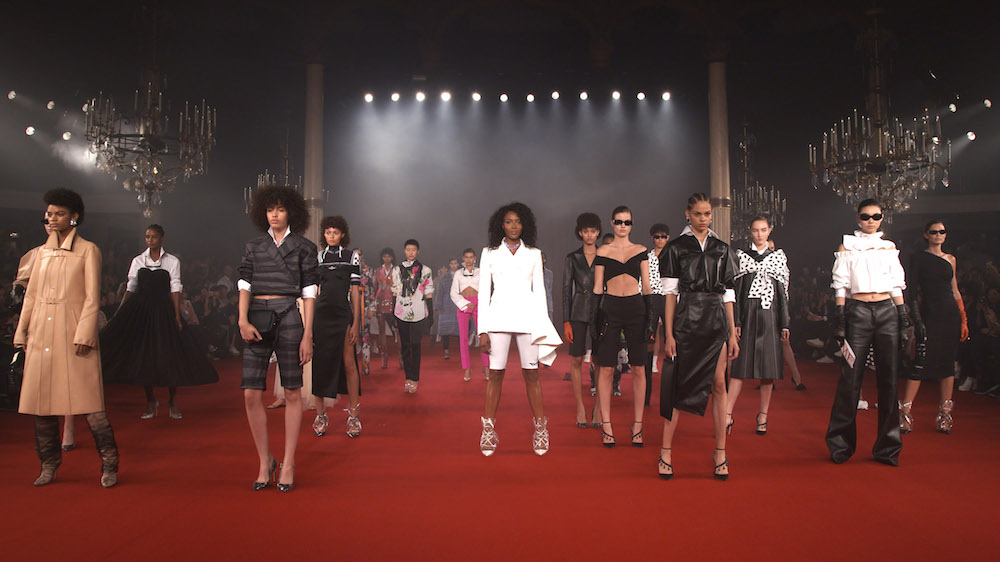 How about modern muses? Diana's in the background of this collection; you could even say the foreground. But who do you see wearing them now? Who is the Off-White c/o Jimmy Choo woman?
Abloh: They embody the confidence to respect their own style. They don't necessarily go with trends in fashion. They go with their own style.
What street element do you feel that you've brought to the union?
Abloh: My contribution is, in a weird way, to be sort of punk but corporate at the same time. Because there's a space to experiment that usually needs collaboration. So I specialise in finding this aesthetic that's refined, but it's a refined aesthetic that's sort of avant-garde. It's so important for me to make sure everything is beautiful. You know when your approach lends an alternative sensation to a certain brand, you want it to be beautiful. You don't want it to be weird – and that is a fine line. And I think this is just perfectly executed in the Off-White c/o Jimmy Choo pieces.
Choi: We took risks on this collection. Like I said to Virgil, it reminded me of every single thing that is iconic for Jimmy Choo, but with a fresh attitude.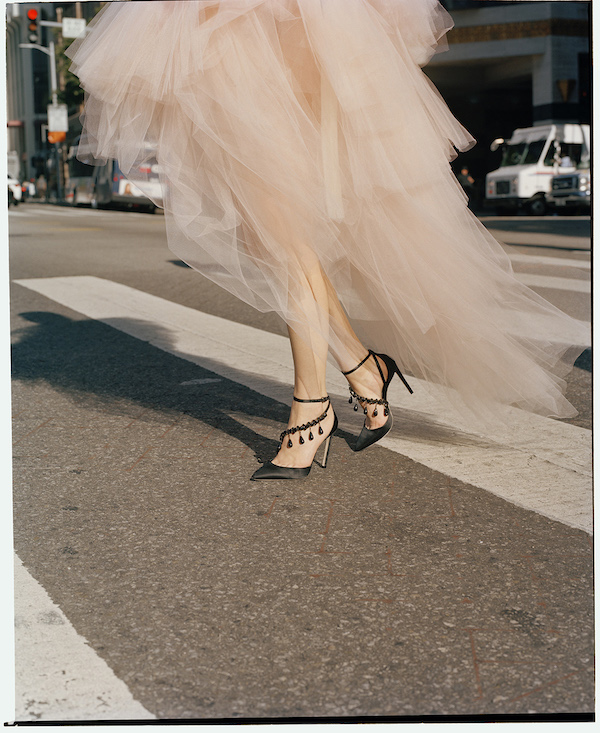 It's interesting because there's so much collaboration and community within fashion, but a lot of it now is about necessity; however, you are two powerhouses.
Abloh: Yes. We want to make something that doesn't exist. Purely making power more powerful.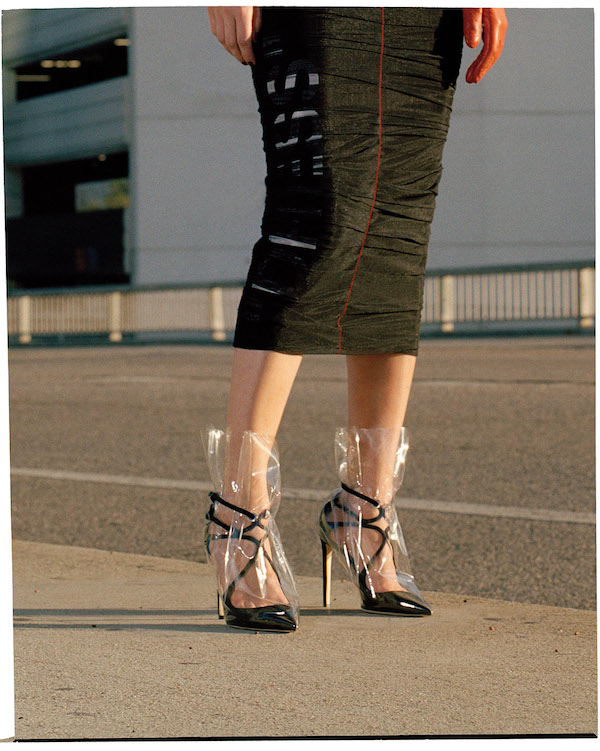 Let's talk about Diana specifically.
Abloh: I liked the idea of Diana as a muse. The point of this collection was to tell a story, that an impactful figure like her is our living version of Cinderella. Make a shoe that gives that princess feeling – the new glass slipper.
Why do you think she's so culturally relevant to a generation that, when she was alive, were young children or weren't even born yet? What is it about her style?
Abloh: She was and is still a role model, and the whole premise of Off-White is asking the question: "Who's the new woman?" We then try to make that into a collection. The fact is that now, there's a new powerful independent woman that has a style. That she can wear jeans and not have to wear a suit that was made for a man. She is an individual that you can't classify.
And I think that Princess Diana is relevant explicitly now because she was ahead of her time. Her being Princess Diana and having this variance of style choice is indicative. Clothing is your outward expression of what's happening. So whatever facade that she lived in, she revealed that through her clothing. From the gym to being on the street, and to being on the red carpet – they were all powerful expressions of her intrinsic style. She has this cool mix from the red carpet and her charity work on the ski slopes, where she wore the après-ski boot in white. I have this image on my mood board, in the Alps, styled with jeans.
Choi: I think it's because she's relatable. Diana was a royal grounded in reality. She was real, not a fairy-tale.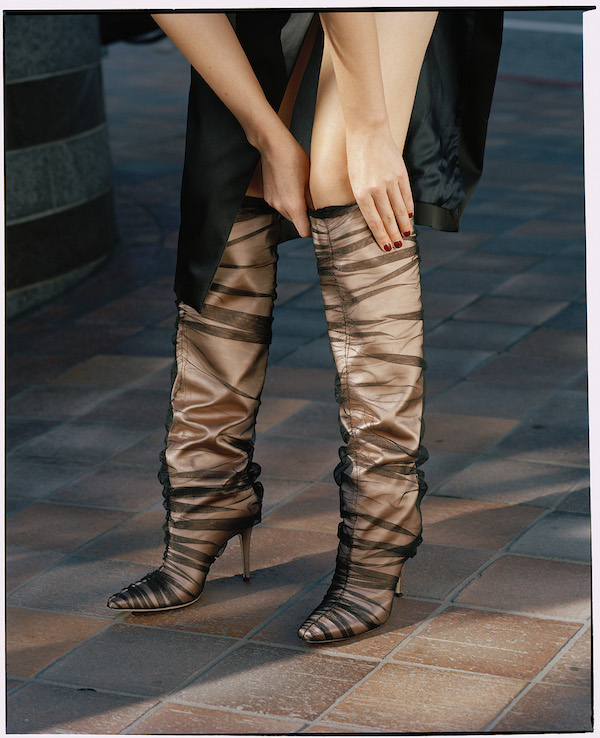 Royals tend to think high and wear low.
Choi: Diana was naturally tall and she was really careful about how much height she wanted to wear for each occasion. In the early days, I remember her heels were lower. As time went on, she went a bit higher and higher to three-and-a-half inches. So in some sense, she was using the way that she dressed to actually communicate with the outside world.
You've also mentioned Beyoncé and Sarah Jessica Parker...
Abloh: The reason why: the confidence behind those personalities. Look at Princess Diana. Their level of confidence is to be admired.
Choi: The confidence to be themselves.
Abloh: On the street, the average girl going to work at her job, if she can find something that matches her confidence, that's what fashion is. I think giving people products that enable them to show their true personality is my gift.
Are the styles the one that she wore or have you created a new last [shoe mould]?
Choi: Some of the pieces are based on the original lasts that we worked on, but tweaked. This is the second time around I've done this, so it gave me an opportunity to be experimental. The Anne is based on one of the key lasts that she wore. You can see it in the pictures; there's a chiselled, sharper and angular silhouette.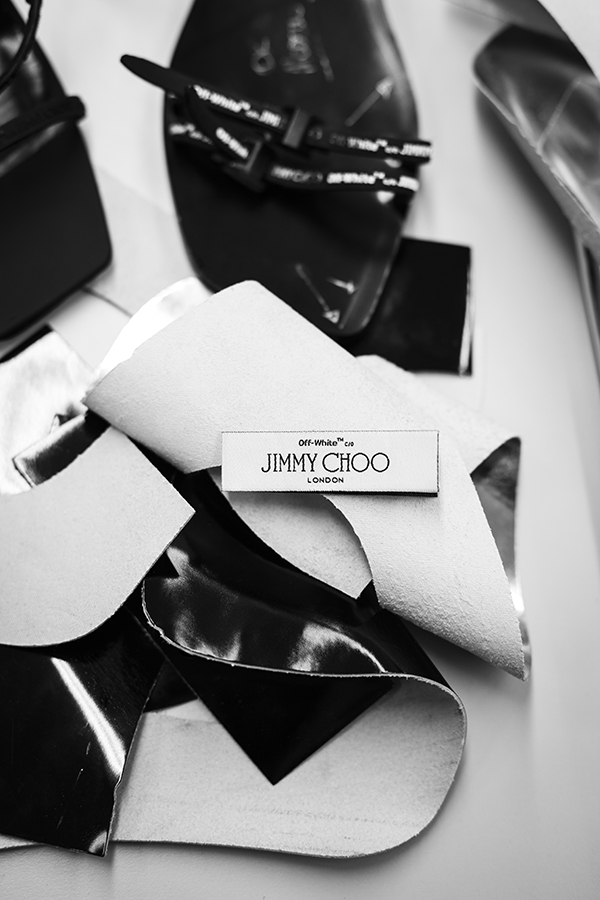 The Lady Shoe?
Choi: Exactly – the Lady Shoe. This is a shoe of the past that we've reinterpreted in this modern way, with a surprising twist. So it's a little chiselled stiletto – how will the footwear t into the greater picture of the runway looks?
Abloh: The collection is basically everything, from the iconic outfits that she would wear hanging out with her kids in the countryside, or going to the gym, all the way to her wedding dress. It's an interpretation of what we saw and who she was.
Choi: But it's a little bit harder and higher.
And has the collaboration made you rethink elements of Jimmy Choo? Do you feel like you want to embrace the street more now in the designs?
Choi: Well, the street is there. You can't ignore it, for sure. But I'd like to think that I'm a much more open-minded person. You know what Jimmy Choo is – the glamour, the confidence, that high heel. But the story has evolved, with the Jimmy Choo woman wanting and needing more choices, but founded on the same principles of quality, design and confidence.
I like to give her choices. This project has allowed us to play with our core DNA in ways that are authentic yet surprising, that provoke people to think, "Oh, they're doing something different. That's really interesting." And I believe in experimenting when it is built on authenticity. It brings freshness and energy to the collections.
More: The Jimmy Choo x Off-White collection has just dropped
This feature originally appeared in the March 2018 print issue of #legend, celebrating all that is two in honour of #legend's second birthday.