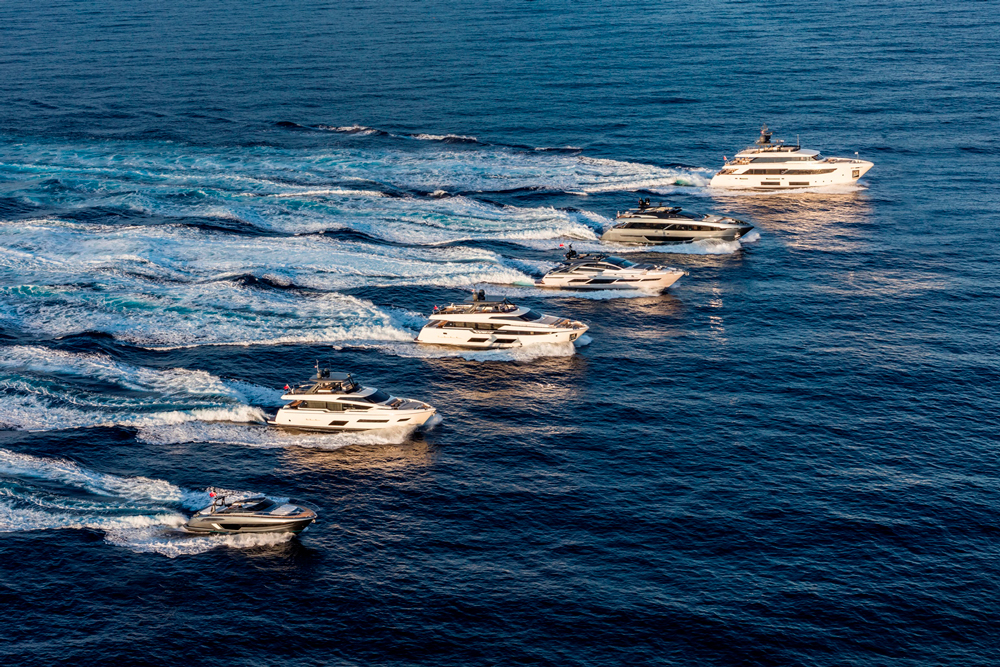 At the 40th Cannes Yachting Festival, the Italy-based Ferretti Group was truly on top of the world. Exhibiting a total of 25 yachts – the group's largest fleet yet – and six world-premiere models of open, coupe, flybridge and maxi yachts from four of its brands, Ferretti completely overshadowed its competitors, 
who showed more modest offerings.
Financially speaking, the Ferretti Group has had outstanding growth so far this year, with consolidated revenues of €344 million in the first eight months of 2017, up 10 per cent compared to the same period in 2016 – and 
that was the first year the group had posted a profit since 2008. Things are looking bright indeed. But Stefano de Vivo, the group's chief commercial officer, remembers when the luxury yacht broker was struggling. He credits those challenging times, before it was acquired in 2012 by the Weichai Group, a Chinese multinational that specialises in heavy machinery and automotive manufacturing, as one of the main reasons Ferretti has been able to bounce back.
With seven brands in its wide-ranging portfolio – Ferretti Yachts, Riva, Pershing, Custom Line, Itama, Mochi Craft and CRN – the group has been able to target every niche and streamline its yacht offerings. "If you're thinking about the quickest boats in luxury, you think Pershing. If you're thinking about pure style and pure culture, you think Riva. If you're thinking about buying the most spacious quality-ratio boats, you think Ferretti Yachts. You serve every customer," explains de Vivo. "It's the biggest advantage we have because each brand is a niche in its segment. We don't have to think about a product that has to satisfy all of the market. We think of a product that has to satisfy the niche."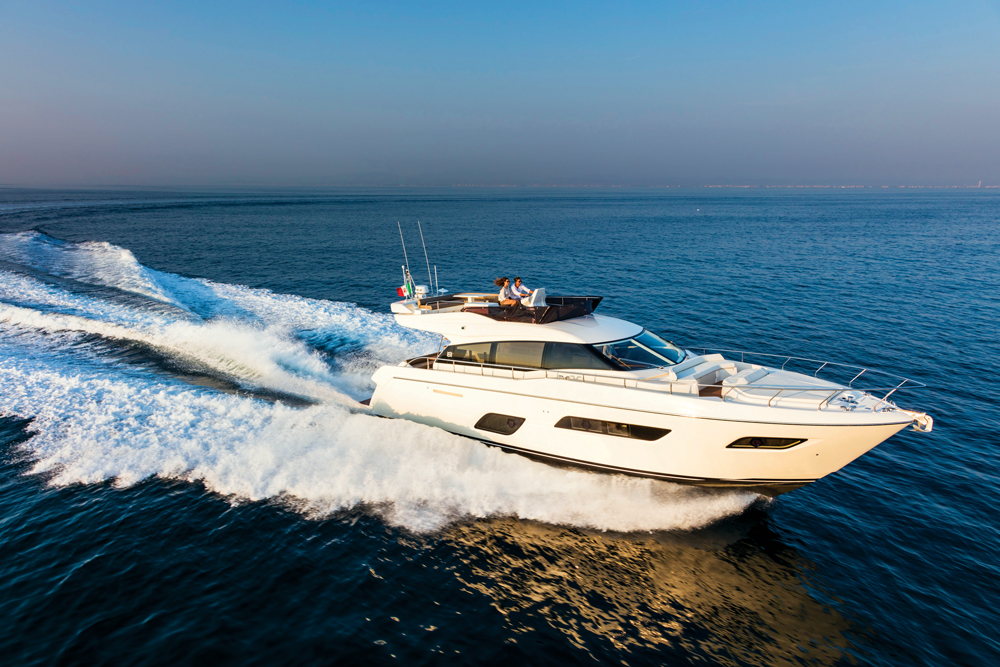 Custom Line and CRN are what de Vivo calls the Ferretti Group's "crown jewels". The demand for these larger yachts is big in Asia, but most clients tend to keep their boats on the Mediterranean. "We have a 250-foot CRN yacht out in Monaco called Cloud 9 that we launched this year and delivered to the owner – it's been cruising the Mediterranean. The owner got on board on May 15 and I think he's only got off the boat a total of 11 days since," says 
de Vivo, with a smile.
Custom Line premiered the Navetta 33 this year; the majestic boat was also shown in Cannes. The anticipation for the superyacht was so high that even before it was unveiled, five units had already been sold. The Navetta 33 introduces major innovations to the semi-customised brand's semi-displacement design, and includes popular features from the previous Navetta 37, including a wide-body master suite, a panoramic terrace on the starboard side of the main deck, a swimming pool and a spacious sun pad. The ship has an ability to reach a range of up to 2,000 nautical miles at an economical speed of 10 knots.
And who can deny the appeal of the Riva yachts? The luxury boat manufacturer debuted two new models in Cannes – the Riva 100' Corsaro and the Riva 56' Rivale – and we got to explore both of them. Riva's hallmarks are immediately recognisable the moment you step onto the rotary gangway to board. High-gloss mahogany interiors, natural teak exteriors, lacquer finishing, stainless steel details, mirrored and glazed surfaces, and superior leathers, along with ottomans and sofas made by Italian supplier Ivano Redaelli that exude sophistication and style.
The 100' Corsaro is a flybridge yacht that blends comfort and style with performance and safety. The yacht is large, but its sporty look is distinguished by its arrow-shaped profile, and with its tinted windows and metallic accents, looks extremely chic. Meanwhile, the 56' Rivale has an open design, and is a joint product of Officina Italiana Design and the Ferretti Group's product strategy committee and engineering department. The 56-foot craft boasts a unique balance of cutting-edge technological solutions that includes a lot of technical jargon you should read up on. From what we can summarise, major innovations have been made to the stern, where additional steps are built into the hull to provide an extremely convenient way of getting in and out of the water without resorting to the steel ladder. Equipped with 10,000hp MAN engines, the boat reaches a cruising speed of 31 knots and a maximum hair-whipping speed of 35 knots.
De Vivo has a favourite – and he isn't shy about telling us what it is. "The one that I'm proudest of right now is Pershing," he confesses. "Pershing is actually the most challenging brand we have, in certain technical aspects. If you look at a Pershing from the outside and you don't know the brand well, you think it's only about the speed." But he emphasises it's much more than that – marrying a need for speed with high style and design, it comes with all the latest water toys as well.
Pershing clients are among the most selective in the Ferretti Group's portfolio, explains de Vivo. "When they're cruising at 40 knots, they still want to be able to lie down here, do this here, do that." This year's Pershing 9X is the second chapter of the new Generation X models, and is a maxi coupe that marries aggressive lines with lavish comfort. Carbon is the main construction material, along with fibreglass and epoxy resin. The result is powerful, and the yacht, at 90 feet, offers unparalleled ease in both manoeuvring and the navigation experience.
Half a day spent touring the Cannes Yachting Festival probably isn't enough to open our eyes fully to the world of luxury yachts. To everyone's dismay, the sea conditions are also too windy for us to trial the new yachts, but no matter – we're soon whisked away to Sarnico, winding our way along the coast of France towards Italy, to the small lakeside town that Carlo Riva called home, where the Riva shipyard has been since 1842.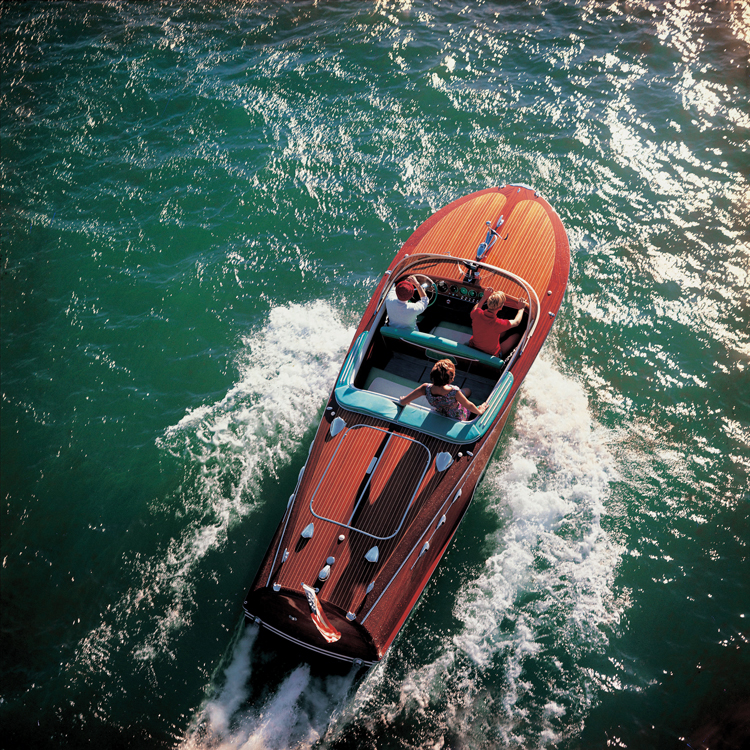 We arrive by boat in the evening and stay at Castello Oldofredi, a 15th-century castle-turned-residence in the middle of Lake Iseo. With Riva's storied heritage, it's easy to imagine that these are the same uneven stone paths, the same old olive trees and probably even the same breakfast spot that Carlo Riva himself probably enjoyed as well.
The next morning, well-rested and fresh-faced, we're picked up by the beautiful classic Aquarama boat called Happy Days. Numbered 483, the vintage boat was constructed in 1971 and is one of the last boats to be built by Carlo Riva himself. Only 40 of this particular model were made, distinguished by the presence of two air cowls instead of four.
Star power has always been a strong part of Riva's DNA. The Aquarama might be little, but its presence on the big screen is anything but. The wooden boat has been used numerous times in 1980s Italian films – such as 1983's 
Sapore di Mare (Time for Loving) – and has featured in recent Hollywood action flicks including 2004's Ocean's Twelve, 2010's Killers and 2015's The Man from U.N.C.L.E. The list of prominent people who have been aboard Happy Days is certainly illustrious, too. Carlo Riva himself, Adam Clayton of U2 and supermodel Naomi Campbell have all cruised (just as we are) over the vast expanse of Lake Iseo at top speed, admiring the surrounding unspoilt landscapes and the quaint village houses that dot the lake region.
In the shipyard, everywhere you turn, you'll see portraits of Hollywood's glitterati posing on various Riva creations – a testimony to Riva's charm as a status symbol. It was long the object of desire for aristocrats, athletes, high-flying businessmen and movie stars. Today, the Riva boats haven't lost their appeal one bit, continuing to provide dreams of the past and access to the lifestyle of a bygone golden era.
Carlo Riva died at home this past April, although his spirit is still very much alive at the Sarnico shipyard. The great-grandson of founder Pietro Riva, he's often credited for bringing the brand international fame. Before Carlo 
took over, Riva's boats were built for specific activities – but he decided to design boats for the sole purpose of pleasure, at a time when boating as a leisure activity was practically unheard of.
His audacity paid off, and for years to come the name Riva was synonymous with the rich and the glamorous. In 1950, the iconic Aquarama was created. 1969 marked another milestone, when Riva began fibreglass production for its yachts, although in recent years, interest in Riva's vintage mahogany boats has surged. The value of a vintage Aquarama ranges from about €250,000 to €650,000 – a high price to pay, certainly, but invaluable in terms of sentiment.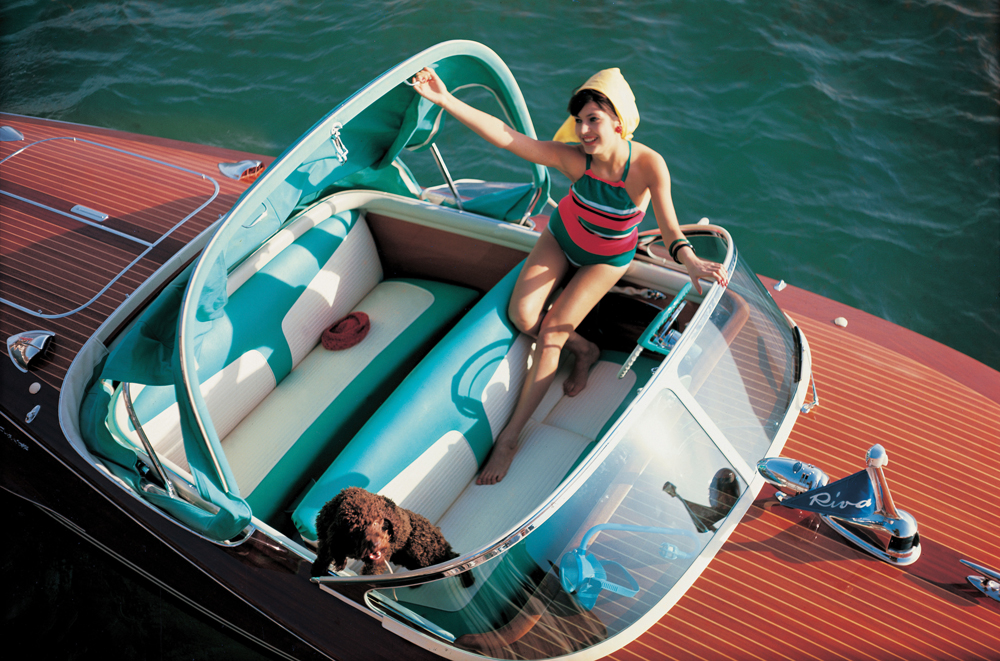 We take another turn to watch the boats being constructed and also stop by Carlo's observation deck-style office on the top floor, with a 240-degree view of Lake Iseo, a marine steering wheel in the middle of the room and, most impressively, a 100-year-old floor constructed from salvaged teak wood from an old ship.
Our meal is scheduled for the small town of Lovere, at an osteria just off the marina called Spirito Di Vino. With the company's rich heritage fresh in our minds, we get ready to board a Riva again, even more excited than when we first arrived. This time, I hop aboard the Aquariva Super, a fine wooden boat with soft, elegant lines; Riva channelled all the qualities and timeless charm of the Aquarama into the Aquariva. The newer Aquariva Super comes with an electronically controlled two-speed gearbox, which boosts the acceleration of the twin 370hp engines and can easily outrun the Aquarama. Even at a top speed of 41.5 knots, the ride is surprisingly smooth and the sound of the engines is never overpowering.
The Aquariva Super and the Aquarama rev up their engines, and we race off – to lunch.