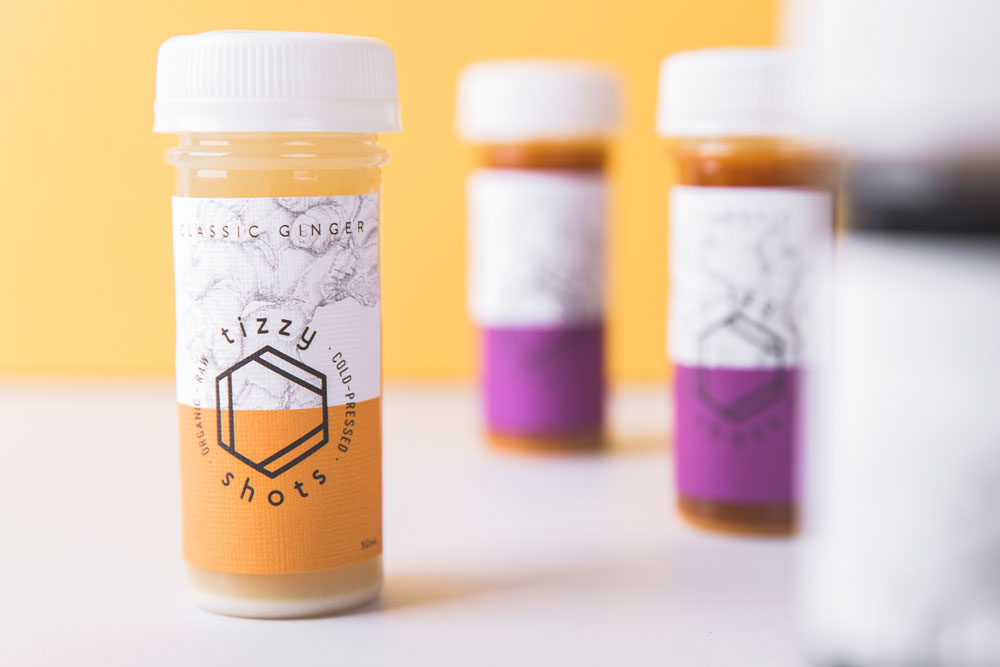 I was first introduced to ginger shots while watching Selena Gomez and James Corden throw one back in between sing-alongs on the infamous Carpool Karaoke segment. My curiosity was piqued. I love ginger. I love shots. How could this not be the perfect combination? Almost a year to the day, I finally got to satisfy my curiosity, with the debut of Tizzy Shots, the first grab-and-go shots in the city. Founded by Mia Williams, scientist and cancer researcher, the shots are all-organic, hand-pressed in Hong Kong and sustainably sourced, so you can feel good about what you're drinking.
There are three varieties of the small, yet very powerful elixirs: Classic Ginger, Turmeric and Charcoal. The classic is by far the most intense of the trio, but if it does what it claims to do (fight the common cold, temper morning sickness and delay the onset of post-workout fatigue), it's worth the fire. We recommend doing it Williams' way, like a tequila slammer. The Turmeric has a more mellow taste, no doubt subdued by the coconut milk, and is far easier to sip, but it needs a thorough shaking to avoid unpleasant texture. The detoxifying, inky-black Charcoal shot has a slight gritty mouthfeel but a lovely flavour.
Together the drinks, presented in a pocket-sized, pill-like container, claim to aid digestion, boost skin radiance, detoxify, energise and de-bloat. With all the pressures of staying healthy in this city, we'll take all the help we can get!
Tizzy Shots are available via retail and the dedicated ​online store at HK$165 for 3 bottles​