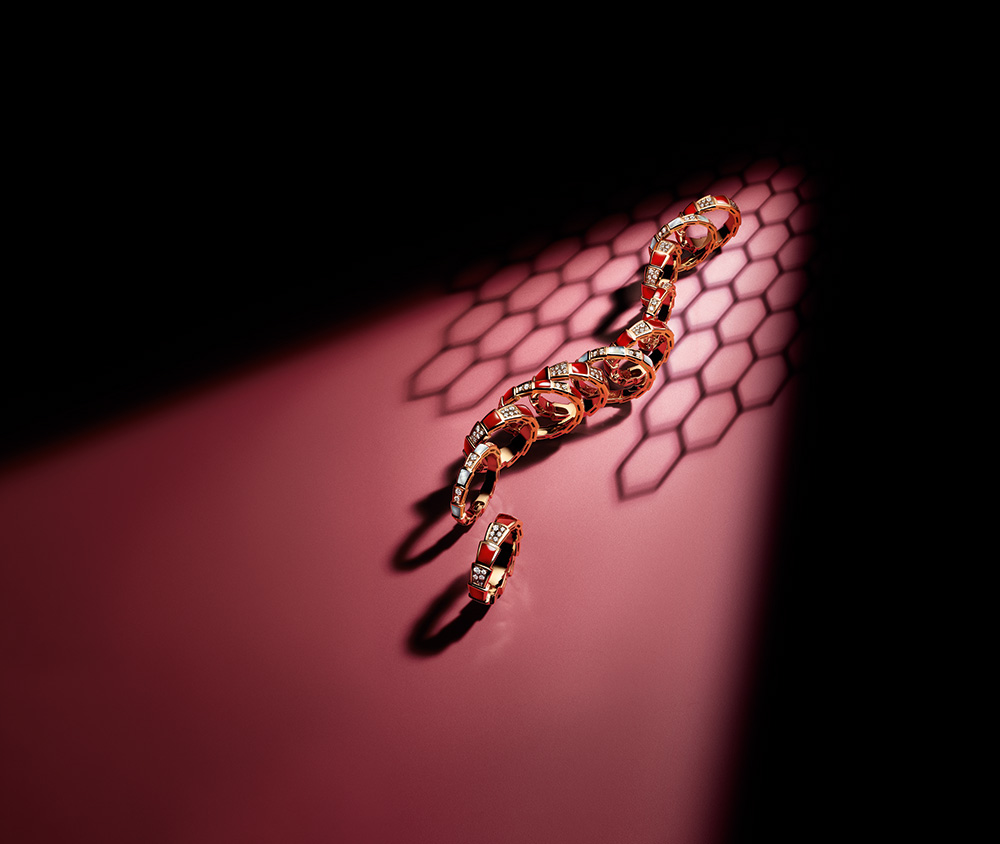 ​What a metaphor Bulgari chose in the late 1940s when Serpenti first appeared. The house founded by Sotirio Bulgari in 1884 had always looked to the ancient world for inspiration, to the Greek heritage of its founder and to the great Roman tradition of art and culture. In Serpenti, there is even an echo of Egypt.
With its sinuous beauty, the serpent is a symbol of seduction, as Adam and Eve found to their cost. The play of colour and light on its skin has a fascination all its own which Bulgari has exploited to the utmost. Periodically shedding that skin has elevated the serpent to a symbol of renewal and rebirth. In the jewellery world that rebirth can seem endless as the serpent takes its tail in its mouth to become synonymous with the circle of eternal life.
Bulgari is quintessentially Roman and Rome is the Eternal City, so Serpenti is a true child of Rome.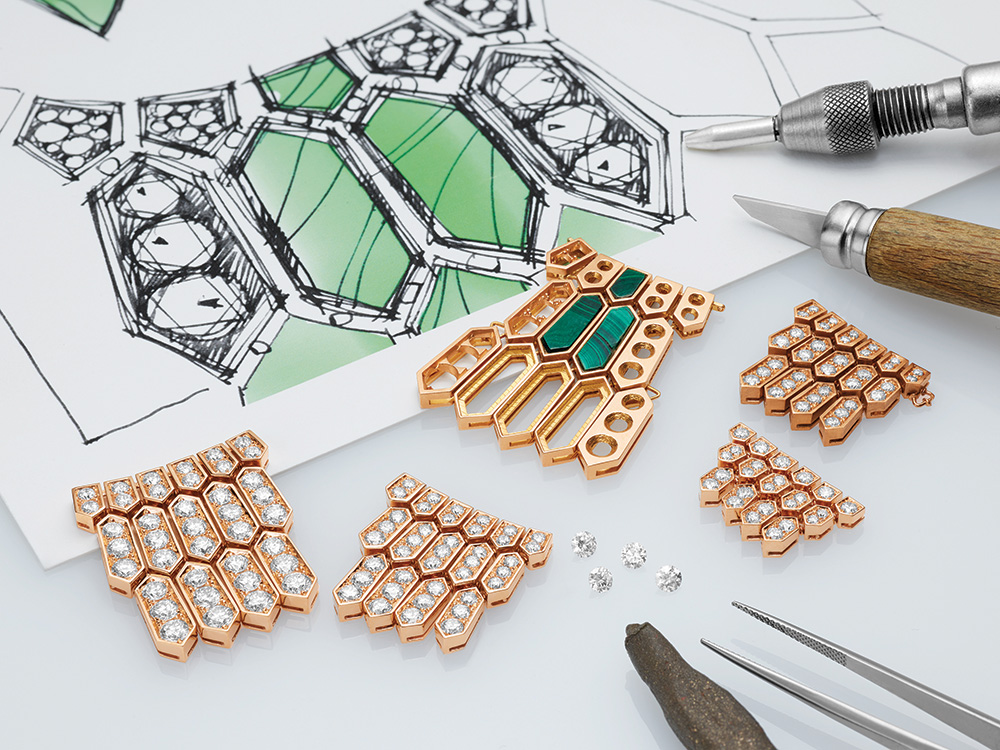 ​That's a lot of baggage for a reptile to bear but the Bulgari Serpenti is holding up very well under the weight of expectation. In fact, it is extraordinary how the jeweller has used the serpent, or elements of it, in so many ways over the decades, using the image to demonstrate the maison's love of intense colour and its technical expertise in precious metals.
Guessing how Bulgari will re-interpret Serpenti can be an annual exercise in creative thinking. This year sees the Serpenti Jewellery Collection augmented by Serpenti Inspirations, a dangerously attractive prospect for Bulgari lovers. Love them or hate them in the wild, we all have great respect for snakes and their skins have always been objects of desire.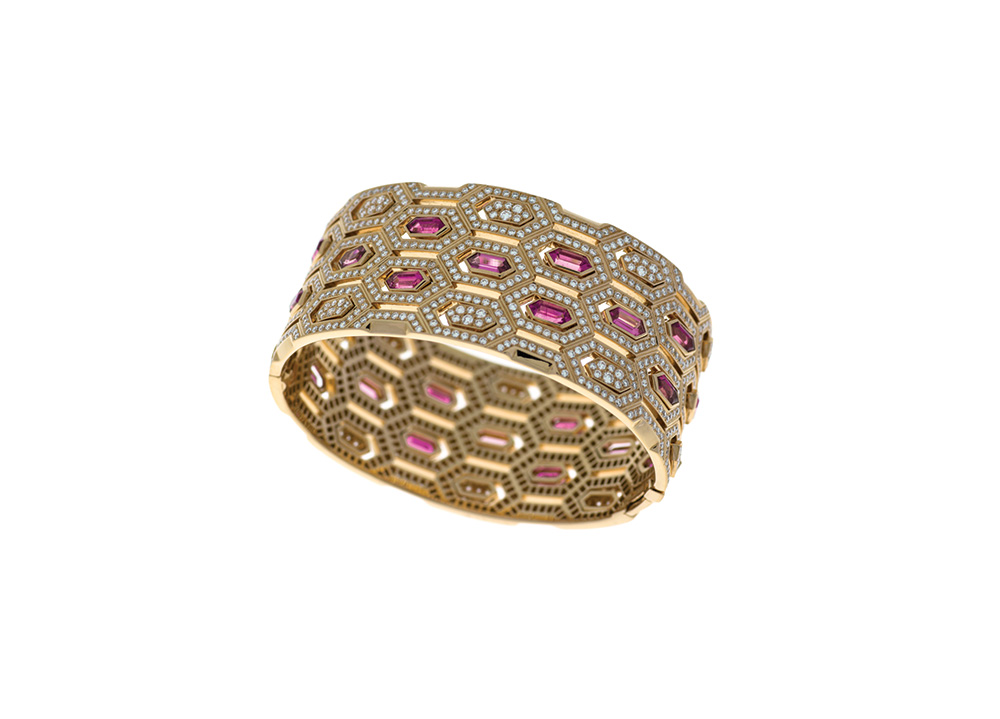 Bulgari's designers unpack the concept, separating each element and raising it to art. For Serpenti Inspirations, it is the scale of the snake's skin, mathematically perfect and lending itself to multiple new inspirations. This is goldsmithing at its highest level, creating pieces of sinuous grace.
The necklace, earrings and bracelet in the Serpenti Inspirations collection use the hexagon pattern to create interlocking geometric shapes. A white gold necklace with pavé diamonds ends in a hexagon drop of diamonds, matched by white gold drop earrings with pavé diamonds. This design is replicated in pink gold with pink tourmalines and pavé diamonds. A bold pink gold bracelet is studded with 24 pink tourmalines and pavé diamonds.
With an intriguing three-dimensional appeal, the design ethos of these pieces could be a salute to Bulgari's creations from the 1970s.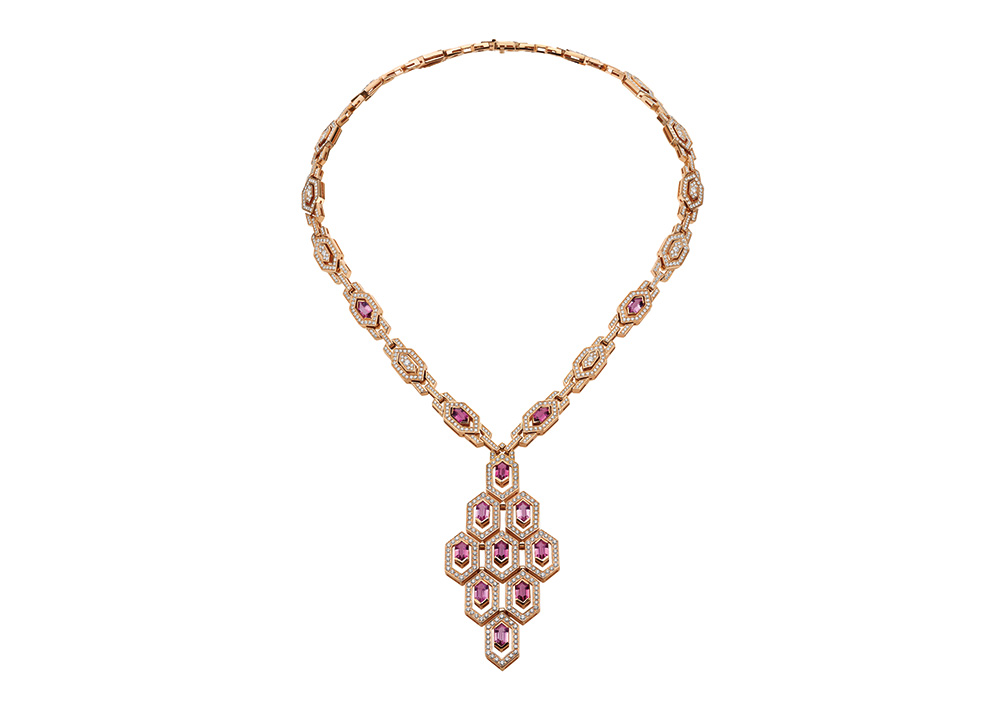 Would inspiration be completely fulfilled without Serpenti pendants? For this year's collection, Bulgari has created five new designs. Each pendant serpent is suspended from a white gold chain, itself with a pattern reminiscent of snakeskin scales. The serpents themselves are sculpted as tubes of white gold, fully pavéd with white diamonds, curled into the circle that represents eternity.
These serpent pendants are a reminder of Bulgari's pioneering work in Tubogas, a technique that allowed metal bracelets and watch bands to be wound around the arm. Tubogas was thrust into the spotlight in the early 1960s when Elizabeth Taylor, a Bulgari aficionado, was photographed wearing the bracelets. Most jewellers gave up the Tubogas technique as too difficult but Bulgari elevated it to an art and it is now a signature of the house.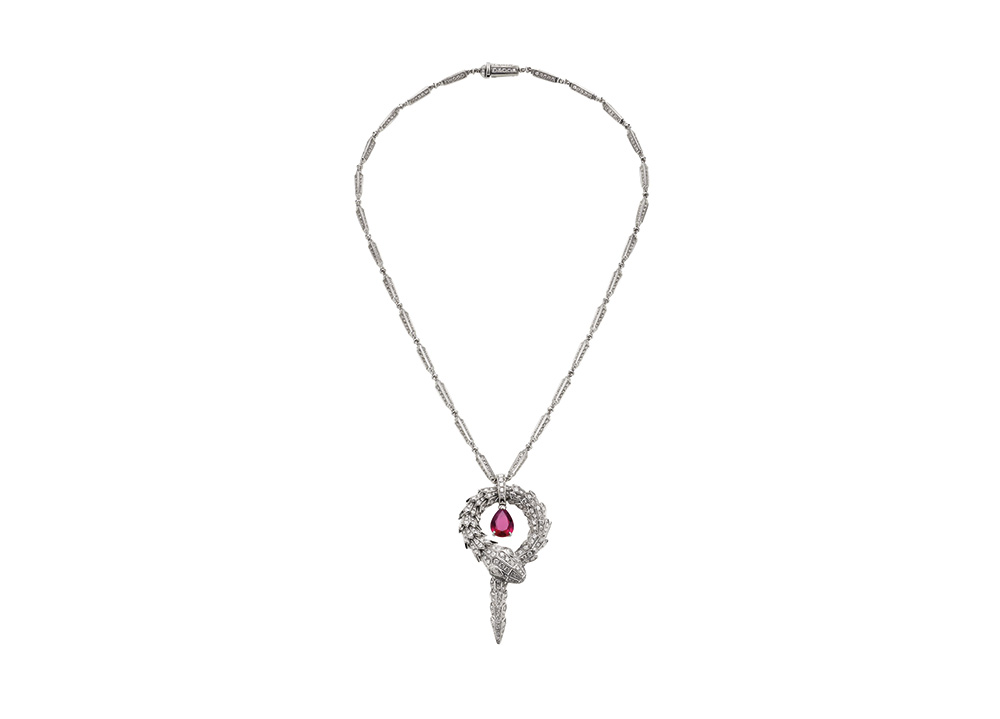 At the centre of the new Serpenti pendant circle is a gem – rubellite, amethyst, tanzanite or aquamarine – giving each piece a playful liveliness through its colour and mobility. Bulgari is known for its use of colour and artistry in its use of gems, and the stones in this collection have been paired with the white gold and diamond-pavé surfaces. The cut of the gem is as important as the colour. The rubellite, tanzanite and aquamarine are all pear cut while the amethyst is cut in a sharper, more geometric drop. Not for nothing did Andy Warhol describe Bulgari as an "important museum of contemporary art" because the choice of gemstone colour and cut is not by chance, they are carefully selected for harmony and maximum aesthetic appeal.
The release of the Serpenti Viper sees a unmistakably Italian band ring that will appeal to collectors. "Simply striking" says Bulgari of this new species and is certainly the only viper strike that every woman covets. It is imbued with the qualities of power, seduction, elegance and intelligence with which these reptiles are credited.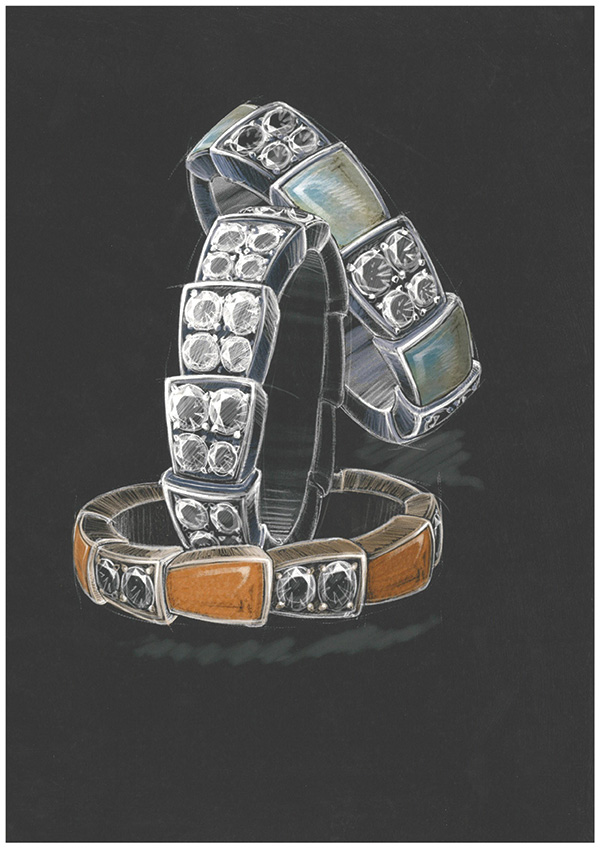 Which of the eleven models in the Viper Ring collection will strike at the heart? Chances are, more than one of them. The foundation of the design is a segment based on the shape of the viper's head, each segment overlapping so it is not quite a triangle, with the geometric precision found in nature. In iconic Bulgari fashion, in some pieces the segments are in vivid colour to contrast with the purity of diamond pavé segments. In effect, this is a viper coiled in on itself, with light playing on its skin.
The architecture of these rings is a strong statement, and they are rightly touted as suitable for day wear. There are two band widths, 6mm and 4mm. The slimmer version might be thought more dainty were it not for the fact that Bulgari does not do dainty. Generally the 6mm rings have diamonds totalling 0.36 carats and the smaller ring about 0.21 carats.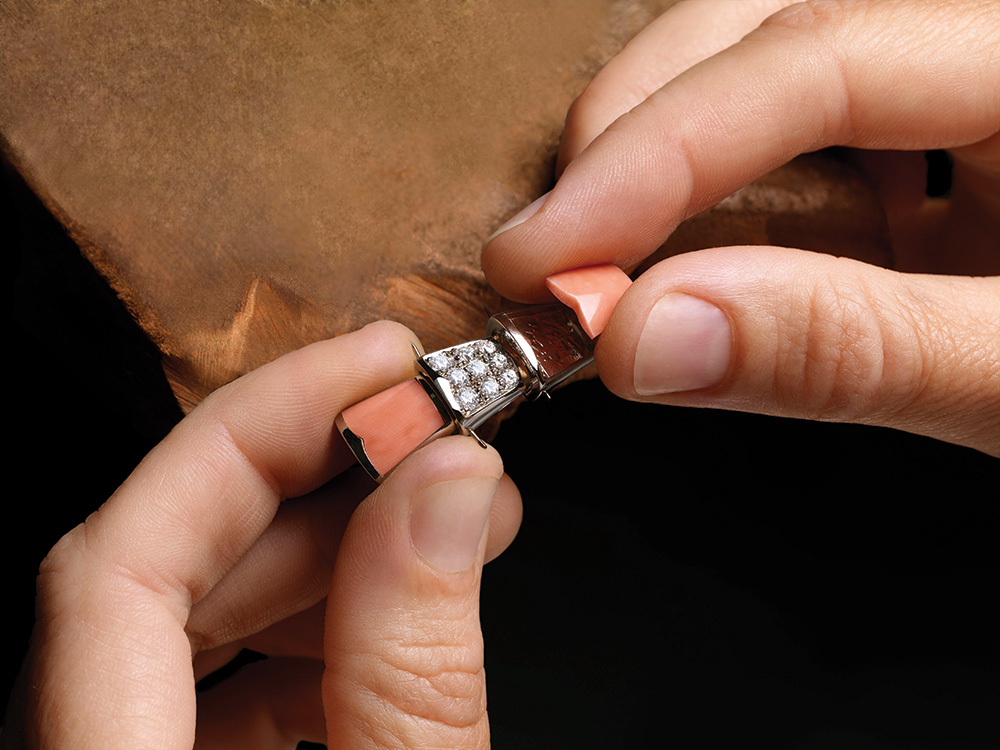 Variations are based on pink or white gold, and white diamond demi-pavé. The alternating plain and gemset segments is typically Bulgari, which is known for juxtaposition of metals, with gems or enamels.
The use of grey mother-of-pearl as a contrast material is highly effective, whether the alternating segments are plain metal or diamond-set. Most striking – no pun intended – is the pink gold Serpenti Viper ring that offers the rich hue of carnelian to create an intense contrast to the diamonds.
The Serpenti has raised its extraordinary head again with another stunning collection.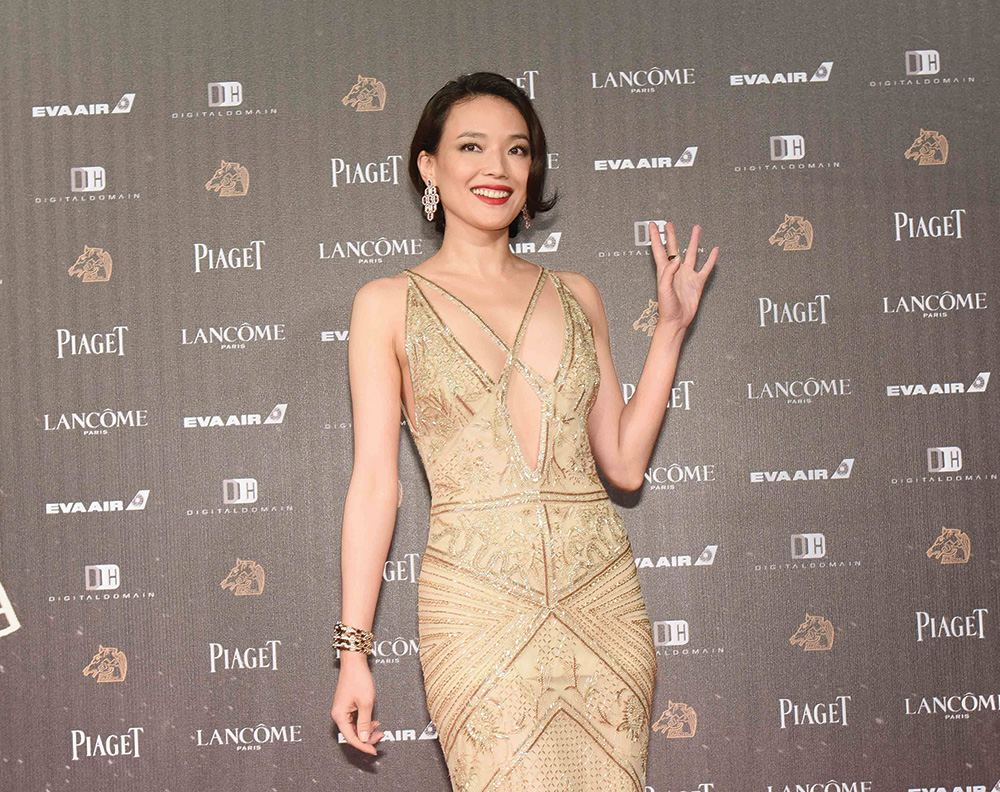 This article first appeared in the June 2017 issue of #legend magazine